The Atlantic Politics & Policy Daily: PowerPaul Presentation
Speaker Paul Ryan touted the new health-care bill using PowerPoint.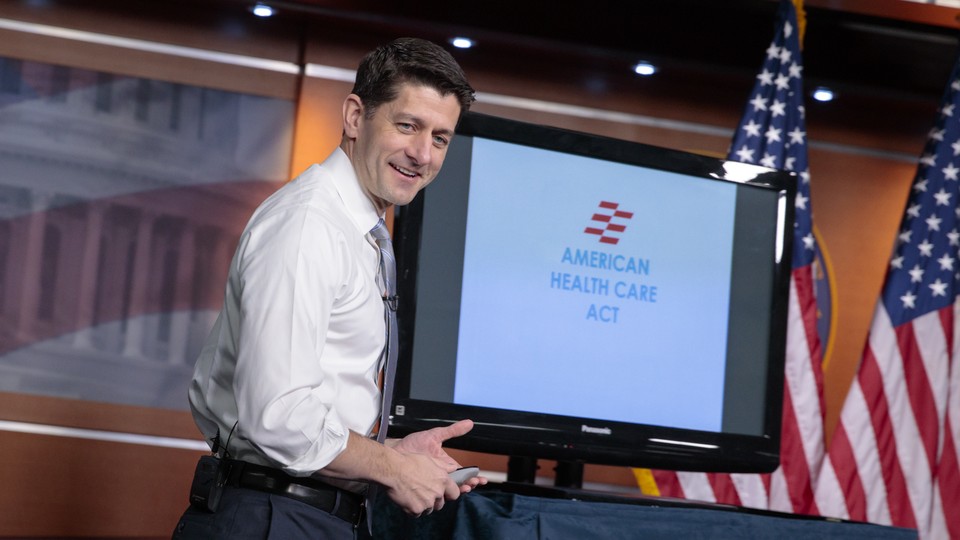 Today in 5 Lines
Using a PowerPoint presentation, House Speaker Paul Ryan made the case for the new health-care bill and told Republicans "this is the closest we will ever get to repealing and replacing Obamacare." Two House committees approved the legislation after several hours of debate. Scott Pruitt, the head of the Environmental Protection Agency, said in an interview that carbon dioxide is not a "primary contributor" to global warming, a statement that goes against scientific evidence to the contrary. Former Utah Governor Jon Huntsman reportedly accepted Trump's offer to serve as the U.S. ambassador to Russia. In an interview with Politico, Senate Majority Leader Mitch McConnell dismissed Donald Trump's claim that Mexico will pay for the construction of a wall on the U.S.- Mexico border.
---
Today on The Atlantic
'The New Party of No': On the road to redemption, Democrats must win voters over with a compelling vision, but first, they must take a "Tylenol versus Advil" approach, as House Democratic leader Nancy Pelosi calls it. Because, Michelle Cottle writes: "In midterm politics, as in pain relief, rule No. 1 is to destroy the other guy's credibility. You can sort the rest out later."

In Time: Matt Ford chronicled the encounters between Donald Trump's associates and the Russian ambassador to the United States, Sergey Kislyak, to better understand the context surrounding those meetings. View the timeline here.

No Comment: Donald Trump is no stranger to making outlandish claims, and he has succeeded in convincing others to, at least publicly, defend them. By accusing former President Obama of wiretapping, Trump has made an allegation that even his staunchest supporters refuse to stand behind. (David A. Graham)
The Atlantic is hosting a conference call for subscribers between David Frum, author of our March cover story, "How to Build an Autocracy," and Yoni Appelbaum, senior politics editor. On Friday, the two will go behind the story; analyze recent developments with the Trump presidency; and respond to readers' questions. Subscribe today to receive your invitation.
---
Snapshot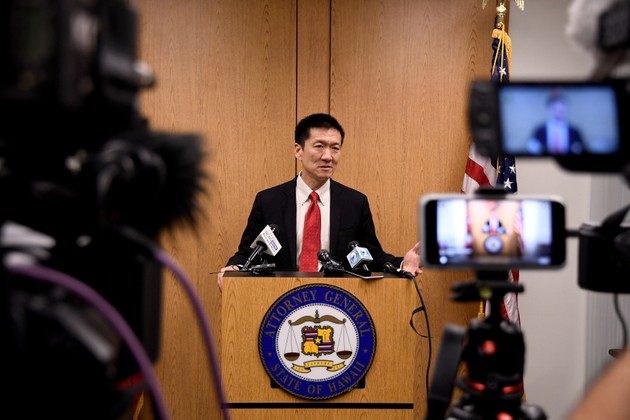 ---
What We're Reading
A Blame Game?: CNN reports that President Trump met with critics of the House Republicans' new health-care proposal, and told them that if a repeal-and-replace bill doesn't succeed, he will "allow Obamacare to fail and let Democrats take the blame." (Jim Acosta)
Not So Bad: As a religious conservative with anti-government zeal, Vice President Mike Pence is "everything the contemporary Democratic Party hates." Several top Democrats admitted to BuzzFeed, however, that these days they would sleep better at night under a Pence administration. (Steven Perlberg and Lissandra Villa)
The Art of the Spy: The 9/11 attacks required the CIA to develop new methods of spying to fight the war on terror, writes Alex Finley. Rather than rubbing elbows at cocktail parties, officers had to find enemies "who hid in hillsides and remote compounds in hostile territory." Now, amid turmoil with Russia, will the agency be forced to revert back to old practices? (Politico)
'A Work in Progress': In an interview with Katie Couric, Republican Senator Susan Collins explained why she thinks the new health-care bill won't be "well-received" in the Senate, and criticized the proposal to defund Planned Parenthood. (Liz Goodwin, Yahoo News)
The Price Is Right: In California, people convicted of serious crimes can avoid traditional jail—for a fee. The state's "pay-to-stay" facilities started as a way to ease jail overcrowding, but they have evolved into a two-tiered justice system where inmates can buy their way into safe, comfortable jail stays. (Alysia Santo, Victoria Kim, and Anna Flagg, The Marshall Project)
---
Visualized
A Small Percentage: Republicans have criticized Obamacare for raising insurance premiums. This interactive graphic shows how many people were actually affected by premium increases. (Troy Griggs, Karen Yourish, and Margot Sanger-Katz, The New York Times)
---
Question of the Week
This week, a Northern Virginia school district is shutting down for the day after a number of staff members asked for the day off to participate in "A Day Without a Woman," a day of protest to highlight the contributions of women to society. A few weeks ago, a number of restaurants and fast-food chains closed down for "A Day Without Immigrants" to spotlight immigrant contributions to the United States. Fill in the blank with a group of people you think deserves to be commemorated, and tell us why: A Day Without ___ .
Send your answers to hello@theatlantic.com, and our favorites will be featured in Friday's Politics & Policy Daily.
-Written by Elaine Godfrey (@elainejgodfrey) and Candice Norwood (@cjnorwoodwrites)