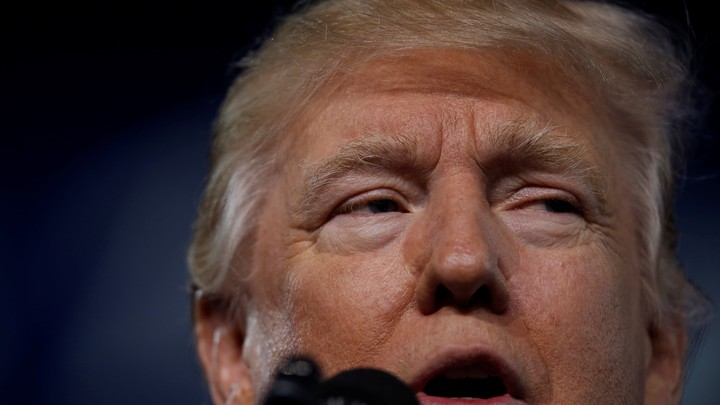 Today in 5 Lines
President Trump called for Congress to investigate Russia's connections with Senate Minority Leader Chuck Schumer and House Minority Leader Nancy Pelosi after the two were shown to have previously met the Russian ambassador to the United States. Trump also visited a private religious school in Orlando, Florida, to promote his support for school choice. The FBI arrested Juan Thompson, a former journalist, who is accused of making at least eight threats against Jewish institutions and Jewish Community Centers. Janet Yellen, the chairwoman of the Federal Reserve, said the Fed will likely raise interest rates this month. Pentagon spokesman Captain Jeff Davis said the United States launched more than 30 airstrikes against al-Qaeda in Yemen the past two days.
---
Today on The Atlantic
Take a Peek: Lawmakers will soon get a sense of the Trump administration's spending priorities for the 2018 fiscal year when the White House presents its "skinny budget." And at that point, Michelle Cottle writes, "shit starts getting real."

The Battle of Ideas: There's a division within the national security community over which ideology—"ISIS-style radical Islam" or "Russian-style autocracy"— represents the greatest threat to the United States. Uri Friedman argues that how America's leaders decide to prioritize these threats, if they decide to do so at all, will set the course for American foreign policy.

Retaliation?: The FBI arrested a suspect Friday in connection with the bomb threats against Jewish institutions and community centers. The suspect allegedly made the threats as part of an elaborate plot to harass an ex-girlfriend, writes Emma Green, and seemed to think targeting Jews would "create fear and inflict maximal pain."
Follow stories throughout the day with our Politics & Policy portal.
---
Snapshot
---
What We're Reading
Sound Familiar?: The Indianapolis Star reports that Vice President Mike Pence used a personal email account to conduct state business as governor of Indiana. Pence's office issued a statement defending his use of the account, saying he "fully complied with Indiana law regarding email use and retention." (Tony Cook)
Trump 2020: During the election, Donald Trump often touted his self-funded presidential campaign, but to prepare for a 2020 reelection bid, "Trump and his team have set about systematically courting the biggest GOP moneymen." (Shane Goldmacher, Kenneth P. Vogel, and Darren Samuelsohn, Politico)
'Buried Alive': Nathaniel Penn chronicles the day-to-day experiences of inmates who have spent anywhere from one to 24 years in solitary confinement. "The worst thing that's ever happened to me in solitary confinement happens every day," one prisoner said. "It's when I wake up." (GQ)
Who Is Sergey Kislyak?: Attorney General Jeff Sessions and former National Security Adviser Michael Flynn came under fire after reports revealed each of the men had spoken with the Russian ambassador during the election. Was Kislyak just doing his job—or are his motives more sinister? (Laura King and Mansur Mirovalev, The Los Angeles Times)
Friends for Life: Jeff Sessions's "early and fierce loyalty" as the first senator to endorse Donald Trump has allowed him to form a tight bond with the president. That connection will be nearly impossible to break even after reports that the attorney general had spoken with the Russian ambassador to the United States last year. (The Washington Post)
---
Visualized
The First Line of Questioning: Vogue interviewed 11 female reporters covering the Trump administration. Here's what they had to say about reporting in a time of "fake news" and "alternative facts." (Julia Felsenthal and Alex Majoli, Vogue)
---
Question of the Week
On Tuesday, President Trump outlined his plans to increase defense spending and invest in America's infrastructure. This week, we asked you where you would allocate extra funds if you were in charge of the country's budget. For the complete list of our favorite responses visit our Notes section. For now, here are two thoughtful answers:
Stella Porto said "education, education, education":
"Everything in the country depends on the level of education of its people, from preventing illness, choosing a better lifestyle, to raising kids responsibly, to choosing elected officials, to fighting for important causes."
And here's Ken Prahl:
"I'd use the funds to set up critical thinking [education], what it is, and how to perform. Also explaining how history can be described using different narratives, giving examples of different narratives tied to various ideologies."
-Written by Elaine Godfrey (@elainejgodfrey) and Candice Norwood (@cjnorwoodwrites)
We want to hear what you think about this article. Submit a letter to the editor or write to letters@theatlantic.com.
Elaine Godfrey
is a staff writer at
The Atlantic
, where she covers politics.