The Atlantic Politics & Policy Daily: Killed Bill
House Speaker Paul Ryan pulled the GOP's new health-care legislation, after Republicans didn't have the votes to pass it.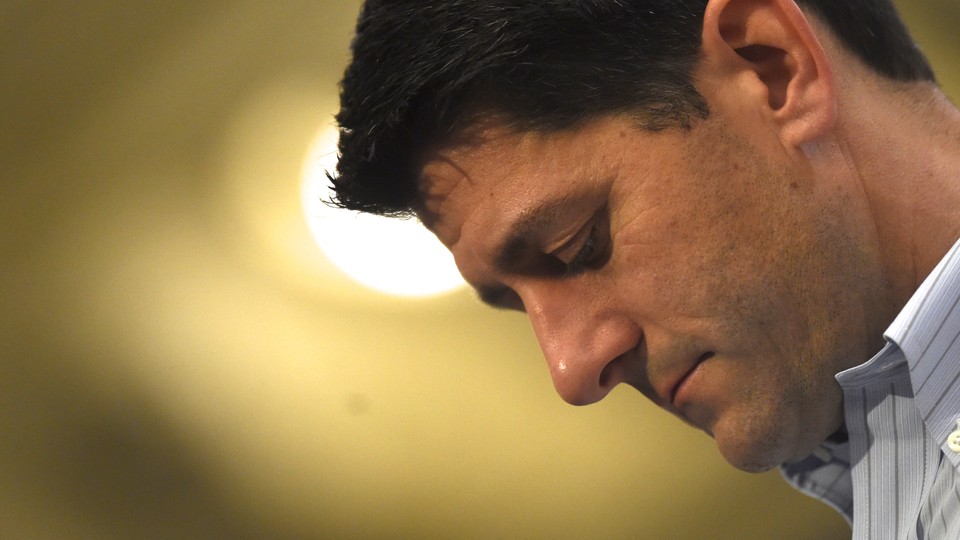 Today in 5 Lines
House Speaker Paul Ryan pulled the GOP's new health-care bill, after meeting with President Trump to tell him that Republicans didn't have the votes to pass it. During a news conference, Ryan said it is a "disappointing day" and that Republicans will now "move on with the rest of our agenda." In an interview with The New York Times, Trump reportedly blamed Democrats for the bill's failure, predicting they would want to make a deal after "Obamacare explodes." Earlier in the day, House Intelligence Committee Chairman Devin Nunes walked back his claim that communications from Trump and his transition team were collected incidentally by U.S. intelligence. TransCanada, the company behind the Keystone XL pipeline project, said the Trump administration granted them permission to begin construction, reversing an Obama administration directive.
---
Today on The Atlantic
Michael Anton's Influence: Under a pseudonym, Anton wrote a now-infamous essay last year on what he called the "Flight 93 election," in which he made the case for Donald Trump. Rosie Gray traces his rise from "relative obscurity" to running communications for the new administration's National Security Council.

The Art of the (Political) Deal: If Trump lost in a business deal when he was operating in the private sector, he could recover from it. He'd lose money, writes David A. Graham, but "his reputation as a business mogul [would remain] unscathed outside of actual business circles." The president may have a different experience now that Congress failed to pass its health-care bill.

Scared Away: The Trump administration's harsh stance on immigration has sparked a "climate of fear" among immigrant communities throughout the country, Annie Lowrey writes. Now, a number of social-service organizations have reported a decline in program enrollment among legally eligible families.
Follow stories throughout the day with our Politics & Policy portal.
---
Snapshot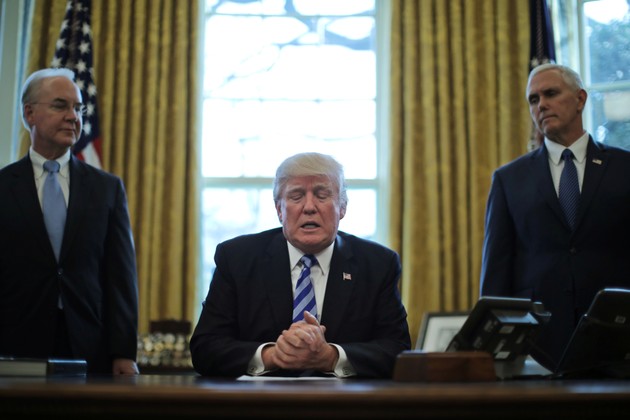 ---
What We're Reading
The Dealmaker Has Doubts: The New York Times reports that Trump regrets prioritizing the health-care overhaul "before unveiling a tax-cut proposal more politically palatable to Republicans." (Glenn Thrush and Maggie Haberman)
Trumpism v. Ryanism: Trump won the election with promises to be a president for the people and to "drain the swamp." Instead, Ezra Klein argues, he became a "pitchman" for Ryan's widely opposed health-care bill. How did this happen? (Vox)
'Chasing the Phantom': Wired takes a look at the hunt to find Evgeniy Mikhailovich Bogachev, a Russian hacker and "maybe the most prolific bank robber in the world." Did he also play a role in the U.S. presidential election? (Garrett M. Graff)
Under Fire: The Department of Justice is investigating whether California Representative Duncan Hunter improperly used campaign funds "to pay for family travel, flights, utilities, health care, school uniforms and tuition, jewelry, groceries, and other goods." Read the details of the case here. (Morgan Cook, The San Diego Union-Tribune)
Bibi's Battle: With Trump in office and pledging to broker a deal between Israelis and Palestinians, 2017 could be a good year for Israeli Prime Minister Benjamin Netanyahu. But there's one man who could still get in his way: Meet Yair Lapid. (Susan Glasser, Politico)
---
Visualized
Unpresidented: In this short video, The Atlantic's Olga Khazan explains that a better way for people to argue about politics is to reframe their arguments to appeal to opponents' moral values. (Daniel Lombroso)
---
Question of the Week
Monday marked the beginning of what will probably be Judge Neil Gorsuch's toughest job interview: his Supreme Court confirmation hearings. This week, we asked what you would ask Gorsuch if you were on the Senate Judiciary Committee. Click here to see all of our favorite responses, but for now, here are two great answers:
Keli Osborn would ask how the judge would have ruled on previous Supreme Court cases:
How would [your] judicial philosophy of originalism have influenced rulings on Plessy v. Ferguson, Brown v. Board of Education, Griswold v. Connecticut, Bigelow v. Virginia, and Obergefell v. Hodges?
And Mitchell Kaplan figured that understanding Gorsuch's thoughts on science and religion would offer insight into how he might rule on future cases if confirmed:
How old is Earth? How old is the universe? When did homo sapiens first arrive on Earth? Do you believe in adaptation as defined by Darwin? Do you take the Bible literally or metaphorically? Do you believe in creationism?
Thanks for responding, and stay tuned for next week's Question of the Week contest.
-Written by Elaine Godfrey (@elainejgodfrey) and Candice Norwood (@cjnorwoodwrites)