The Atlantic Politics & Policy Daily: Every Day Is Now Bring Your Daughter to Work Day
Ivanka Trump will serve as an unpaid adviser to the president.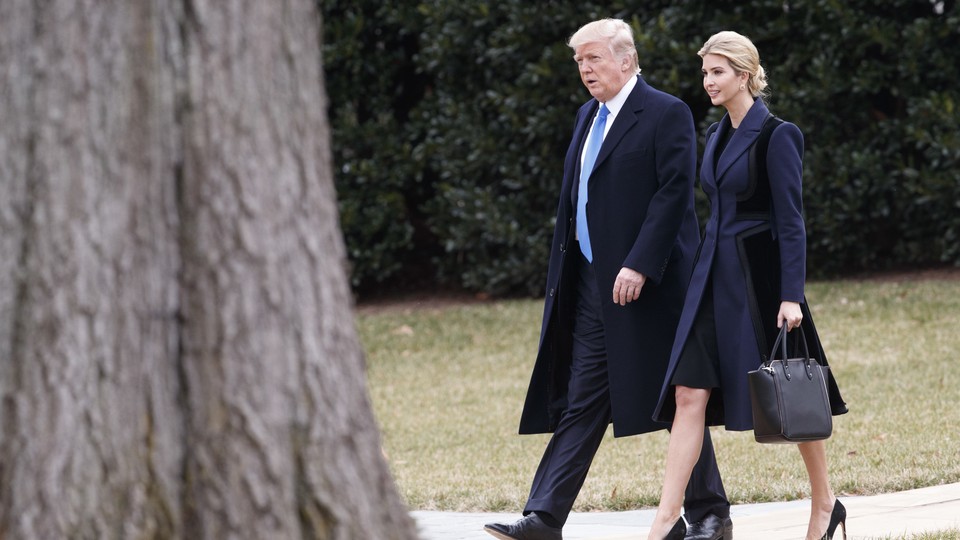 Today in 5 Lines
Ivanka Trump will become an official federal employee, serving as an unpaid adviser to the president. In a news conference, the leaders of the Senate Intelligence Committee said they have asked 20 people to be questioned as part of their investigation into alleged Russian interference in the 2016 presidential election. Committee Chairman Richard Burr said the probe is "one of the biggest investigations the Hill has seen in my time here." A judge sentenced Bill Baroni and Bridget Anne Kelly, two former aides of New Jersey Governor Chris Christie, to prison for their role in the 2013 "Bridgegate" scandal. The U.K. formally gave notice of its intention to leave the European Union.
---
Today on The Atlantic
In Hot Water: "Tuesday was not a good day for America's hard-charging white men," writes Alex Wagner. Fox News host Bill O'Reilly was forced to apologize after dismissing Representative Maxine Waters's comments and instead focusing on her looks, and White House Press Secretary Sean Spicer received backlash for scolding journalist April Ryan.

Above the Law?: President Trump is facing a defamation lawsuit from a former Apprentice contestant who accused him of sexual assault last year. Now, his private lawyers have asked for a special briefing to learn whether the president can be shielded from private lawsuits while in office. (Matt Ford)

How the U.S. Protects the Environment: During his time in office, President Richard Nixon passed laws to reduce air pollution, clean up rivers and streams, and establish the Environmental Protection Agency. Here is a guide to those regulations, and how they may change under President Trump. (Robinson Meyer)
Follow stories throughout the day with our Politics & Policy portal.
---
Snapshot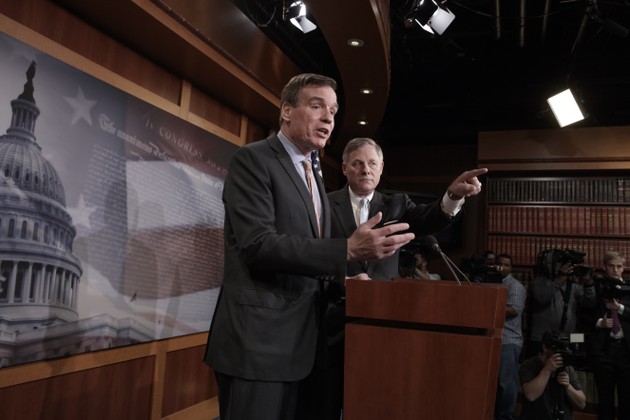 ---
What We're Reading
The Wonky Populist: Tom Perriello is running for governor of Virginia, but most people still don't know his name. Meet the Democrat whose brand of populism is "a more subdued, intellectualized of-the-people-ism" than that of Bernie Sanders. (Clare Malone, FiveThirtyEight)
A Sign of What's to Come: President Trump's supporters were quick to blame Speaker Paul Ryan for the failure of the health-care bill, writes Jonah Goldberg. But for skeptical conservatives, the debacle signaled that Trump "might be happier to work with Democrats than deal with" the hardline conservatives in Congress. (National Review)
Pence's 'Prayer Warrior': The vice president and his wife, Karen, are virtually inseparable: Karen Pence is Mike Pence's "gut check and shield" and a powerful "force behind her husband's socially conservative stances." (Ashley Parker, The Washington Post)
Can't Be Saved: The House of Representatives voted Tuesday to allow internet service providers to sell browsing history to advertisers and other companies. While technology, like virtual private networks, can help shield users against this new privacy threat, writes Klint Finley, "it doesn't take the place of having the law on your side." (Wired)
Do Democrats Have a Shot?: Nate Cohn unpacks why a special election in Georgia serves as an example for how Democrats can capitalize on Donald Trump's unpopularity to regain control in Republican-dominated states. (The New York Times)
---
Visualized
Slashing the Budget: Donald Trump proposed to cut funding for the Environmental Protection Agency by 31 percent and eliminate more than 50 programs. These graphics and images show the potential effects of cutting two programs dedicated to cleaning the Chesapeake Bay and the Great Lakes. (Denise Lu and Tim Meko, The Washington Post)
---
Question of the Week
Republicans' plan to repeal and replace Obamacare flopped last week, but President Trump is ready to move to the next item on his agenda—tax reform. What would you like to see the Trump administration focus on and why?
Send your answers to hello@theatlantic.com and our favorites will be featured in Friday's Politics & Policy Daily.
-Written by Elaine Godfrey (@elainejgodfrey) and Candice Norwood (@cjnorwoodwrites)