The Atlantic Politics & Policy Daily: Devin Nunes and the Mystery on the White House Grounds
The House Intelligence Committee chairman met with a source who allegedly gave him intelligence information about Trump transition officials.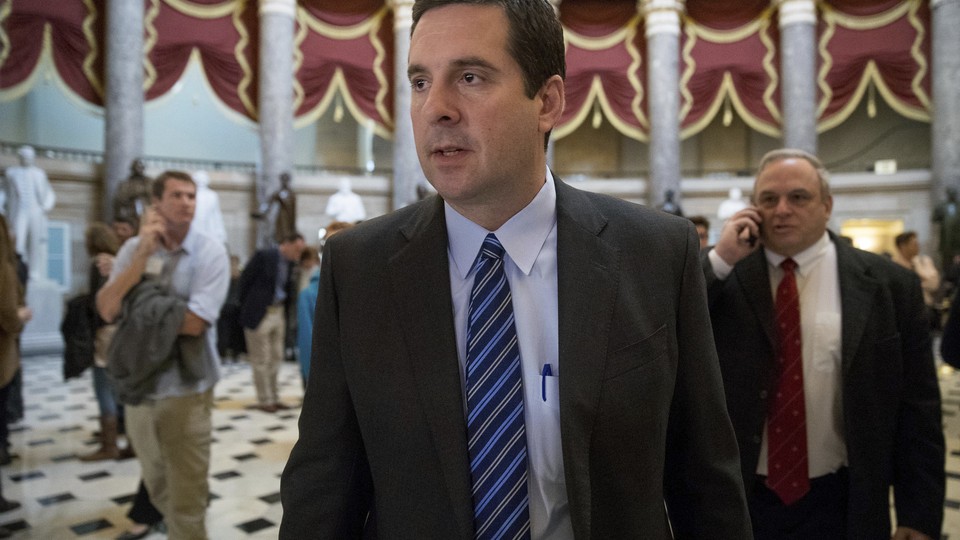 Today in 5 Lines
House Intelligence Committee Chairman Devin Nunes confirmed that he was on White House grounds to meet with a source, who'd allegedly given the congressman intelligence information about Trump transition officials. White House Press Secretary Sean Spicer didn't rule out the possibility that Nunes met with a source from the White House, but he added that the idea "doesn't really pass the smell test." The New York Times reports that the Senate Intelligence Committee will question Jared Kushner, Trump's son-in-law and close adviser, about his meetings with Russian officials. During a White House press briefing, Attorney General Jeff Sessions announced that local governments seeking federal funding must certify that they are not "sanctuary cities" and are in compliance with federal-immigration law. An Associated Press analysis shows that North Carolina's "bathroom bill," the law that limits anti-discrimination protections for LGBT people, will cost the state $3.76 billion over 12 years.
---
Today on The Atlantic
The Unexpected Saviors of Obamacare: The failure to repeal and replace Obamacare can be blamed, in part, on years of misleading right-wing news coverage. It wasn't until voters learned of the actual costs of repeal that they began to push back against the GOP health-care bill. (Conor Friedersdorf)

The Will of the People: State legislators around the country are working to reverse a number of ballot measures passed by voters in November. "This isn't how democracy works," said Justine Sarver, executive director of the Ballot Initiative Strategy Center. "You don't get to pick and choose when you like a process and when you don't." (David A. Graham)

Women's Health on the Line: Republicans in Iowa are pushing to defund Planned Parenthood, and telling low-income women they can visit community-health centers for their family-planning needs instead. But can local clinics pick up the slack? (Elaine Godfrey)
Follow stories throughout the day with our Politics & Policy portal.
---
Snapshot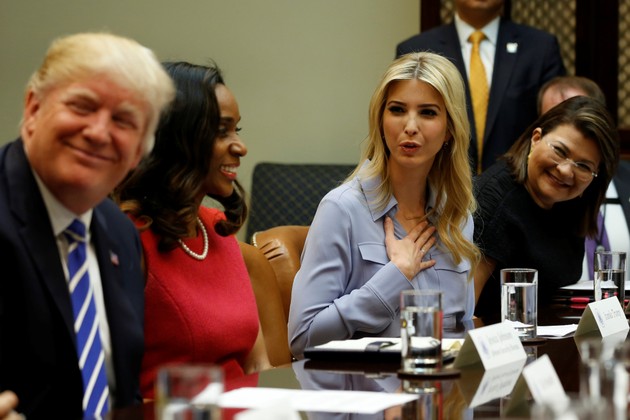 ---
What We're Reading
The White House 'SWAT Team': The Washington Post reports that Trump plans to create a White House Office of American Innovation, a new body "designed to infuse fresh thinking into Washington"—and he wants his son-in-law, Jared Kushner, to lead it. (Ashley Parker and Philip Rucker)
'Trump vs. Congress': Robert Draper argues that Trump needs "to develop a rapport with Washington's 535 federal deal makers" if he wants the rest of his agenda to succeed. Can he do it? (The New York Times Magazine)
'Breitbart Jerusalem': Meet Aaron Klein, a Philadelphia native from an Orthodox Jewish upbringing, chosen by Steve Bannon to lead Breitbart's Middle East outpost. Here's how he's working to build the website's international brand. (Katie Glueck, McClatchy)
Trouble in the Treasury: Up next on the Trump administration's agenda is reforming the tax code, but infighting between hardcore conservatives and the less ideological "Goldman Sachs branch" in the administration might make that difficult. (Ben White and Nancy Cook, Politico)
'Lost': A series by the Portland Press Herald explores the effects of Maine's heroin and opioid epidemic, which claimed the lives of 378 people last year.
---
Visualized
Who Stopped the Bill?: Thirty-three Republican lawmakers—some moderates and some hard-liners—were key to the collapse of the GOP health-care bill. View these graphics to learn who they are. (Wilson Andrews, Matthew Bloch, and Haeyoun Park, The New York Times)
---
Question of the Week
Republicans' plan to repeal and replace Obamacare flopped last week, but President Trump is ready to move to the next item on his agenda—tax reform. What would you like to see the Trump administration focus on and why?
Send your answers to hello@theatlantic.com and our favorites will be featured in Friday's Politics & Policy Daily.
-Written by Elaine Godfrey (@elainejgodfrey) and Candice Norwood (@cjnorwoodwrites)