The Atlantic Politics & Policy Daily: Cherry Blossoms and Cherry Picking in Washington
The National Park Service announced peak bloom dates for the cherry blossoms in Washington, D.C.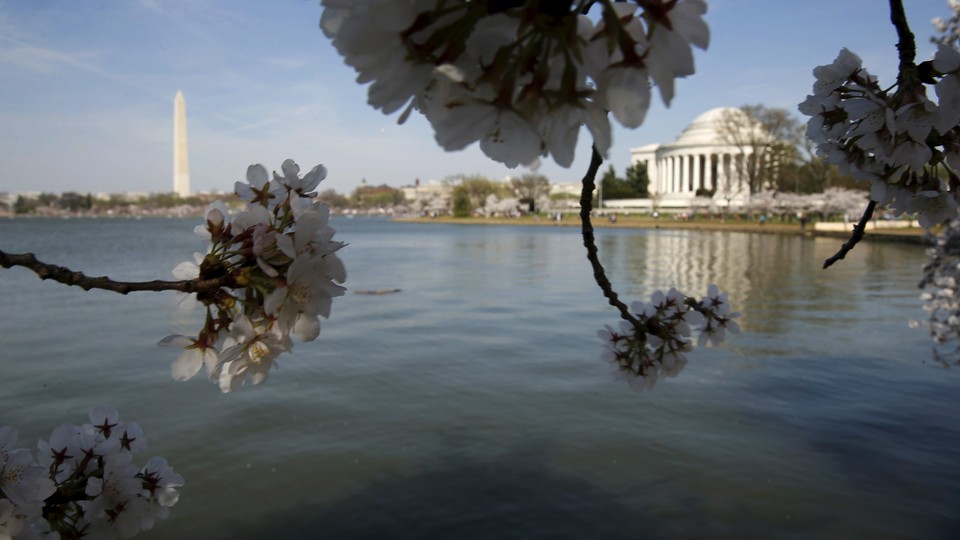 Today in 5 Lines
President Trump had lunch with Republican leaders to "start the process" of advancing his agenda after outlining his policy vision in an address to Congress on Tuesday night. Trump's new executive order on immigration is expected to be released in the next few days and will reportedly remove Iraq from the list of countries whose citizens face a temporary travel ban. The Senate confirmed Montana Representative Ryan Zinke to head the Department of the Interior. Three people were killed as severe storms plowed through Illinois, Missouri, and several other states in the Midwest on Tuesday and Wednesday. The National Park Service announced that the expected peak bloom date for the cherry blossoms in Washington, D.C. is March 14 through March 17, the earliest date on record.
---
Today on The Atlantic
A Clean Shave: "Imagine listening to the president's address to Congress as if it were the first speech he'd given." James Fallows attempted to set aside his preconceptions in order to offer a fresh take on Donald Trump's speech. Here are his thoughts.

Trump's Three Failures: Donald Trump received praise from cable and social media commentators for delivering an uncharacteristically calm address on Tuesday. While Trump achieved something important, David Frum writes, "he failed to achieve three other things that are even more important to his presidency."

Scenes From the State Department: Julia Ioffe spoke with career foreign service officers and civil servants in the wake of layoffs and reports that Trump's budget proposal will drastically cut the department's funding. "I used to love my job," one staffer said. "Now, it feels like coming to the hospital to take care of a terminally ill family member."
Follow stories throughout the day with our Politics & Policy portal.
---
Snapshot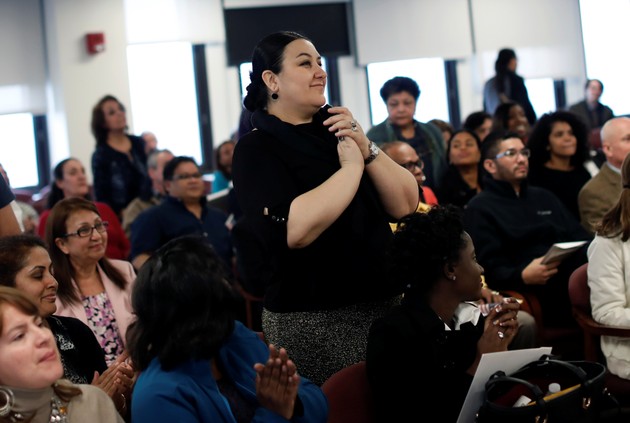 ---
What We're Reading
Not Good Enough: Donald Trump's demeanor Tuesday night and his inclusion of some issues, like infrastructure, pleased Democrats. "But the evening was not the start of a beautiful friendship." (Susan Milligan, U.S. News and World Report)
Risky Business: A record number of U.S. intelligence officers and government contractors are reportedly seeking opportunities in the private sector amid concerns over the strained relationship between the intelligence community and the Trump administration. Will the National Security Agency experience a brain drain? (Dustin Volz and Warren Strobel, Reuters)
Targeting the EPA: The Washington Post reports that the Trump administration is considering steep cuts to the Environmental Protection Agency's budget that would involve reducing staff by 20 percent and cutting clean air and water programs. (Juliet Eiperin and Brady Dennis)
Behind the 'October Surprise': Some people think FBI Director James Comey reopened the investigation into Hillary Clinton's email server just days before the presidential election to hurt her chances of winning. But, writes Bethany McLean, he might have been thinking more about himself. (Vanity Fair)
The Right Enemies: Ben Shapiro explains how the Democrats' new strategy—to oppose Trump at every turn—is unlikely to defeat the president, and might end up backfiring on them instead. (National Review)
---
Visualized
Louder Than Words: The Washington Post analyzes lawmakers' body language during six key moments of Donald Trump's congressional address Tuesday. View the annotated images here.  (Amber Phillips and Kevin Uhrmacher)
---
Question of the Week
President Trump is expected to introduce a federal-budget proposal next month that significantly increases defense spending, while slashing funds on most other programs, including cuts at the Environmental Protection Agency and for foreign aid. If you were in charge of the country's budget, and you had extra funds to allocate wherever you wished, what agency or program would you prioritize—and why?
Send your answers to hello@theatlantic.com, and our favorites will be featured in Friday's Politics & Policy Daily.
-Written by Elaine Godfrey (@elainejgodfrey) and Candice Norwood (@cjnorwoodwrites)