Obamacare Isn't Out of the Woods Yet
Even after the failure of the Republicans' health-care bill, there are still significant ways Trump and his allies can roll back the Affordable Care Act's provisions.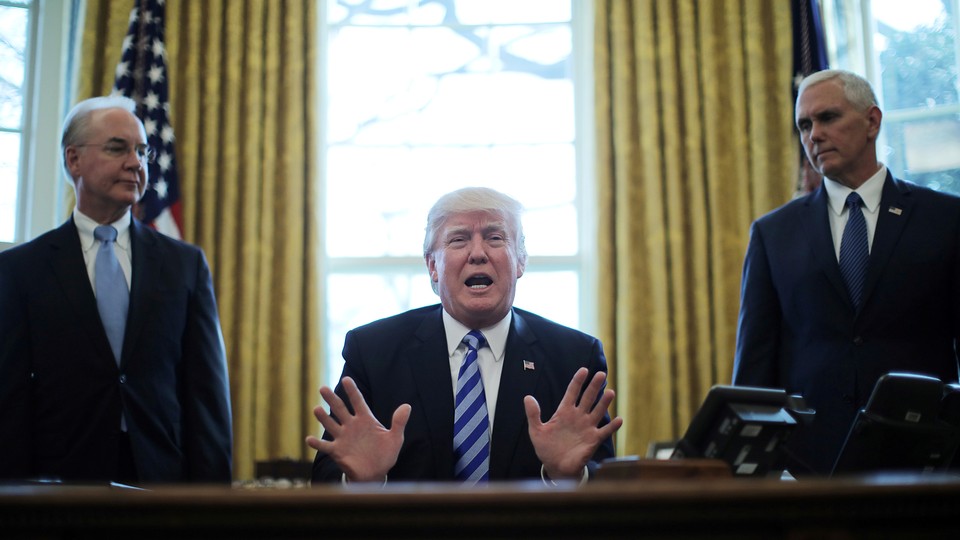 At least for the moment, the American Health Care Act is dead.
After two weeks of last-minute changes, Congressional Budget Office estimates, and an escalating tripartite skirmish between two wings of the Republican Party and the Trump White House, House Speaker Paul Ryan announced late Friday afternoon that a floor vote on the GOP's Obamacare replacement would be canceled and the legislation pulled. Facing a 17 percent national approval rating for the bill and loss of support from both the conservative Freedom Caucus and moderate Republicans, Trump and congressional lawmakers appear willing to walk away from health care for the moment. It's a reprieve, at the very least, for Obamacare.
The Affordable Care Act's supporters are celebrating, and it's not hard to see why. The strategy of forcing Republicans to choose between keeping their repeal promises and keeping the most popular parts of the law looks like Sun Tzu wrote it at this point. For now, the projected consequences of the AHCA won't come to pass: 24 million people won't lose insurance coverage, premiums won't quintuple for low-income near-elderly people, and Medicaid funding for states won't be cut over the next decade. But even if the current congressional battle over repeal-and-replace is over—or temporarily postponed—Republicans still have plenty of tools at their disposal to dismantle key pieces of Obamacare.
The GOP backup plan, according to President Trump, has always been to "let [Obamacare] be a disaster," and blame Democrats for its failings while moving on to other elements of the Republican policy agenda. Ryan seemed to agree on Friday, although not in as cynical terms, saying during a press conference that "the worst is yet to come with Obamacare." He warned of its imminent collapse via a "death spiral." There is, as of yet, no evidence that such a death spiral exists.
But a combination of deliberate legislating and purposeful neglect on the part of Republicans might change that. Even now, several administrative departments and agencies, including the Department of Health and Human Services and the Centers for Medicare and Medicaid Services, are operating under a day-one executive order from Trump directing them to "minimize the unwarranted economic and regulatory burdens of the [Affordable Care] Act." That order doesn't need any congressional action to give officials wide latitude to reduce the number of people covered under the ACA and weaken the web of policies that hold the law together.
While Health and Human Services Secretary Tom Price and CMS Administrator Seema Verma still can't step out of their regulatory and administrative roles as defined under the ACA, their roles are very broad. They can make decisions that achieve Trump's goal of reducing spending and government involvement in health care. HHS and CMS can execute several possible policies that can slough low-income people from insurance coverage and weaken Obamacare overall. For one, the administration is pretty free to exempt large groups of people from the individual mandate via "hardship exemptions." Or it could allow more insurers to provide coverage plans in the exchanges that don't meet federal standards—essentially permitting some relaxation of the very "essential health benefits" provisions that tripped up the AHCA. Relaxing the individual mandate and the value of insurance that exchanges offer could result in the very death spirals that Ryan warns about. That's because insurers will still be forced to cover sicker people with pre-existing conditions, even as healthy people leave markets by exemption or choose less comprehensive plans.
Within Medicaid, Verma has broad power to oversee the shape and form of state Medicaid programs. While she can't make the kind of sweeping dictates mandating changes to the program that Congress can, via the Medicaid 1115 waivers she can approve state plans that deviate significantly from traditional Medicaid. One provision that seems certain to come up for review by Verma's agency is a controversial work requirement that several states wish to implement. CMS has so far been unkind to work-requirement requests, which mandate that Medicaid enrollees must have a job to receive government benefits. But Verma's former consulting firm helped craft some of those very requests, and she already signaled vague support for work requirements in a letter she and Price sent to governors. It noted that the agency intends to "approve meritorious innovations that build on the human dignity that comes with training, employment, and independence."
The data on other welfare programs' work requirements, as well as analyses of the Medicaid population, suggest that the only guaranteed outcome of such a provision would be mass disenrollment of people on Medicaid, especially those able-bodied, low-income adults who only became eligible under the ACA's Medicaid expansion. Many of these adults report significant barriers to work—like a disability, caregiver responsibilities, or felonies—that keep them from stable jobs, and they'd lose coverage were Medicaid altered this way. The AHCA would have led to many more people disenrolling from Medicaid, because of its own work requirements and per-capita caps on funding. But an employment provision added to current Medicaid programs would also weaken the safety net, as Medicaid itself is work support. In addition, Verma's CMS appears to be considering approving other waiver provisions that could reduce Medicaid coverage and benefits, including requiring premiums and health-savings account contributions, moving more people to privately managed plans, and cutting benefits like the provision of medical transportation for enrollees.
The administration is also in charge of many of the annual regulations that have to be pushed to make the ACA work. Obama's White House constantly made small tweaks to the law in order to avert potential hiccups. Larger crises, like the disastrous rollout of HealthCare.Gov and the associated rejection of state-run exchanges by several states, required more dramatic federal intervention. Even if the Trump administration had the will to put out sporadic fires, those fixes would require not only savvy and a deep knowledge of health policy from top to bottom, but also a full bench of officials to do the work. As it is, the White House hasn't shown much interest in the intricacies of health policy, and the federal bureaucracy is  depleted.
Even under Obama, rising premiums and major exits by insurers from the exchanges seemed to mystify the president and his army of experienced bureaucrats. Health care is hard work, and it's hard work even when there aren't legislative fights in the news.
Whether on purpose or not, the Trump administration will probably weaken Obamacare on its own. But a Republican-dominated Congress will still be working, too, and recent history shows that some of their most successful anti-Obamacare moves have been smaller bites, even under the threat of an Obama veto. Enacted legislation has delayed the so-called "Cadillac tax" and other revenue-generating taxes, changed the categorization of small employers, and reduced appropriations to the Prevention and Public Health Fund. Congress could always make more of these smaller cuts to the health law. With legislation as complex and big as the ACA, each quantum of instability those measures create could have much larger downstream effects.
The tools available for Republicans in the executive and legislative branches to make Obamacare weaker are plentiful. Invariably, those moves will probably reduce the number of people covered and could further destabilize delicate and still-reeling exchanges. The degree of damage Republicans can do is as yet unknown. But an Obamacare made weaker by design could prove to be the dynamite they need to finally demolish the whole thing later. And this seems to be at least one place where the White House and the House are in accord. The only problem is Republicans might not want to be holding the dynamite when the fuse runs out.