Sam Brownback Might Not Be Governing Kansas Much Longer
President Trump reportedly will send the beleaguered Republican to Rome as ambassador to the UN for food and agriculture.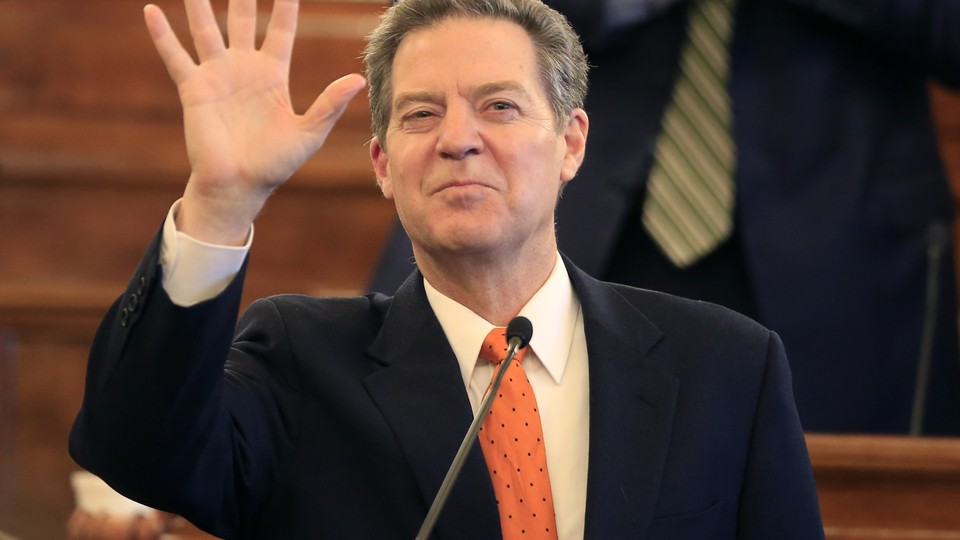 Donald Trump won Kansas last November by just over 20 points, and in the coming days he's expected to give the Jayhawk State's voters their reward: a new governor.
The president reportedly will name Governor Sam Brownback as the UN ambassador for food and agriculture, ending his second term nearly two years early. It's not exactly the most prestigious post in the Trump administration, considering it's decidedly less than Cabinet rank, and conservatives are angling to cut off U.S. funding for the UN over its treatment of Israel. Based in Rome and once held by George McGovern, the position assists in the UN's efforts to combat world hunger.
At this point, Brownback may be looking for any chance to escape a job that's been going south virtually since the moment he won reelection in 2014. And don't expect most Kansans to resent Brownback for abandoning his office: A seemingly never-ending budget crisis has made him one of the nation's most unpopular governors, and polls taken last year found that barely one-in-four voters approved of his performance.
"The people can't stand him here," a legislator in Brownback's own party, Representative Stephanie Clayton, told me last month.
The appointment isn't official yet. Brownback wouldn't comment on the possibility to reporters in Kansas, according to The Kansas City Star, although he did confirm his lifelong interest in humanitarian issues. A spokeswoman for Brownback said only that he was "focused on working with the Kansas legislature to balance the budget and pass a modern school funding system." And Michael Short, a White House spokesman, neither confirmed nor denied that Trump had offered Brownback the position.
A soft landing in the Trump administration would come as little surprise to political observers in Kansas, where the possibility has been rumored for some time. Brownback is close to Vice President Mike Pence and though he endorsed Senator Marco Rubio during the GOP primaries, he was not highly critical of Trump.
Brownback suffered his latest blow last week, when the Kansas Supreme Court ruled that the state's funding of public schools violated the constitutional rights of minority students. As we've documented, he's already facing a rebellion in the Republican-controlled legislature, which came within a few votes of overriding the governor's veto of a bill reversing the steep tax cuts he enacted early in his term. When the Senate brought up his own budget proposal, it was defeated on a 37-1 vote. Lawmakers have predicted that Brownback's tax cuts would be rolled back in some form in a final budget agreement.
Whether the governor will be around to see it is unclear. The UN post requires Senate confirmation, which could take weeks or even months. Brownback's departure would elevate Lieutenant Governor Jeff Colyer, who has served alongside Brownback for his entire tenure. Lawmakers told the Kansas City Star that Colyer was a relative unknown in Topeka, making his impact on the budget negotiations difficult to gauge.
Brownback would be the third sitting Republican governor to leave his post for an ambassadorship under Trump; Nikki Haley, the now-former governor of South Carolina, is the UN ambassador, and Iowa Governor Terry Branstad is awaiting confirmation as ambassador to China. (Governor Chris Christie is still waiting for Trump to come calling in New Jersey.) For Brownback, the food-and-agriculture posting wouldn't be much of a promotion. The Kansas Center for Economic Growth joked that it was an "emergency evacuation plan." Or you could call it the political equivalent of a golden parachute—one that would take the beleaguered governor all the way to Rome.