Russell Moore and the Fight for the Soul of the Southern Baptist Convention
The backlash against the conservative evangelical leader reveals deep tensions in his denomination.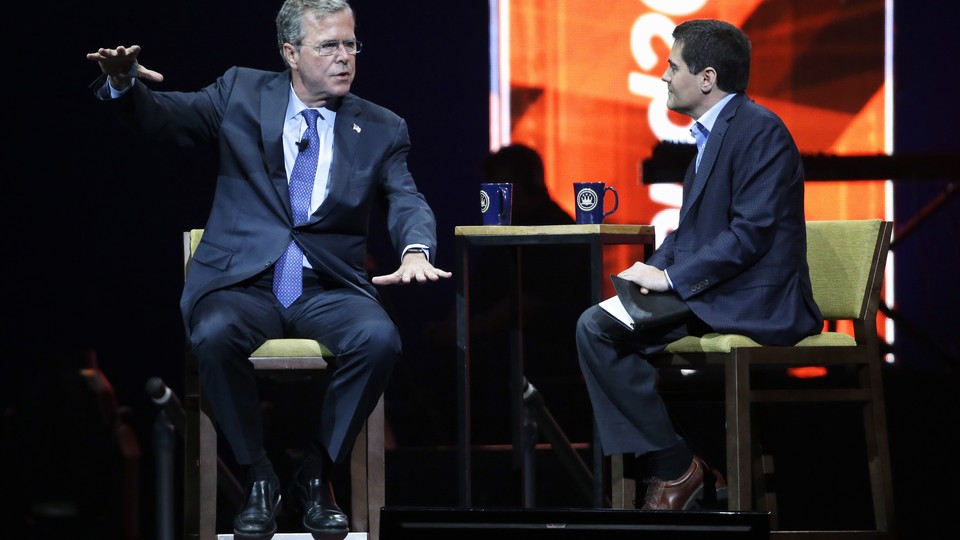 On Monday, The Washington Post reported that Russell Moore—the leader of the Southern Baptist Convention's political arm—might lose his job. The denomination's executive committee had asked Moore for a private meeting to discuss an unfolding controversy: More than 100 churches are considering cutting off funding from the Convention, according to the Post, and the influential Prestonwood Baptist Church in Texas announced in February that it will temporarily withhold roughly $1 million from the Convention's cooperative mission programs. The executive committee has recently begun an investigation into why these funds are being withheld.
The proximate cause for the backlash is the election: Moore was hypercritical of Donald Trump, while roughly 81 percent of white evangelicals—which includes a lot of Southern Baptists—ended up voting for the president. Page told the Post, "If the meeting doesn't goes well, I'm fully prepared to ask [Moore] for a change in his status."
While the controversy might seem like routine bureaucratic in-fighting in the country's largest Protestant denomination, it is symbolic of deeper tensions. "The SBC is in the middle of a huge identity crisis," said Dave Miller, the senior pastor of Southern Hills Baptist Church in Sioux City, Iowa, who edits the blog SBC Voices. "We don't know who we are."
The Russell Moore backlash saga has by now had a few waves. The Wall Street Journal reported criticism of Moore from a number of prominent evangelical leaders in December, suggesting "a potentially dramatic rebuke" ahead. Monday's Post story was the latest update—for the first time in a few months, it really looked like Moore's job might be on the line.
But once the Post story broke, the executive committee started walking things back. After Moore met with the committee, they put out a join statement, saying, "We deepened our friendship and developed mutual understanding on ways we believe will move us forward as a network of churches." Roger "Sing" Oldham, the executive committee's spokesman, claimed Page hadn't really suggested he might ask Moore for his resignation: Page "received a call from a reporter on Sunday afternoon while he was returning from church," Oldham said, and "he indicated [his] desire was to build bridges going forward. He said, 'Well, nothing is off the table, but my goal is to build bridges in this private meeting.'"
Short of Moore deciding he was going to resign, it was unlikely he would have lost his job on Monday. The governing structure of the Southern Baptist Convention is complex: Only the board of trustees that specifically oversees Moore's organization, the Ethics and Religious Liberty Commission, has the power to ask him to resign; Page couldn't have fired Moore even if he wanted to. Ken Barbaric, who chairs the ERLC's board of trustees, has openly praised Moore and emphasized his support for Moore's work.
"When I was young, there was a culture … that's been blown completely to pieces."
The fight over Moore is not just about him, though. The Southern Baptist Convention is changing, and Moore represents the denomination's shift in orientation. Moore has frequently spoken out against the old-guard religious right, which was led in the 1990s and '00s in part by his predecessor at the ERLC, Richard Land. Moore has called on the denomination to divorce itself from Republican politics, especially as younger evangelicals show themselves to be more politically diverse, and has moved his organization in that direction. He is part of a new generation of pastors, who tend to be more Calvinist in orientation, who have taken over leadership roles.
"When I was young, there was a culture that the SBC had," said Miller. "You could go into any SBC church, and there just was a way we did things. The preachers dressed alike, and we sang from the same hymnbook, and there was a culture that bound us together. That's been blown completely to pieces."
The denomination is also looking ahead to a future membership that will be less white and more black and brown: Some of the most vibrant, growing communities in the church include Hispanic evangelicals, for example. During his nearly four years in his position with the ERLC, Moore has focused on racial reconciliation as a key part of his job.
This may be why some in the SBC are pushing back, said Thabiti Anyabwile, a black pastor who leads the Anacostia River Church in Washington, D.C. "Things are motivated by either a desire to quiet conversations around race in the Convention, or are motivated in some places by a kind of racial animus in opposition to the positions Dr. Moore has taken." A number of prominent African American pastors have warned that Moore's dismissal would send a bad signal to their churches, which make up a minority of the SBC. "The vast majority of black Southern Baptist Convention church leaders and pastors … are not Trump-leaning, blindly loyal Republican voters," wrote Dwight McKissic, the pastor at Cornerstone Baptist Church in Texas, in a post for SBC Voices. "Therein lies the potential for the outcome of this investigation to be tremendously and racially polarizing."
"He has singlehandedly caused more division in Southern Baptist life than what we've seen in the last 30 years."
But Moore's detractors say that his comments before and during the election were equally polarizing. "I don't think Dr. Moore's comments about Donald Trump are what have [him] in hot water," said Lewis Richerson, the pastor at Woodlawn Baptist Church in Baton Rouge. "He has singlehandedly caused more division in Southern Baptist life than what we've seen in the last 30 years over a tertiary issue: politics."
Richerson said he believes Moore was condescending toward Southern Baptists who disagreed with him about Trump—something Moore apologized for after the election. But it was more than that: On issues from the Convention's stance toward the Confederate flag to its recent decision to file a religious-liberty brief in favor of a mosque, he thinks Moore has been dismissive of those who think differently from him. And he sees Moore's rhetoric on race as inflammatory. "I personally believe Barack Obama is solely responsible for increased tensions in race relations in America," Richerson said. "In the same vein, Russ Moore is responsible for the current flare-up of negativity in race relations in Southern Baptist life."
As the Convention works through its changing identity, the controversy over Moore's job is likely to continue as a flashpoint. The leadership of the SBC may be trying to "build bridges" within the denomination. But many believe those bridges were already burned in 2016.