Republican Lawmakers Call for Sessions to Recuse Himself
According to media reports, the attorney general and former Alabama senator met with the Russian ambassador to the United States during the election.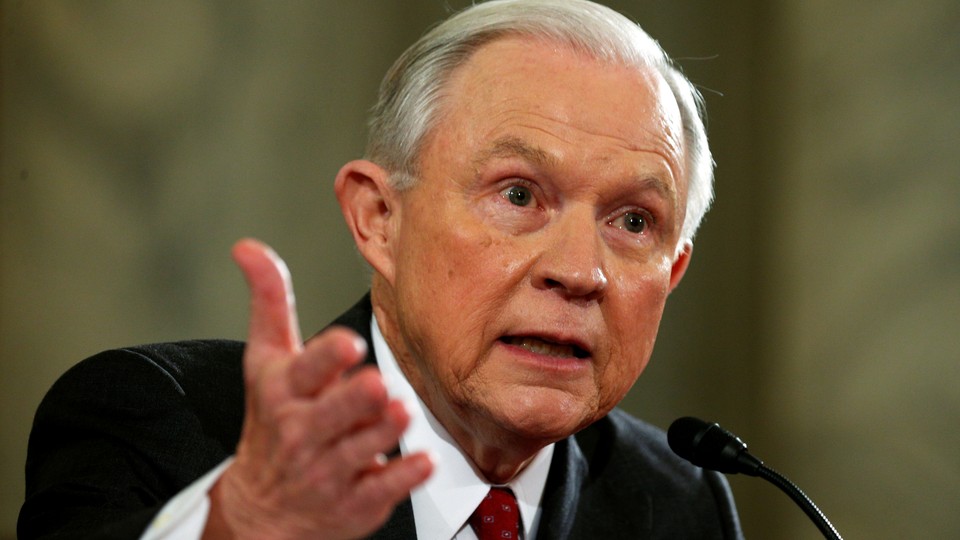 Updated on March 2 at 1:13 p.m. ET
Republican lawmakers have called for Attorney General Jeff Sessions to step aside from oversight of the investigation into possible ties between the Trump campaign and Russian officials. Their calls came after recent news reports revealed that the former Alabama senator met with Russia's ambassador to the United States during the election.
Ohio's Rob Portman said late Thursday morning that Sessions should recuse himself, the first Republican senator to say so outright; he was followed later by Maine's Susan Collins. A growing number of House Republicans have suggested the same, including Representative Jason Chaffetz, chairman of the House Oversight Committee; Idaho Representative Raúl Labrador; Darrell Issa, the California representative and former Oversight chair; Virginia Representative Barbara Comstock; and Michigan Representative Justin Amash. In an interview on MSNBC, House Majority Leader Kevin McCarthy indicated Sessions shouldn't oversee the investigation, though within hours seemed to change his mind.
"I think, the trust of the American people, you recuse yourself in these situations," McCarthy said. "I just think for any investigation going forward, you want to make sure everybody trusts the investigation … and that there's not doubt within the investigation." Reporter Mark Halperin followed up, asking whether the situation required Sessions's recusal. "I think it would be easier from that standpoint, yes," McCarthy answered. Later, in an interview with Fox & Friends, McCarthy said that he's "not calling on him to recuse himself."
The FBI, which the attorney general oversees, is reportedly investigating possible contact between Trump associates and Russian officials during the 2016 campaign, as well as the cyberattacks that targeted Democrats last year. On Wednesday night, The Washington Post first reported that Sessions, then a senator and Trump campaign adviser, had spoken twice last year with Sergey Kislyak, the Russian ambassador. Yet at his January 10 confirmation hearing, when Senator Al Franken asked Sessions a question regarding possible contact between Trump associates and the Russian government, Sessions said: "I'm not aware of any of those activities." He added: "I have been called a surrogate at a time or two in that campaign, and I did not have communications with the Russians."
Sessions released a statement late Wednesday following the Post report: "I never met with any Russian officials to discuss issues of the campaign," it read. "I have no idea what this allegation is about. It is false." In a brief exchange with NBC on Thursday morning, he reiterated that he had "not met with any Russians at any time to discuss any political campaign." When asked about calls to recuse himself, he said, "I have said whenever it's appropriate, I will recuse myself."
The Post story prompted a spate of responses from Republican and Democratic legislators that continued into Thursday morning. Senator Ted Cruz said in an interview on MSNBC that a senior senator on the Armed Services Committee, as Sessions was, meeting with an ambassador is a "nothingburger." He added that Sessions "should have been more clear" in his testimony, but "at the end of the day, I don't think there's any there there." Senator Marco Rubio told NPR that the reason why Sessions didn't disclose his meetings during the confirmation hearing is "important and needs to be addressed."
Senator Lindsey Graham followed suit, saying on Twitter, "Sessions needs to explain his contacts with the Russian ambassador during his service as a Senator—that's appropriate." He said calls from Democratic lawmakers for Sessions to resign is "crazy." And at a CNN town hall Wednesday, Graham said that if there was indeed "something there and it goes up the chain of investigation," Sessions "cannot make this decision" on any next steps. Collins's call for recusal is notable because she testified on Sessions's behalf at his confirming hearing. In a statement Thursday, she said he "should recuse himself to ensure public confidence in the Justice Department's investigation" and "clarify his statements to the Judiciary Committee with respect to his communications with the Russian ambassador."
House Speaker Paul Ryan is among those, including the White House, who've so far dismissed suggestions that Sessions needs to immediately step aside from the investigation. When asked during a press briefing on Thursday if the attorney general should recuse himself, Ryan deferred reporters to the judiciary committee transcripts and Sessions's own statement on the matter. Sessions said Thursday that "whenever it's appropriate, I will recuse myself."
"I think he answered that question this morning, which is if he is the subject of an investigation, of course he would," Ryan said. He added: "It's really common for members of Congress to meet with ambassadors. That kind of thing happens all the time."
Democratic lawmakers have long demanded that Sessions step aside from the investigation into the Trump team's alleged Russian contacts, arguing that he was a fervent supporter of and counselor to Trump during the campaign. Some, following Wednesday night's revelations, have gone a step further, asking for Sessions's resignation. In a press briefing Thursday morning, House Minority Leader Nancy Pelosi accused Sessions, "the top cop in our country," of lying under oath. That, she said, "is grounds for him to resign. He's proved that he's unqualified and unfit to serve in that position of trust." Senate Minority Leader Chuck Schumer said on Twitter Thursday that "because the Department of Justice should be above reproach, for the good of the country, the attorney general should resign."
Shortly after the Post report, Representative Elijah Cummings, the ranking member on the House Oversight Committee, also weighed in: "When Senator Sessions testified under oath that 'I did not have communications with the Russians,' his statement was demonstrably false. … Attorney General Sessions should resign immediately, and there is no longer any question that we need a truly independent commission to investigate this issue."