The Cloak-and-Dagger Republican Obamacare Repeal Operation
Senator Rand Paul heard GOP leaders were keeping their health care legislation hidden. So he went to try and find it.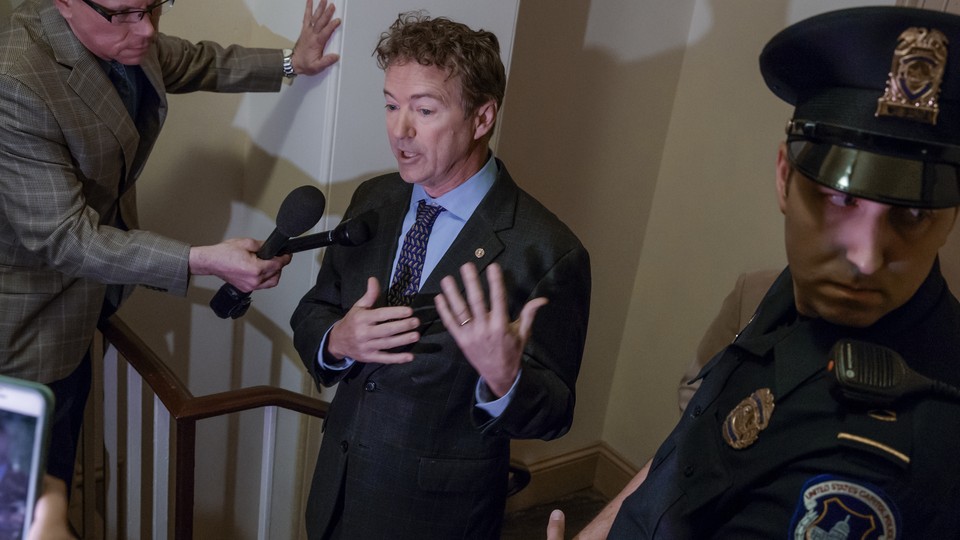 Rand Paul said he just wanted to read the bill.
The Kentucky Republican had heard all about legislation House Republicans were drafting to repeal and replace the Affordable Care Act. He had seen a copy that leaked out last week, which conservatives quickly panned, and which the GOP leadership then dismissed as a draft that was no longer "viable." And by Thursday morning, Paul had seen reports that the House was keeping the latest version of legislation that would reshape the U.S. health insurance system under lock-and-key, hidden away in a "secret" room where only members of the House Energy and Commerce Committee could read it.
"I am heading to the secure location where they are keeping the House Obamacare bill," Paul tweeted. "I will demand a copy for the American people."
And so he went.
What followed was a surreal scene on the first floor of the U.S. Capitol that quickly drifted toward farce. Trailed by a scrum of reporters and cameras, Paul sought—and was denied—entry into the Republican office where, he was told, the draft Obamacare bill was being kept.
"I think there's a bill in there. It's the secret office for the secret bill," Paul told the reporters. As Paul was speaking, a House Democrat, Representative Paul Tonko of New York, slid past him to try to get into the office. But he, too, was denied. Tonko told reporters that staffers in the office had told him there was no bill inside.
Then came Representative Steny Hoyer, the second-ranking House Democrat, who broadcast his effort to "find the bill" on Facebook Live. By the time it was over, frustrated GOP staffers had flung open the doors of the otherwise nondescript office suite to prove to reporters that was not, in fact, the repository of major legislation hidden from public view.
That the intensifying repeal push has taken on an aura of secrecy is an ominous sign for House Republicans, who had hoped that an endorsement of their approach from President Trump would bring conservatives in their party in line. Speaker Paul Ryan told Republican lawmakers in a private meeting Thursday that he wanted the House to pass legislation within the next three weeks to send to the Senate. And although details of the bill are still unknown, two House committees hope to mark up legislation as soon as next week.
But Paul's allies in the House GOP are sensitive to the perception that party leaders will try to ram through a bill without sufficient public scrutiny—exactly the charge that Republicans leveled against Democrats in 2010, when their drive to enact the ACA took more than a year. "All I ask is let us see the bill," Representative Louie Gohmert of Texas said as he left the party meeting on Thursday.
Aides to Ryan and Republican committee chairmen were angered by what they called a stunt by Paul, knowing that it would embolden Democrats who have been criticizing the Republican effort. "We don't have the bill written yet," Representative Greg Walden of Oregon, the chairman of the Energy and Commerce Committee, told me when I asked him about the charge of secrecy.
As to the reports that a draft was being made available only to Republican members of the committee, Walden said: "Here's the misconception: When you have a draft staff product, you want your members to be able to see it, comment on it. There's much more ado about this than I've ever seen."
After Paul's gambit, the chairman issued a lengthier statement:
"Reports that the Energy and Commerce Committee is doing anything other the regular process of keeping its members up to speed on latest developments in its jurisdictions are false. We are continuing to work on drafting and refining legislative language to provide relief from a failing law. Part of that process is giving committee members and staff the opportunity to work closely together to draft a bill that reflects the concerns of our constituents and reflects our mandate from voters to repeal and replace Obamacare. Simply put, Energy and Commerce majority members and staff are continuing to discuss and refine draft legislative language on issues under our committee's jurisdiction."
To some extent, Republicans like Walden are debating semantics: Because they have not formally introduced legislation, they are calling the emerging health care plan "a draft" or simply "legislative language." But party leaders have readily acknowledged that the text is in bill form and is in the final stages of preparation. Ryan outlined the proposal to Republicans on Thursday and said committee leaders would be working throughout the weekend to refine it.
Knowing the final bill will come under attack whatever it contains, top Republicans don't want to release it until they are ready to try and pass it. Until then, to Rand Paul's great dismay, it'll likely remain a secret.