Q of the Week: Which Lawmaker Would Coach Your Team?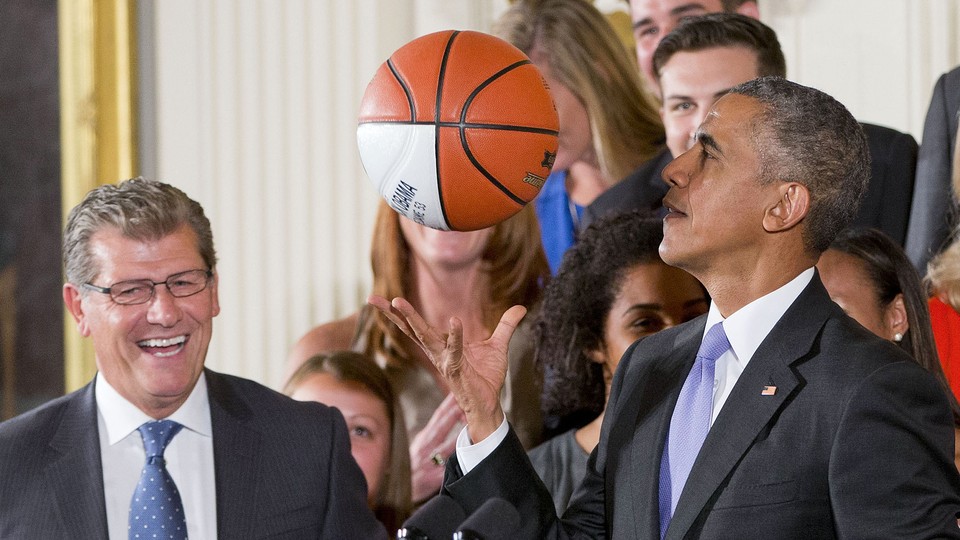 Editor's Note:
This article previously appeared in a different format as part of The Atlantic's Notes section, retired in 2021.
This week, in honor of March Madness, we asked Politics & Policy Daily readers: If you had to pick a lawmaker to coach your team and take it to the Final Four, who would you pick—and why?
Eileen is one of several readers who thought of Arizona Senator John McCain:
His military service and his ability to survive as a POW held by the Vietcong are a tribute to his character. Equally impressive is his courage as a Republican to speak out when he sees something is wrong. He did this recently in asking President Trump to show evidence of wiretapping by former President Obama or to stop talking about it.
But after some consideration, Eileen decided she'd rather have Vermont Senator Bernie Sanders as her team's coach:
His energy, enthusiasm, clear thinking, and ability to decipher complex issues and explain them in simple terms is more than impressive. He is a role model for all people, no matter their race, nationality, or religion. He gets my vote for the above reasons. He is my go-to guy. If there is a job to be done, he can be counted on to do it.
For reader Adela, Massachusetts Senator Elizabeth Warren is the obvious choice:
Can't you just see her on the court cheering on her players? She'd be a dynamo! And she'd defend her team like a mother tigress. No ref would dare to argue with her if she knew she was right. She would, no doubt, get ejected from many games because she'd be warned, but, nevertheless, she'd persist!
Another suggestion for Warren—plus some notable support staff—comes from Barbara:
Warren is feisty, and would have high expectations of her team players as well as her assistant coaches. Everyone would know they needed to play their best game, both on the court and off. As a player, you would know Coach Warren would be fair and have your back. You would know not to cross her or be dishonest with her lest you incur her "come-to-Jesus" and get benched.

Her players and assistant coaches (Hillary Clinton, teaching community-building skills by listening and bringing together players, parents, community, and fans; Tammy Baldwin, teaching loyalty and team building skills; Michelle Obama, teaching healthy-eating and exercise-training skills; Barack Obama, team adviser) would be dedicated to helping each player be their best as a student athlete, in their coursework, and as a global citizen.
Tricia picks 84-year-old Supreme Court Justice Ruth Bader Ginsberg to take her NCAA team to the final four. Here's why:
She's tougher than nails, smarter than a whip, she does her homework, and she perseveres to the end. She'd have a few tricks up her sleeve and our team would be the winner against unimaginable odds. It would be my—and her—thrill of a lifetime.
Dirk of Holland, Michigan, chooses a congressman from his home state to bring his team to victory—Republican Representative Bill Huizenga:
He's got the spine, imagination, and drive to get 'er done. He's also Dutch-American, which means he's hard-headed, a great coach to those alongside him, and knows his people well.
Kennedy recommends South Carolina Senator Lindsey Graham, "because Lindsey Graham." And finally, Bruce has a joke about the popular vote:
Come on! It would have to be Trump. Even if the other team scored more points, you'd somehow still win.