Breitbart's Favorite Punching Bag
The conservative news site is ramping up its attacks on House Speaker Paul Ryan's the new health-care bill, despite his detente with President Trump.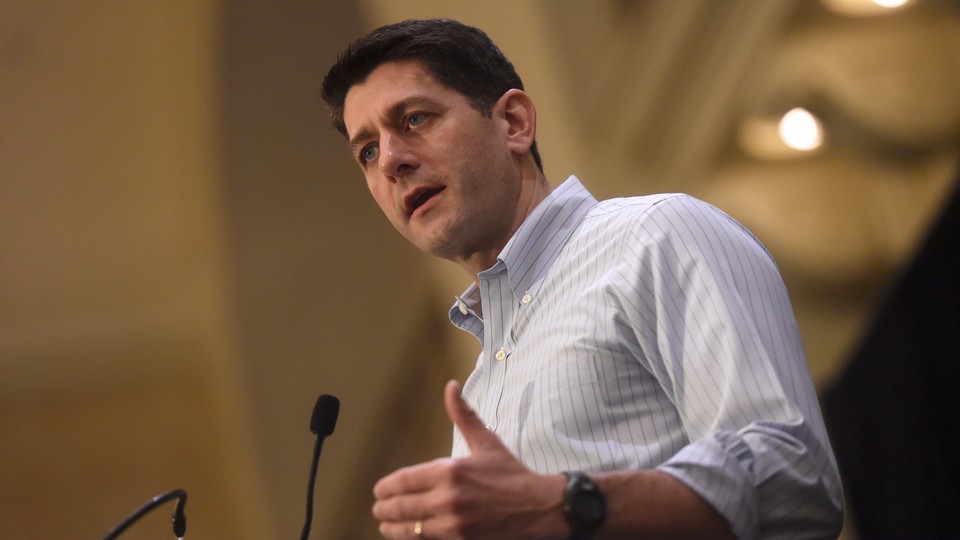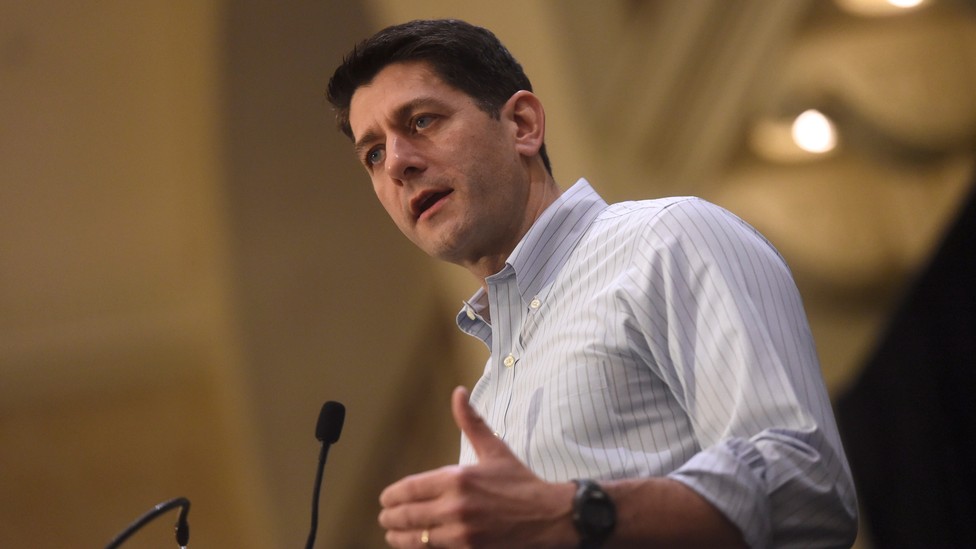 Breitbart News has been, and may forever be, at war with House Speaker Paul Ryan.
Ryan has been a favorite target at Breitbart for years. Current White House chief strategist and former Breitbart chairman Steve Bannon has made little secret of his disdain for Ryan. In December 2015, Bannon reportedly said in an email to Matthew Boyle, the site's Washington political editor, that his "long game" was for Ryan to be "gone by spring."
That same month, Bannon co-authored a piece with Julia Hahn—also now working in the White House—that did not pull any punches: "Paul Ryan's first major legislative achievement is a total and complete sell-out of the American people masquerading as an appropriations bill." Breitbart continued to bait Ryan throughout the campaign. In October, Hahn wrote a story accusing Ryan of supporting Hillary Clinton, writing that the two shared a "progressive, globalist worldview." The art for the story was Ryan's face superimposed over the Clinton campaign logo.
The latest salvo came on Monday night, as Boyle published audio from an October conference call with House Republicans in which Ryan distanced himself from Trump after the leak of the Access Hollywood tape. Though Ryan's comments were reported at the time, the release of the audio recording—"I am not going to defend Donald Trump—not now, not in the future"—revived a story that had been buried by the two men's uneasy rapprochement since then.
The timing of the leak spoke just as loudly. Breitbart is positioning itself as the loudest voice on the right against the new American Health Care Act (AHCA), the House Republicans' health-care bill, which the White House is backing. The publication of Boyle's story on Monday instantly sparked speculation about what it might indicate about Bannon's, or Trump's, level of support for the bill. Will they abandon it if it looks doomed to fail, and leave Ryan holding the bag?
"Breitbart is obviously attempting to savage Ryan in the way they always have--it's what their base expects now," said former Breitbart writer Ben Shapiro, who left the site in protest last year. "But to imagine that they're doing all of this against Bannon's wishes strains credulity."
"There's a lot of general philosophical animus towards Ryan" at Breitbart, said one current Breitbart staffer. "By making it their lead [story] and everything else and going after Ryan right now with our readers, it's interesting. It feels like Matt [Boyle] to me, it doesn't feel like Bannon at all."
"Definitely no concerted effort but yes Boyle doesn't like [Ryan]," said one friend of Boyle's, who noted that Boyle leads the site's politics coverage.
Bannon didn't return requests for comment; nor did Boyle. The last time Boyle took aim at an ally of the president was in a recent story about White House chief of staff Reince Priebus, blaming Priebus for a litany of the administration's problems, including his failure to purge the government of Obama holdovers. That story didn't go over particularly well with his former boss, who told me the piece was "absurd" and reportedly excoriated Boyle in private for it. At the time, Bannon and Priebus were executing a full-court press effort to tamp down rumors that they were clashing within the White House.
Breitbart's story on Monday wasn't the first time the site had taken aim at Ryan over AHCA, which it has dubbed "RyanCare" or "Obamacare 2.0." It has published a flurry of stories slamming Ryan for the bill. Other establishment types have sustained collateral damage in the process. Monday night's story included a swipe at White House press secretary Sean Spicer, a close Priebus ally, who "is working internally as hard as he can to help Ryan on this front regardless of the impact on Trump along with a handful of other White House aides who came from the Republican National Committee and are not Trump loyalists," Boyle reported.
The cascade of anti-AHCA, anti-Ryan stories came after a short period in which the site offered favorable coverage of Priebus allies. It published, for example, a glowing profile of deputy chief of staff Katie Walsh. But the AHCA changed things. "We are Breitbart," Boyle wrote in an internal slack message obtained by Business Insider last week. "This is war. There are no sacred cows in war."
Bannon left Breitbart when he joined the Trump campaign in August, and has no official relationship with it now. Ethics rules prohibit him from participating in the running of the company while he works in the White House. Bannon resigned from the site in a phone call, Breitbart CEO Larry Solov told the standing committee of the Senate Press Gallery while trying to obtain press credentials for Breitbart last month.
But his spirit and ethos clearly lives on there, even as the man himself is a key figure in a White House that publicly supports the health-care initiative.
"Bannon hates Ryan, it would not shock me if Bannon would be happy if Ryan got primaried or beaten," the current Breitbart staffer said. "But Bannon's practical and wants to get the agenda through."