The Call Was Coming From Inside the White House
A new report says that Devin Nunes's bombshell claim of spying on the Trump team came from the Trump administration itself.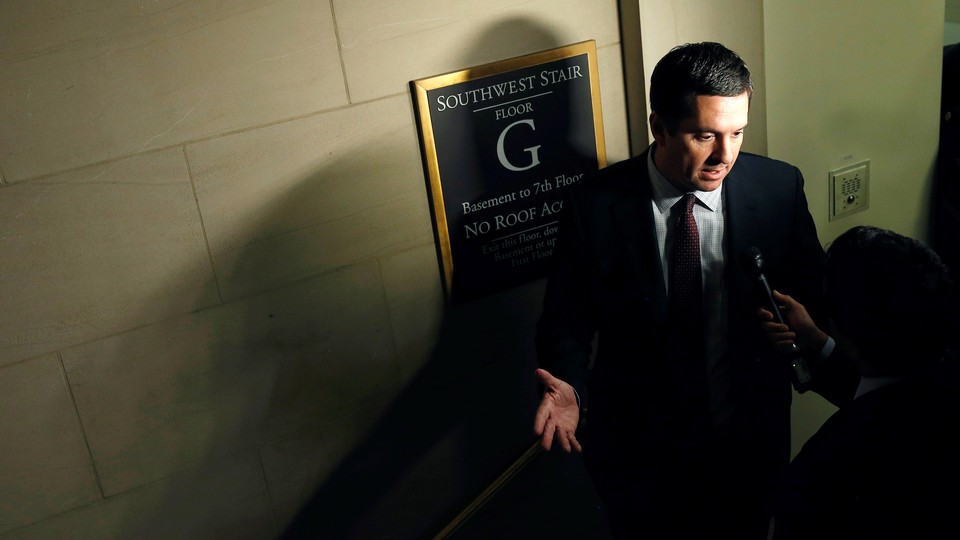 Updated on March 30 at 2:44 p.m.
For more than a week, House Intelligence Committee Chairman Devin Nunes has provided the hottest topic for speculation in Washington: Where did he receive mysterious reports that suggested intelligence surveillance of Trump transition team officials?
Now, there appears to be an answer, courtesy of The New York Times: a pair of officials in the Trump White House. The paper reports:
Several current American officials identified the White House officials as Ezra Cohen-Watnick, the senior director for intelligence at the National Security Council, and Michael Ellis, a lawyer who works on national security issues at the White House Counsel's Office and formerly worked on the staff of the House Intelligence Committee.
The White House did not comment. Nunes's spokesman reiterated that he would not identify his source.
In short, the new chronology is this: White House officials leaked intelligence information to Nunes, who then announced them last Wednesday as fresh revelations, saying that he had received them from an unnamed source and that the White House was unaware. Nunes then made a show of going to the White House to brief President Trump on revelations that had come from his staff in the first place. The administration finally used the information to claim vindication on its still-evidence-free claims that President Obama surveilled then-candidate Trump.
This runs directly counter to Nunes's statements on March 22. Before he went to the White House, a reporter asked Nunes whether the White House should be briefing him, rather than the reverse.
"Well, the administration isn't aware of this, so I need to make sure I go over there and tell them what I know, because it involves them," he replied.
The revelation underscores complaints that Nunes, a California Republican and close ally of the president, is too close to the administration or is even working at its behest. It also sheds new light on a strange incident preceding the Wednesday revelation. Nunes visited a National Security Council sensitive-information room at the White House complex to view classified information, but he claimed—somewhat implausibly—that White House officials were unaware of his visit, and White House Press Secretary Sean Spicer has deferred questions to Nunes, saying he has no information about the visit. If the Times report is correct, it casts doubt on the truthfulness of Nunes's story on that count, too. The chairman said his information came from an intelligence official, although Ellis is a Navy Reserve intelligence officer.
Speculation about Nunes's source had already begun to focus on Ellis, who was general counsel for Nunes's House Intelligence Committee before moving to the White House earlier in March. Cohen-Watnick is a protege of former National Security Adviser Michael Flynn, who was forced to resign after leaked intelligence reports showed he had lied to the vice president and the American people about contacts with the Russian ambassador. Flynn's successor, General H.R. McMaster, reportedly wanted to remove Cohen-Watrick but was overruled by Trump.
Nunes's conduct has become a target for widespread criticism. His decision to hurriedly brief the president, without having shared information with either Republican or Democratic members of the committee, elicited curiosity and Democratic fury. Since then, Ranking Member Adam Schiff and House Minority Leader Nancy Pelosi have been among several Democrats who have called for Nunes to recuse himself from the Russia investigation. Despite putatively being the head of an independent investigation, he told Fox News's Sean Hannity that he felt obliged to brief the president because Trump was subject to heated press criticism.
The actual content of Nunes's claims remains unclear. He said the surveillance appears to be lawful snooping on foreign nationals and did not involve Russia. He said, however, that Trump transition team officials were "incidentally collected," the term used to describe when U.S. nationals are heard during surveillance of foreigners. Typically, their names are supposed to redacted, or "masked," before intelligence is spread. Nunes claims masking was insufficient. But it has since become clear that Trump team members may not have been directly incidentally collected, but were merely mentioned during conversations—which would hardly be surprising, since they were part of the incoming presidential administration.
Meanwhile, Nunes is in the difficult position of claiming intelligence information was too widely shared based on intelligence information he has haphazardly released. The representative could theoretically be subject to a House ethics probe for releasing it, or potentially a Justice Department leak investigation.
Schiff has argued that Nunes has a choice: He can either act as a surrogate for the White House, or he can head up the House's investigation into Trump. During a moment of striking, and perhaps unintentional, honesty, Representative Ted Yoho, a Florida Republican, was asked on MSNBC on Thursday if he was concerned about Nunes potentially parroting White House information back to it. "You gotta keep in mind who he works for," Yoho said. "He works for the president."
Each new piece of information that emerges suggests Nunes agrees.