North Carolina Is Finally Repealing Its Bathroom Bill
Just over a year after H.B. 2 passed, lawmakers and the governor have reached a deal, but progressive groups say the new plan is a sham.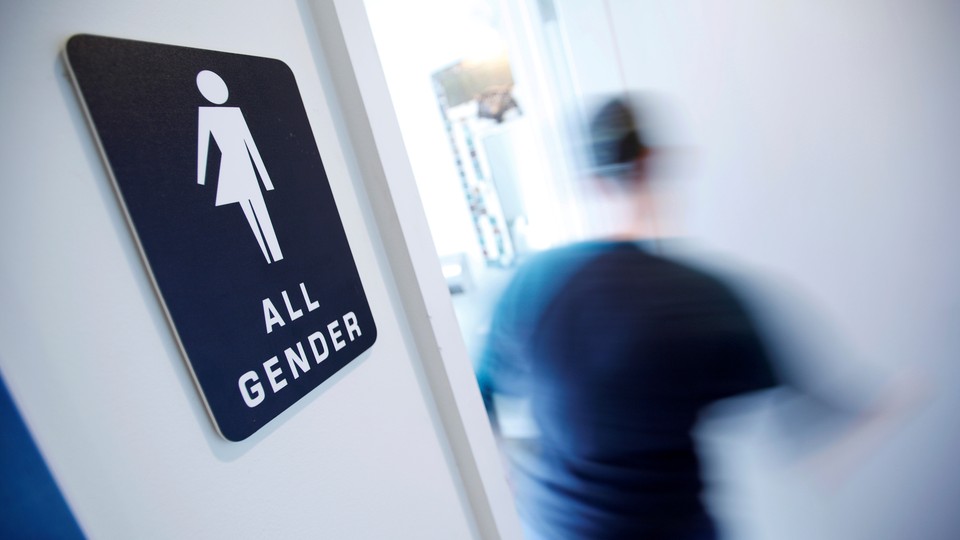 Updated on March 30 at 2:50 p.m.
DURHAM, N.C.—About a year ago, Republicans in the North Carolina General Assembly hurriedly passed H.B. 2, a law that barred transgender people from using the bathroom of the gender with which they identify, along with several other provisions. And almost ever since, the state has been trying and failing to find a way to reverse it.
Now, there is a breakthrough. On Thursday, the North Carolina General Assembly passed a bill to repeal the law while placing a moratorium on nondiscrimination measures. The bill is now headed to the desk of Governor Roy Cooper, who supported it. But the new bill, which is actually narrower than a repeal attempt that failed in December amid opposition from both Democrats and Republicans, has infuriated progressive groups that say it doesn't go far enough.
The bill might be considered something of a Humpty Dumpty bill: The goal is try to put things back the way they were and pretend the whole fight never happened. The dispute kicked off in February 2016, when the city of Charlotte passed a local ordinance that barred discrimination against LGBT people, with a controversial provision saying that transgender people must be allowed to use the bathroom corresponding to the gender with which they identify.
The General Assembly then passed, within a span of less than 12 hours, H.B. 2, which not only reversed Charlotte's law but prevented any other city from passing an LGBT nondiscrimination ordinance or raising its local minimum wage. The bill also mandated that transgender people in public facilities use the bathroom corresponding to the sex on their birth certificate.
The bill passed Thursday repeals H.B. 2 wholly. But it would bars any new regulation of bathroom usage by any state authority other than the General Assembly. In other words, it would appear that while transgender people are not barred from using the restroom of their choice, neither can any governmental authority protect their right to do so. The bill also maintains the current preemption of city rules. Local governments would be barred from passing any ordinance that dealt with private employment practices or public accommodations—which is to say any LGBT law or minimum-wage increase—until 2020. The bill would add to a growing log of laws that the General Assembly has passed since 2010 to preempt local governments from enacting more progressive rules.
The legislation actually imposes more restrictions on cities than a repeal attempt that failed in December, during a special session days before Christmas that was called for the express purpose of repealing H.B. 2. That bill, introduced by Senate President Pro Tempore Phil Berger, a Republican, would have repealed H.B. 2 and instituted a six-month cooling-off period before any local governments could pass a new ordinance on public accommodations. Democrats countered with a clean repeal demand. Both bills failed as the legislature collapsed into bitter partisan recrimination. Cooper opposed that deal.
More recently, Democrats have proposed repeal packages that would institute a moratorium on new ordinances that would end, for example, 30 days after the current legislative session. Republicans have suggested repeal coupled with stricter penalties for bathroom-related crimes and a "conscience clause" for people with religious objections.
So why did the current attempt succeed where the previous ones failed? One answer is that the state has its back up against the wall. The NCAA has pulled events it was planning to host in North Carolina, including parts of the 2017 men's basketball tournament, due to H.B. 2. The organization is setting its schedule through 2022 in April, and the deadline for North Carolina to act if it wants any of those events is said to be as soon as Thursday.
"I support the House Bill 2 repeal compromise that will be introduced tomorrow. It's not a perfect deal, but it repeals House Bill 2 and begins to repair our reputation," Cooper said in a statement after 11 p.m. Wednesday. The state Democratic Party also endorsed the plan.
Nonetheless, the news of the agreement was ill-received by North Carolina progressives as well as major national groups. As Democratic lawmakers streamed to the governor's mansion for a meeting Thursday morning, they were met by protestors. Chris Sgro, an LGBT activist who briefly served in the General Assembly last year and led efforts to repeal H.B. 2, blasted the agreement and called it a "sham proposal." The Human Rights Campaign, which has also lobbied for repeal, charged that the current bill "doubles-down on discrimination." Chase Strangio, an ACLU lawyer who has worked on legal suits related to H.B. 2, said on Facebook that the "effect and rhetoric" of the repeal bill "are precisely the same." The state chapter of the ACLU said that "lawmakers must reject this disgraceful backroom deal that uses the rights of LGBT people as a bargaining chip."
Nor is it clear that the bill will meet the NCAA's requirements for recovering events. The organization pointed to four specific reasons why North Carolina's law was different than others, including the state preemption of local nondiscrimination ordinances. The Charlotte Observer's Katie Peralta reports that NCAA is not currently commenting on the repeal effort.
The NCAA is only one of many groups to pull out of or pull back from the state over H.B. 2. The NBA moved its 2017 All-Star Game, which had been slated for Charlotte, to New Orleans. Numerous musicians have canceled tour dates in the Old North State, and major companies including PayPal and Deutsche Bank have postponed or canceled job expansions. A recent analysis by the Associated Press tallied the economic damage to the state at $3.76 billion over 12 years, though the report noted that the number was likely an underestimate, because of harder-to-count losses. The state's total economy is roughly $500 billion annually.
The turmoil caused by H.B. 2 has not been limited to business and sports. The law was a major factor in the November defeat of Governor Pat McCrory, a Republican and former mayor of Charlotte, who became the public face of the bill. Cooper, a moderate Democrat and long-time state attorney general, made repeal of H.B. 2 a top priority. The passage of the bill on Thursday gives Cooper a major victory, but also threatens to strain the coalition that elected him, and to divide North Carolina progressives.