Paul Manafort's Mysterious Millions
New reports question whether transactions by the former Trump campaign chair, who has been tied to Russia, indicate possible money laundering.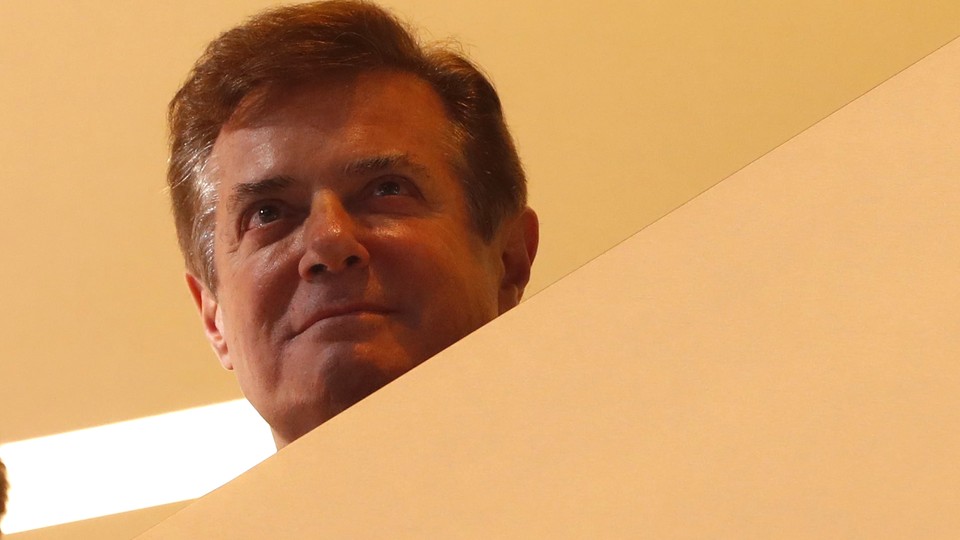 Washington attracts a certain type of person who loves attention—the thrill of the crowd, the glow of the camera. But it also attracts the kind of person who loves to operate in the shadows: the master of arcane rules, the backroom operator. When the second category of person ends up with the attention, things can get uncomfortable.
Take Paul Manafort, the former Trump campaign chairman whose ties to the Kremlin have come under new scrutiny as the Trump administration's own ties do the same. Last week, the AP reported on alleged work Manafort did to burnish Vladimir Putin's image abroad. As my colleague Julia Ioffe wrote, such work may appear distasteful to some, but it's more often than not totally legal.
But now that Manafort is under the microscope, several reports are pointing to actions that might be more questionable. The first comes from WNYC, the New York public-radio station, which reported on three cases unearthed by  377union.com in which Manafort purchased properties in the city with no mortgages:
Manafort's New York City transactions follow a pattern: Using shell companies, he purchased the homes in all-cash deals, then transferred the properties into his own name for no money and then took out hefty mortgages against them, according to property records.
The purchases came around the time Manafort signed a contract with Kremlin-aligned Russian billionaire Oleg Deripaska, which AP-acquired documents say involved lobbying to help Russia but Manafort says was merely on Deripaska's behalf.
This pattern does not necessarily indicate any illegal behavior. But experts told WNYC that if someone was trying to launder money, this would be a typical way to do it, turning ill-gotten gains into legitimate cash by moving it through the various transactions. Once the mortgage was taken out, the money would be "clean" for the individual, with the property as collateral and the original source and purchaser forgotten. Manafort denied any wrongdoing and said it was common to buy real estate with limited liability companies, as he did.
Despite the large cash flows, Manafort found himself in danger of foreclosure on a townhouse in Brooklyn and properties in California, The Wall Street Journal reports. He was saved by a $16 million bailout, spread between November and January, from a bank owned by a Trump adviser. Manafort has received other loans from Trump friends before, highlighting the closeness of his ties to Trump. Nonetheless, the White House has argued of late that Manafort was a mere short-term volunteer for the campaign.
Manafort was also investigated for money laundering on Cyprus, NBC News reports. The island is a common outlet for money from Russia. Starting in 2007, Manafort opened at least 15 bank accounts and incorporated at least 10 companies. The large amounts of money flowing into Manafort's Cypriot assets, including from Deripaska, raised concerns about money laundering at the bank, which opened an investigation. Manafort then closed his accounts there. NBC reports that the manner in which the accounts were being used was curious:
Banking sources said that in October 2009, one of the 15 Manafort-associated bank accounts in Cyprus received a payment of a million dollars and left the account on the same day. Experts said the way the multiple accounts and companies were used suggests they were set up to deliberately make it difficult for auditors to track the movement of funds.
The vast amounts of cash accord with what is known about Manafort's work. According to the AP scoop, he was to receive $10 million annually from Deripaska. In 2016, The New York Times reported that documents turned up in Ukraine showed that Manafort was to receive almost $13 million in off-the-books cash payments from the political party of Viktor Yanukovych, the Kremlin client for whom Manafort worked as a consigliere. Yanukovych was deposed during a revolution in 2014.
Deripaska and Manafort eventually ended up at legal odds over a business transaction for a telecom company that ran through the Cayman Islands.
Manafort has always cut a somewhat sinister figure: He is fond of dark suits with wide pinstripes, giving him an old New York gangster look, and he has worked for a variety of unsavory clients—not just Yanukovych and reportedly Putin, but also Ferdinand Marco and Mobutu Sese Seko. Yet simply appearing sinister and actually breaking the law are two rather different matters.
The FBI and Treasury are both probing Manafort's ties to Russia, as are committees in both houses of Congress. Last week, Representative Devin Nunes, the chair of the House Intelligence Committee, announced that Manafort had offered through an attorney to testify, though it's unclear whether that would public or private, and whether it would be under oath. Deripaska, meanwhile, took out ads in The Washington Post and Wall Street Journal in which he said he was "ready to take part in any hearings conducted in the US Congress on this subject in order to defend my reputation and name." (That is assuming he is able: Deripaska has on occasion been refused entry to the United States because of ties to organized crime.)
But Nunes's announcement about Manafort was largely overshadowed by the greater drama engulfing his committee. Democrats have demanded Nunes recuse himself from the Russia inquiry over his mysterious handling of alleged revelations about intelligence surveillance of Trump transition team members. At the moment, the committee seems to have ground to a halt.
Testimony from Manafort and Deripaska could help determine whether the raft of stories point to truly nefarious behavior or are the stuff of conspiracy theory. If, that is, the House committee is able to get back on track. If not, the FBI or Treasury could get there first.