'I Have Recused Myself From Matters With the Trump Campaign'
U.S. Attorney General Jeff Sessions stepped aside from the Russia investigation on Thursday amid questions about his contacts with Moscow's ambassador during the election.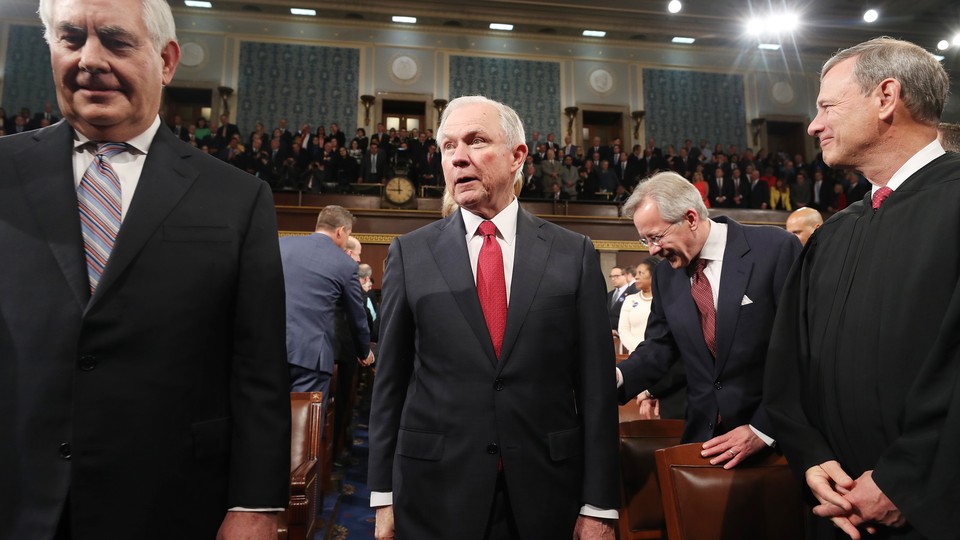 Attorney General Jeff Sessions said Thursday he would recuse himself from overseeing the federal investigation into alleged Russian interference in the presidential election, citing the advice of his staff.
"I believe those recommendations are right and just," he said. "Therefore I have recused myself from matters with the Trump campaign."
The move comes less than 24 hours after The Washington Post revealed Sessions had spoken with Sergey Kislyak, the Russian ambassador to the United States, on two separate occasions during the campaign. That appeared to contradict assertions made by Sessions to the Senate Judiciary Committee twice during the confirmation process.
First, in a questionnaire sent by Vermont Senator Patrick Leahy, Sessions responded "no" when asked if he had "been in contact with anyone connected to any part of the Russian government about the 2016 election." Then, while testifying under oath before the committee in January, Minnesota Senator Al Franken asked Sessions about reports that some top Trump officials had been in contact with the Russian government.
"Senator Franken, I'm not aware of any of those activities," Sessions responded. "I have been called a surrogate at a time or two in that campaign and I didn't have––did not have communications with the Russians, and I'm unable to comment on it."
According to the Post, Sessions had spoken with Kislyak twice during the 2016 campaign: once as part of a meeting with about 50 other ambassadors during the Republican National Convention in July, and again in a one-on-one encounter in September.
In a Thursday afternoon press conference, Sessions offered a stern defense of himself. "Let me be clear: I never had meetings with Russian operatives or Russian intermediaries about the Trump campaign, and the idea that I was part of a 'continuing exchange of information during the campaign between Trump surrogates and intermediaries for the Russian government' is totally false," he said, referencing part of Franken's query. "My response to Senator Franken was honest and correct as I understood it at the time."
Wednesday's revelations provoked strong reactions on Capitol Hill. Numerous Democratic legislators demanded Sessions's resignation, while multiple Republicans said the former Alabama senator should recuse himself from the investigation and use the opportunity to clarify his on-the-record statements.
Sessions is not the first high-ranking Trump administration official to have a controversial encounter with Kislyak, who has represented Moscow in the United States for almost a decade. President Trump fired National Security Adviser Mike Flynn last month after it emerged Flynn had spoken by phone with the ambassador multiple times during and after the election. Flynn had previously denied the conversations had taken place, and had convinced Vice President Mike Pence to publicly speak out in his defense.
There's no indication a similar fate awaits Sessions, who was one of Trump's closest and most prominent supporters during the presidential campaign. President Trump told reporters in Virginia on Thursday that he had "total confidence" in Sessions's performance as attorney general.