Trump Is Scaring Indian Americans Into Finding Their Political Voice
Highly educated immigrants from South Asia have often been able to live comfortably in America. With a new wave of hate crimes, that's changing.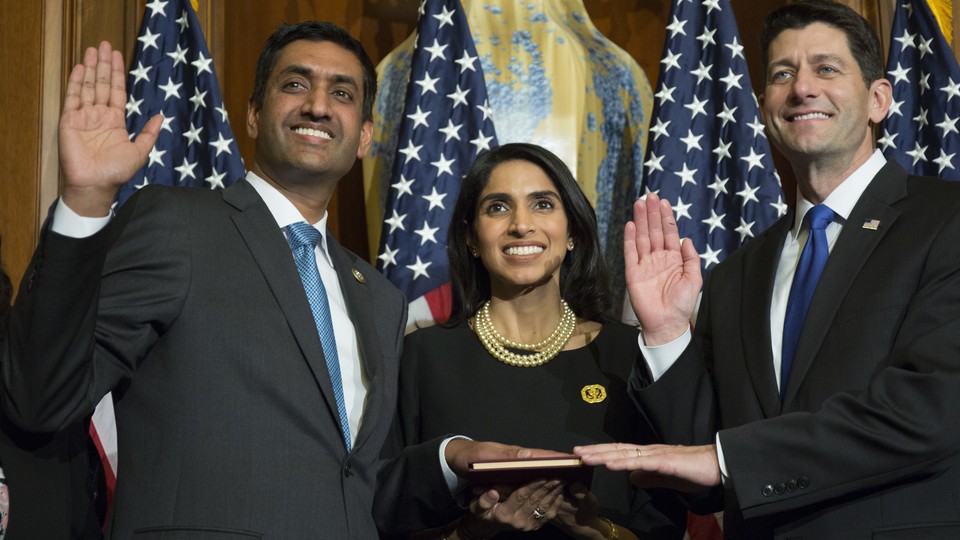 Manik Suri is the archetypical overachiever from an Indian American family. The 34-year-old runs a start-up in Silicon Valley. He speaks four languages. He's got two Ivy League degrees.
And yet, when the windows at an Indian restaurant near his house were shot out in late February, along with those of an Eritrean place nearby, he felt shaken. "We catered my wife's sister's wedding in that restaurant," he said. "The whole conception of the Indian community as a model minority—we benefitted from that perception." This is "the first time I've ever felt, 'Wow, it doesn't matter.'"
Many Indian Americans seem to be going through a period of disorientation during these first few months of the Trump administration. As more than one percent of the U.S. population, Indians are one of the country's largest immigrant groups, and they're also one of the most distinctive: They tend to be wealthier, more highly educated, and more geographically dispersed than other immigrants. While they do face discrimination, they're often referred to as a "model minority," as Suri noted: Middle- and upper-class Indians are more willing and able to assimilate to America's majority culture because of their educational and economic status. The quickly growing minority has not always been that politically engaged, and their political identity isn't necessarily connected to their ethnic or religious background: Mobilization around Indian or Hindu American identity is relatively rare compared to other minority groups, according to Sangay Mishra, a visiting assistant professor of political science at Drew University.
Especially with the recent violent attacks against a Sikh man in Washington, an Indian immigrant in South Carolina, and two Indian engineers in Kansas, Indian Americans have found themselves jolted out of this comfortable liminal space. For years, many middle- and upper-middle-class Indian Americans have largely escaped the kind of marginalization that other brown-skinned immigrants and religious minorities have faced.
Muslim Indian Americans were often targeted as the subjects of hate crimes because of their religious identity after 9/11, as were Sikhs, who are sometimes mistaken as Muslims. Hindus are also likely to be caught in cases of "mistaken identity."* To take one example, the shooter in the recent Kansas attack apparently thought his two Indian American victims were Iranian. Now, Indian Americans' sense of security is being shaken, which may give rise to a new political identity.
Despite the election-season hype about the Republican Hindu Coalition, which famously hosted a Bollywood-style Trump rally in October, only a small minority of Indian Americans voted for the president. New data from the National Asian American Survey shows that roughly 16 percent of this group chose Trump in November—the same share that voted for Romney in 2012. Among Hindus, 17 percent went for Trump—lower than other religious minority groups, including Jews and the unaffiliated. Indian Americans have been the most Democratic-leaning of any Asian American group, said Karthick Ramakrishnan, a professor in political science at the University of California, Riverside, who oversees the survey. "Discrimination plays a significant role in [their] political understanding."
"There is definitely a greater sense of urgency. There is a greater sense of fear."
In the same survey, roughly one-fifth of Indian Americans said they had been not hired for a job or denied a promotion for unfair reasons, or had been treated more poorly than others in a restaurant or store. Compared to answers from a similar survey in 2008, these results represented an uptick in perceptions of workplace discrimination. They were also gathered in December, right after the election. Especially following the shooting in Kansas last month, it's likely that perceptions of other kinds of discrimination—including threats to personal safety—would be even higher. "For a few days, that was the leading news in television and newspapers and social media," said Mishra. "There is definitely a greater sense of urgency. There is a greater sense of fear."
Ro Khanna, a second-generation Indian American Congressman, said he's gotten a few hundred calls, emails, and social-media messages from worried constituents—his Silicon Valley area is the only Asian American-majority district in the continental U.S., according to Mishra, and is home to many Indian immigrants. Like his constituents, Khanna said he feels a sense of urgency about discrimination toward ethnic minorities.
But Indian Americans' worries about discrimination may also look different than those of other groups because of their distinctive identity. A majority of Indians currently living in the U.S. arrived after 2000, and they're more likely than other immigrant group to have arrived recently. H1-B visas, which are given to foreigners in "specialty occupations" like tech, are also awarded to Indians more frequently than any other group. In early March, the Trump administration suspended expedited processing of these visas, inspiring angst from Silicon Valley to India itself, where families often receive cash from their immigrant relatives in the United States.
Because of their high levels of education and professional status, Indian Americans have often been able to assimilate into their broader communities. Khanna's family offers a perfect example: When they moved into his childhood neighborhood in Pennsylvania in the 1980s, he said, his family faced some suspicion from neighbors. "The concern was: 'What's going to happen to the Christmas candles out on the streets?'" he said. "So my parents put out the Christmas candles, enthusiastically, and we had some of the best Christmas lights on the street." This wasn't a way of giving in: "That was in no way seen as not being proud of being Hindu," he said. But "there was a respect for the kind of cultural traditions of the street and the country."
Of course, blending in with America's majority culture has always been more of an option for Indian Americans who are wealthy and educated. "For every engineer, doctor, and software professional in the community who most likely joins the middle or upper class, there are domestic workers, gas-station attendants, taxi drivers, and construction workers who negotiate the social and economic realities of the United States very differently," wrote Mishra in his recent book, Desis Divided. Upper-class Indian Americans may not identify significantly with marginalized groups: As Suri put it, "connection to other Americans who have brown skin color … [has] not meant a lot to me personally." Poorer Indians, on the other hand, are much more likely to identify across lines of religion and national origin, Mishra argues. For example: The California organization South Asian Histories for All explicitly identifies as interfaith and "inter-caste," and South Asian Americans Leading Together, or SAALT, advocates on behalf of people who are poor or immigrants.
"It took a kind of boldness post 9/11 to be vocal. Now, I think you're seeing everyday people getting more involved."
Religious differences also make the Indian American experience distinctive. While there's a lot of religious diversity among the group, which includes Muslims, Christians, Sikhs, Jains, and Parsis, most Indian Americans come from a Hindu background.
"There is one kind of approach within the Hindu American community which thinks that foregrounding Hindu identity or seeing themselves primarily as Hindu is the way to go" in the face of discrimination, said Mishra. "But there is an equally strong approach in the community that feels that they would not be safe." That's especially true now: Hindus increasingly "feel that they are also being targeted or seen as 'the other,' in many cases, as Muslims," he said.
The Indian American community has a complicated relationship with Islam. The controlling political party in India, the BJP, promotes a strong national identity rooted in Hinduism and at times draws on anti-Muslim rhetoric. The party resonates with many Indians in America: Sunayana Dumala—the widow of Srinivas Kuchibhotla, the man who died in Kansas—posted a Facebook memorial for her husband praising India's prime minister and the BJP's leader, Narendra Modi.
Yet, Indian Americans have been widely unsympathetic toward Trump's proposed immigration policies that would disproportionately affect Muslims. In a spring 2016 survey directed by Ramakrishnan, Indians were more likely than any other Asian group to say they wouldn't vote for a political candidate with strongly anti-Muslim views. This hasn't always translated into political action: Unlike Indian Sikhs, who have championed anti-discrimination campaigns in solidarity with Muslims, Hindus have not carved out a widespread activist identity as a group. Among some Indians, protesting and activism may also seem culturally alien: The head of a prominent university in India once told students they "should not get into politics," an attitude that may be shared by some in the United States.
As Indian Americans experience increasing anxiety, this sense of political disengagement may shift. Their fear is certainly political: "It's a hair-trigger thing" when violent attacks like the Olathe shootings happen in the U.S. now, said Devesh Kapur, the director of the Center for the Advanced Study of India at the University of Pennsylvania. "However heinous it is, every society has a suicide rate and a murder rate. The fact that this happened when Trump came in … poisoned the atmosphere."
Now, said Ramakrishnan, Indian Americans of all backgrounds seem to be going through a political awakening. "It took a kind of boldness post 9/11 to be vocal," he said. "Now, I think you're seeing everyday people getting more involved."
---
* This article has been updated to clarify that Sikhs are also subject to violence because of "mistaken identity."