How Planned Parenthood Could Derail Obamacare Repeal
In yet another political fight over abortion, Republicans are divided over a provision in the new House bill that blocks funding for the women's healthcare provider.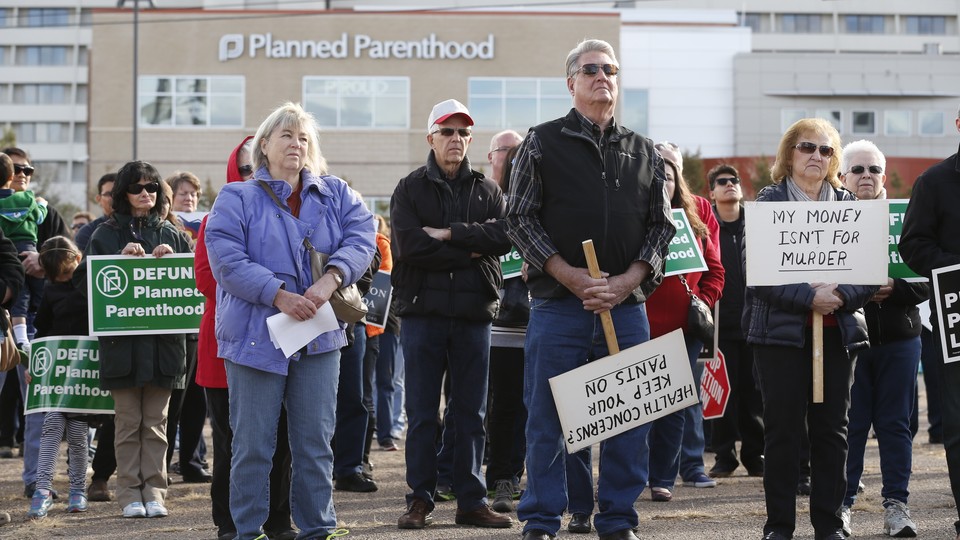 Abortion is a side issue in the debate over repealing the Affordable Care Act, but just as it nearly did for Democrats seven years ago, the polarizing procedure could end up scuttling the Republicans' effort to usher in a new healthcare law.
The House GOP bill to replace Obamacare also blocks about $500 million in federal funding for Planned Parenthood, the nation's largest single abortion provider. The provision mirrors language that Republicans included in a repeal bill two years ago, and it fulfills the wishes of conservatives who are ardently anti-abortion. But that policy, more than other issue, is what caused two Republican senators, Susan Collins of Maine and Lisa Murkowski of Alaska, to oppose the repeal measure in 2015. With the GOP holding a narrower, 52-48 majority in the Senate this year, their votes are even more important now; if they opposed any Republican bill, just one more defection would defeat the measure without any Democratic support.
"I have said continuously and repeatedly that I support the work of Planned Parenthood. I support the continuation of Medicaid funding going to them," Murkowski told me in an interview last week after she learned that GOP leaders had kept the defunding language in the bill despite complaints from moderate members. "I'm not saying anything is a deal-breaker, but I am making very, very clear my position."
Collins has adopted a similar stance. While she hasn't ruled out voting for a package that defunds Planned Parenthood, she said in January she was "not happy" that House Speaker Paul Ryan had decided to make it part of the leadership's plan to repeal Obamacare. A group of moderates in the House is also wary about targeting the organization, which operates about 700 health centers nationwide and provides a range of services to women beyond abortion. At a GOP policy retreat in January, freshman Representative John Faso of New York urged leaders to separate out the issue from Obamacare, warning that they would be "walking into a gigantic political trap" by taking on the two contentious topics together, according to a secret tape reported by The Washington Post.
Yet conservatives are equally adamant that the bill defund Planned Parenthood, arguing that even though federal law already forbids taxpayer funding for abortion, the reimbursements that the organization receive through Medicaid helps to subsidize a procedure they consider morally unconscionable. Representative Trent Franks of Arizona is one of the most passionate abortion foes in the House. When I asked him last week what would happen if Republicans tried to repeal Obamacare without defunding Planned Parenthood, he replied: "It would be easier to light the Capitol on fire."
Abortion is in some ways a microcosm of the GOP's broader struggle on healthcare. The party has a majority in both chambers of Congress but not, it seems, for any one approach to replacing Obamacare; its majority in opposition to abortion appears smaller still. If Republican leaders move to the right on Planned Parenthood, they risk losing the support of moderates, but postponing the fight to future legislation could doom the repeal effort with the far larger group of conservatives (if it isn't already).
On this issue, President Trump seems to be in the middle. As a candidate, he at one point suggesting women should face criminal punishment if they had an abortion. Yet he was one of the few Republican candidates who spoke up in support of Planned Parenthood—even as he backed cutting off its federal funding. "Millions of millions of women —cervical cancer, breast cancer—are helped by Planned Parenthood," Trump said during a primary debate a little over a year ago. "I would defund it because I'm pro-life, but millions of women are helped by Planned Parenthood."
The New York Times reported Monday that the White House, recognizing the political controversy surrounding the organization, had offered Planned Parenthood a deal: It could keep its federal funding if it stopped performing abortions, which by its own analysis constitutes just 3 percent of the services it provides to women. The answer was no. In a statement, Planned Parenthood's president, Cecile Richards, said in part:
The White House proposal that Planned Parenthood stop providing abortion is the same demand opponents of women's health have been pushing for decades, as a part of their long-standing effort to end women's access to safe, legal abortion. Planned Parenthood has always stood strong against these attacks on our patients and their ability to access the full range of reproductive health care.  We are glad that the White House understands that taking away the preventive care Planned Parenthood provides is deeply unpopular and would be a disaster for women's health care.
In a briefing at the White House on Tuesday, the secretary of health and human services, Tom Price, would not make a definitive statement about the administration's position on Planned Parenthood other than to say legislation should allow people to purchase insurance that respects their "conscience." "We think it's important that the legislature work its will on this process ," Price said.
The GOP bill does not mention Planned Parenthood specifically but bars funds from going to organizations described in a way that could only mean Planned Parenthood. Republicans have said they would redirect the money to community health centers, but supporters of Planned Parenthood counter that many community health centers offer only a fraction of the services the nonprofit provides. And, they say, the GOP move to eliminate a popular option for women contradicts the party's stated goal of improving healthcare through more choice and competition.
For Democrats, the sight of abortion politics roiling a healthcare debate will feel familiar. In 2010, the funding of abortion became the final sticking point in the passage of the Affordable Care Act. Anti-abortion Democrats in the House initially balked at assurances from party leaders that the bill would not violate the federal prohibition on taxpayer funding of abortion, known as a Hyde Amendment. At the last minute, Representative Bart Stupak of Michigan struck an agreement with the White House in which then-President Barack Obama would sign an executive order making that commitment explicit. With the deal in place, the bill narrowly passed, and Obamacare became law.
Now that Republicans are in charge, the question is not whether public funds will pay directly for abortions but whether they'll go to an organization that provides them. And while House leaders have finally released their bill, it's one of several thorny issues that is yet to be resolved.