Newsmax and the Rise of Trump
Chris Ruddy has emerged over the course of the last few weeks as one of the president's most prominent unofficial spokesmen—but their ties long antedate the administration.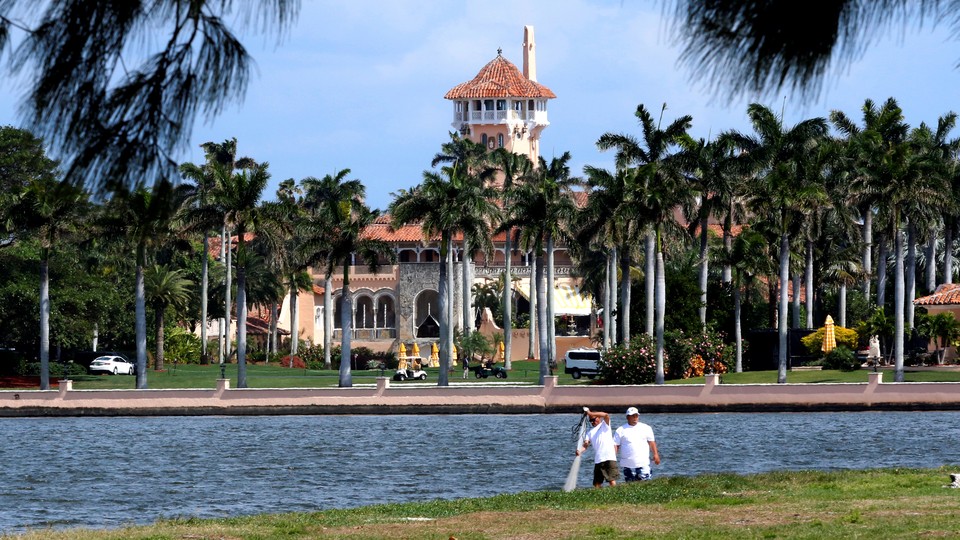 Chris Ruddy is the Zelig of the Trump administration.
He's on CNN, blasting the White House chief of staff. He's in The New York Times, discussing turmoil inside the White House. He's tweeting from the Oval Office the day after President Trump's first speech to a joint session of Congress. He's offering a readout from an after-hours conversation with the president at Mar-a-Lago. He's calling repealing Obamacare a "big quagmire," and saying that tax reform should have come first.
Ruddy, the CEO of the conservative-media organization Newsmax, has emerged during the early weeks of President Donald Trump's administration as an unofficial conduit from the official inner sanctum of the presidency to the outside world. Ruddy sees and speaks to the president frequently, and has popped up repeatedly on cable shows and in news stories as a sort of character witness for and explainer of Trump, who is a personal friend. He's even inserted himself into internal White House conflicts.
Ruddy's display of access shows the unusual degree to which Trump relies on informal outside advisers and on familiar faces from his former life, even now as president. It's also put Newsmax in the spotlight. Because Ruddy isn't just a friend of the president's—he's also in control of a media organization that played a crucial, and largely unheralded, role in Trump's ascent.
On the evening of Friday, February 10, Ruddy shared a drink with the president at Mar-a-Lago. Two days later, he went on Brian Stelter's CNN show and delivered a shot across the bow to the president's chief of staff. "I think Reince Priebus, good guy, well-intentioned, but he clearly doesn't know how the federal agencies work," he said. "He doesn't have a real good system. He doesn't know how the communications flow."
Ruddy's comments sparked a media frenzy. Was he speaking for the president? Had Trump said this to him?
The walk-back came later that same day, with Ruddy tweeting "Reince just briefed me on new WH plans. Impressive! CNN today my personal view. Told him I have 'open mind' based on his results."
Ruddy told me the president had not spoken to him about Priebus at Mar-a-Lago. "The president I'd seen on Friday night after the Abe dinner, we had a drink together," Ruddy said. "It was never raised, Reince."
"I was just giving my opinion, I've done that always," Ruddy said. And the incident hasn't discouraged him from doing so; in my interview with him, Ruddy speculated that Trump might not run for a second term, arguing that "certain people need it emotionally. I don't think he needs it emotionally."
According to Ruddy, Trump appreciates his media efforts on his behalf. After a CNN appearance in December, he said, Trump "called me a few days later during my Christmas party and said 'Thank you, I can't always go on these shows and defend myself.'"
And the weekend after the controversy over Priebus, Ruddy was spotted having dinner with Trump, Priebus, and White House chief strategist Steve Bannon in Palm Beach.
Newsmax took Trump seriously early on, well before he finally followed through with his oft-repeated threats to run for president. "No disrespect to Breitbart—before there was Breitbart, there was Newsmax," said the Republican pollster Tony Fabrizio, who is friends with Ruddy and worked on Trump's campaign. "Before the president was probably an avid reader of Breitbart he was an avid reader of Newsmax. Chris and the president developed a relationship several years ago primarily through and with Newsmax."
"The only outlets who took us seriously were Newsmax, Breitbart, and Fox News," said Sam Nunberg, a former Trump adviser. "And even Fox News wasn't that serious about him running, they would just have him on out of ratings. Our two major outlets were Newsmax and Breitbart."
For Nunberg, Breitbart was useful as the ideological messenger that would fight for Trump's agenda. But Newsmax was where Trump was able to refine his political image as an outsider, entrepreneur, and independent Republican over the course of several years.
"Breitbart was stronger on immigration but Newsmax overall—I thought it was more helpful for shaping [Trump's] overall political profile," Nunberg said.
"Newsmax is one of the earliest promoters of Trump," said Roger Stone, the Republican operative and informal Trump adviser. "They were in fact promoting Trump for president in 2012. Ruddy has always been a Trump promoter when others were not yet taking his candidacy seriously or his potential candidacy seriously."
Ruddy launched Newsmax in 1998 with $300,000 in investments, according to a 2014 profile in Bloomberg Businessweek. At the time, Businessweek reported that the organization, which was then launching its TV channel, had 260 employees; Ruddy told me this week that it currently has 225.
The business today is built around the website, 17 print publications, a TV channel (which is on Verizon and Fios but has not yet been picked up by major cable systems like Comcast and Time Warner), and a set of large email lists which are significant money-makers for Newsmax. Its lists cover a broad range of topics, and according to Ruddy, it has over 6 million individual email subscriptions.
The size of Newsmax's email lists help account for some of its influence in Republican politics, as campaigns and advocacy groups buy the lists in order to reach Republican voters. The Trump campaign used Newsmax's list for fundraising, raising $800,000 using it, Nunberg said. "They advertised with us as did many other campaigns," Ruddy said in an email. "I think their total spend was around $100K to $200K, some super pacs did buys in 2016, not a huge amount."
According to one Republican operative with knowledge of Newsmax's lists, a "send"—the opportunity to send an email through one of the lists—costs "anywhere between $3000 (for testing purposes) and $15,000."
"They have a price sheet of the cost of the send per thousand addresses. Sometimes, there is a profit sharing arrangement instead of a fixed cost, or a combination," the operative said. "Tea Party groups and failed presidential candidates were popular."
Ruddy said he wouldn't disclose the company's exact finances but said the business is profitable, apart from the TV channel, which "has been losing some money but we like the progress we're making."
It's not just Trump who has seen Newsmax's potential to reach the Republican base. A New York Times story from 2011 described how Republican candidates ritualistically visited Newsmax's Florida headquarters. But Ruddy's personal connection to Trump combined with his role running a conservative outlet with wide reach made him a key contact for the Trump campaign, though Ruddy says he "wasn't close to the campaign."
"Chris was high on my list of somebody I would talk to for guidance when I worked for Trump and in the rest of the political cycle," Nunberg said.
Ruddy says he first met Trump about 20 years ago. Both men split their time between New York and Palm Beach, where they are part of an established Republican social milieu. South Florida is home to some of the most important figures in Republican politics, including Matt Drudge and Rush Limbaugh. Ruddy is a member of Trump's club, Mar-a-Lago, where entry fees now reportedly start at $200,000 a year and where Trump has been spending nearly every weekend since being sworn into the presidency in January.
"He's been very social and active," Ruddy said. "He meets a lot of people, including myself, down there pretty frequently."
That's something else Ruddy shares with Trump; both men are avid socializers. "He loves dinners, he loves to talk, he loves to meet people," said the conservative commentator Larry Kudlow, a Ruddy friend whom Ruddy floated for an administration job last year. Kudlow described how Ruddy, a practicing Catholic, brought Kudlow and other friends to Rome for the canonization of Pope John Paul II and Pope John XXIII in 2014.
Ruddy dines at Mar-a-Lago frequently "in season," he said, visiting the club on Friday or Saturday nights. Ruddy said he does not see the president every night Trump is there. Over the years, the two men have had contact in Florida, sometimes in New York, and "occasionally" talked on the phone, Ruddy said.
"Obviously I do have a relationship where I do understand the president," Ruddy said. "I don't know his thinking on every major issue but I sometimes understand how he approaches things."
And he has taken it upon himself to offer that understanding of the president to the press. "I think there's a lot of people close to him and friendly with him who are afraid of talking to the press because they think press is so hostile to him," Ruddy said. "I felt I had a comfort level with many in the press and understand the press so I figured it might be a good thing for me to go out and talk about my relationship with the president and his ideas."
Ruddy said he'd made his visit to the Oval Office last week to take Nancy Brinker, a "longtime friend of mine and Donald's" and the founder of breast-cancer charity Susan G. Komen, "to talk to the president about cancer priorities."*
Ruddy, 52, founded Newsmax in 1998. His media career began as a journalist; he worked for the New York Post and later for the Richard Mellon Scaife-backed Pittsburgh Tribune-Review during the 1990s. During this time Ruddy played a key role in the conservative media's war against the Clinton administration—and in the conspiracy theories that blossomed around the Clintons.
His book The Strange Death of Vincent Foster: An Investigation, published in 1997, explored the suicide of Deputy White House Counsel Vince Foster in 1993. Foster's death became a linchpin for conspiracy theories about whether the Clintons actually had him killed. A Slate review of Ruddy's book described him as the "Inspector Clouseau of the Foster case—a determined, if bumbling, former New York Post reporter who has virtually single-handedly spawned a cottage industry of conspiracy buffs dedicated to the proposition that a foul and monstrous cover-up surrounds the circumstances of Foster's death."
Curiously enough, Ruddy has since become a Clinton friend, and has donated large sums to the Clinton Foundation—a fact that earned him negative coverage in Breitbart last year. Ruddy defended the Clintons against claims made in Peter Schweizer's book Clinton Cash during the campaign; he told me he still has a good relationship with Bill Clinton.
Despite his early work on Clinton, like Trump, Ruddy himself is not an ideologue.
"He leans right in the way that I lean left but I think we like each other because we both believe in rebuilding the center," said Harvard Law professor Alan Dershowitz, a friend of Ruddy's. "He's a centrist Republican but I think he has a populist streak in him. But he's not a hard-right guy. I don't see him as a Breitbart-Bannon guy."
"I'm not a registered Republican but I always said truth in advertising: My sympathies are with the Republican Party," Ruddy told me. "I consider myself a Reagan conservative."
The pace of Ruddy's media appearances defending Trump has only increased since the Priebus incident. This past weekend, Ruddy again inserted himself into the middle of the biggest story: this time, Trump's unfounded allegations on Saturday that Barack Obama's administration ordered wiretaps of Trump Tower before the election.
"I spoke with the President twice yesterday about the wiretap story," Ruddy wrote on Newsmax.com on Sunday. "I haven't seen him this pissed off in a long time. When I mentioned Obama "denials" about the wiretaps, he shot back: 'This will be investigated, it will all come out. I will be proven right.'"
But Ruddy's defense of Trump went slightly awry. He had a rough time of it on Chris Matthews's MSNBC show on Tuesday when Matthews pressed him on a story in Newsmax.com from 2016 that reported that Trump had met with Russian ambassador Sergey Kislyak at a "VIP reception" with three other ambassadors—a significant tidbit considering the swirling controversy over Kislyak's contacts with Trump campaign officials during the campaign.
"What is the crime even if he did meet with the Russians?" Ruddy asked. Ruddy also seemed unfamiliar with the Newsmax report Matthews was referring to. ("We publish like 10K articles a year," Ruddy told me in an email later. "He referenced an article, it was actually a story we picked up from the Wall Street Journal, didn't originate w[ith] us, he knew that and didn't share that fact w[ith] the audience.")
It's a better time than ever to be a media mogul with a direct line to the president. A recent Washington Post column speculated that Ruddy might be trying to use his relationship with the president to re-position Newsmax for the Trump era in the face of ascendant competitors like Breitbart.
Or it could be simpler than that. "He's a guy who likes knowing a lot of people," said one friend of Ruddy's who spoke on condition of anonymity. "He likes knowing Bill Clinton, he likes knowing Donald Trump. He's fond of having a broad circle of famous acquaintances."
"He's got an eye to his brand, I guess everybody has to these days," the friend said.
---
* This article has been updated to clarify that it was Ruddy who arranged the visit to the Oval Office.