The House Republicans Calling for Climate Action in the Trump Era
A group of GOP lawmakers have signed a resolution warning that "the consequences of a changing climate have the potential to adversely impact all Americans." Will it translate to legislative action?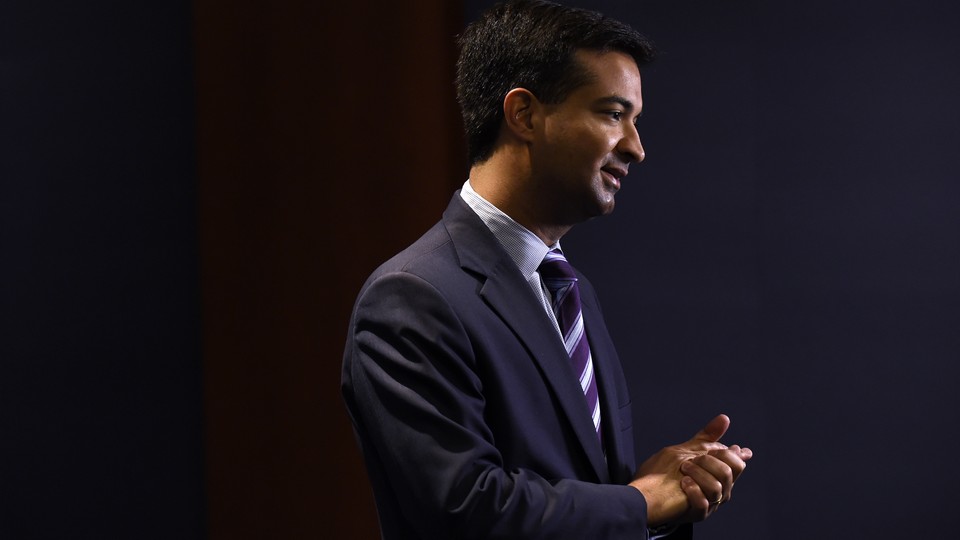 At a time when President Donald Trump is working to dismantle former President Barack Obama's environmental legacy, more than a dozen House Republicans are calling for action to confront the threat of a changing climate.
Seventeen Republican lawmakers, including Elise Stefanik of New York, Carlos Curbelo of Florida, Mark Sanford of South Carolina, Mia Love of Utah, Don Bacon of Nebraska, and Ryan Costello of Pennsylvania, introduced a resolution on Wednesday that urges the House of Representatives to "address the causes and effects" of climate change,  according to a press release sent out by Costello's office.
The resolution, which revives a call to action endorsed by nearly a dozen House Republicans in 2015, describes environmental protection as a "conservative principle." And it warns that "if left unaddressed, the consequences of a changing climate have the potential to adversely impact all Americans."
"This is an issue where there really is consensus within the scientific community," Sanford said in an interview. "There's a larger debate on what to do about it, and that's a much more complex debate, but it's like with Alcoholics Anonymous, if you don't even recognize the fact that you have a problem, you're never going to address the problem."
Representative Brian Mast of Florida, one of the signers of the resolution, said in an interview that he thinks "it's important that we take climate change very, very seriously because the threats that are posed by that are very serious." "I'm just not a person that believes we should be turning a blind eye to it," he said.
The resolution is evidence that at least some congressional Republicans are willing to label climate change a threat despite the fact that President Trump once called global warming "a hoax." Still, a call to action from a relatively small number of House Republicans won't necessarily translate into any kind of significant legislation to address global warming. The Republican Party has a track record of rejecting climate-science in recent years, and supporting an agenda that would increase the burning of fossil fuels while eliminating environmental regulation. That's unlikely to fundamentally change anytime soon.
In interviews, several Republican lawmakers who signed the resolution indicated they would consider supporting legislation to incentivize the use of clean energy. A number of legislators sponsoring the resolution made clear, however, that they would not support a carbon tax. Some former Republican officials and conservative policy analysts have endorsed the idea of imposing a price on carbon emissions, but many elected officials—in a party where opposition to increased taxation has become something of a conservative litmus test—aren't willing to do the same.
"I think that's a non-starter for Republicans in Congress," Costello said, adding that he does not support a carbon tax. "I am not there yet, no," Bacon said when asked if he would back such a policy. "I have not been a supporter of carbon taxes in the past, and I don't think I would be inclined to as we move into the future," Representative Pat Meehan of Pennsylvania, another sponsor of the resolution, said in an interview.
In an apparent indication of just how difficult it is to get a group of congressional Republicans to endorse any kind of call for climate action, the resolution itself does not explicitly spell out and affirm the scientific consensus that greenhouse gases generated by human activity are the primary driver of global warming. Instead, the declaration notes only that human activity has "been found to have an impact" on a changing climate, and calls for "efforts to balance" that impact.
Bacon said in an interview that while "the evidence is clear that there has been an increase in temperature. It's always a little bit debatable how much is the human element versus cyclical." But, he said: "Regardless, you still want a cleaner planet," adding that if Earth's temperatures continue to rise, that would be "a serious threat." "I don't like the hyperventilating, and all the anger out there," he said, noting that he hopes to "work across the aisle and find some middle ground on this."
Republican voters have become less likely to believe that human activity is causing Earth's temperatures to rise over the past decade and a half, despite the fact that the scientific consensus on man-made global warming has only grown more conclusive. Scientists warn that the world is already experiencing the detrimental impacts of global warming, from rising sea levels to volatile weather and more destructive wildfire seasons. As long as the issue remains politically polarizing, consensus over how to confront the problem, and the political will to push for legislative solutions, may not materialize in any meaningful way.
Even Republicans who acknowledge climate change may justify congressional inaction by arguing that efforts to curb emissions would harm the economy. Republican Senator John Cornyn wrote in National Review in 2015: "Yes, our climate is changing over time and, yes, humans have played some part in that change," but "new burdensome regulations would hinder our economy." The resolution itself notes that "any efforts to mitigate the risks of, prepare for, or otherwise address our changing climate and its effects should not constrain the United States economy."
"We are way past the point where we can be rewarding people purely for empty statements," said Ben Schreiber, a senior political strategist at the environmental organization Friends of the Earth. "Will Republicans who acknowledge the threat of climate change work to stop rollbacks of policies that tackle rising emissions, stand up to climate deniers in the administration, or challenge their party leaders who are attacking climate science? That's what really matters, and I don't see evidence of that so far."
Still, even a symbolic call to action from Republican lawmakers could make the political debate over climate change less polarized. "If more GOP lawmakers start talking about climate change as a real and important risk, and start supporting climate action, that is likely to change the conversation within the GOP and of course, the country at large," said Anthony Leiserowitz, the director of Yale University's Program on Climate Change Communication. "In this case, political leadership matters. Cues from political elites such as public statements and stances of elected officials influence the views of the party rank and file."
Many Americans, including Republican voters, are concerned about man-made global warming. Gallup recently found that a majority of Americans are worried about rising temperatures and believe human activity is responsible for climate change, with 84 percent of Democrats and 40 percent of Republicans reporting concern.
"That's the unfortunate part, when things become politicized it makes it difficult to not take a hard-line on things," Mast said. "But you chip away at it one at a time and that makes it better." When I asked what he thinks about the fact that Trump has called global warming a "hoax," he replied: "We all have different stances on this issue," before adding:  "Should we be able to work with President Trump on this? Absolutely."
A number of the Republicans who signed the resolution represent states or congressional districts that Hillary Clinton won in the presidential election. But several of the Republicans—including Representatives Brian Mast of Florida, Mia Love of Utah, and Don Bacon of Nebraska—represent districts and states that voted for Trump. The remaining GOP lawmakers who signed the resolution are, per the release: Ileana Ros-Lehtinen of Florida, Frank LoBiondo of New Jersey, John Faso, Tom Reed and John Katko of New York, Brian Fitzpatrick of Pennsylvania, Barbara Comstock of Virginia, Dave Reichert of Washington, and Mark Amodei of Nevada.
Costello is one of the Republican lawmakers who supported the climate resolution when it was first introduced in 2015, and later faced re-election and won. The GOP congressman, who represents a district Clinton carried in a state Trump won, said in an interview he supported the resolution then because he "thought it was the right thing to do." But, he argued that "it's not politically perilous to speak on these issues, and to be viewed as a clean energy Republican who recognizes that climate change is present, and that we should be looking to reduce carbon emissions."
The question now for these congressional Republicans is what comes next, and to what extent they will break with, or back up, the current administration as it pursues its own agenda. Trump has already signed an executive order seeking to undo a water protection regulation enacted by the previous administration. And the administration is expected to initiate a rollback of greenhouse gas regulations that formed a key pillar of Obama's climate agenda. If Trump follows through with his promise to pull the United States out of the Paris climate accord, and does away with regulations without implementing any kind of alternative policy to curb emissions, calls to action in Congress may do little to reverse, or mitigate, the impacts of global warming on the planet.
Curbelo, who has been outspoken on climate change, conceded that "regrettably, there's a legacy of polarization on this issue." But, he said, "what we're trying to do is break that status quo, and open a new chapter of evidenced-based, rational, bipartisan policy action," describing the resolution as only a "first step." When asked whether it will be harder to achieve consensus on climate solutions in the aftermath of the election, he replied: "I know we have very strong allies in the White House. Hopefully they can win the argument there, and we can win it here in the Congress."