Trump's 'Honor Killing' Tracking System Could Exacerbate Domestic Violence
The president has ordered agencies to report "acts of gender-based violence against women … by foreign nationals." Advocates and mental-health practitioners are skeptical.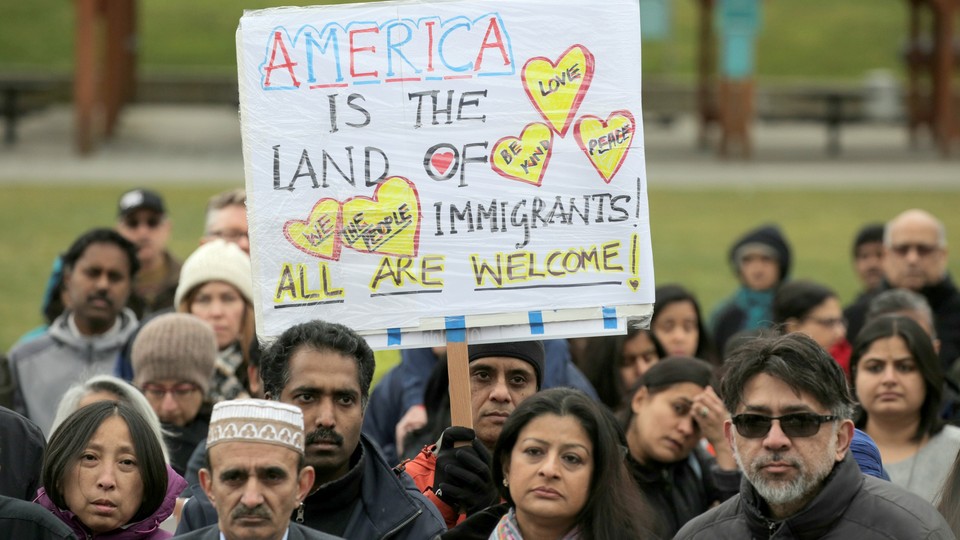 President Trump released a new executive order on immigration and refugees on Monday. Like the previous version of the order, it includes a number of new tracking requirements for the Department of Homeland Security. While the list of requirements mostly focuses on terrorism-related activities and major crimes, it also calls out one specific category of crime: "so-called 'honor killings'" and "acts of gender-based violence against women … by foreign nationals."
While this provision of the executive order concerns all "foreign nationals," it seems to be focused on violence in Muslim communities. It targets immigrants from six Muslim-majority countries and affects a large portion of Muslims living in the U.S.: Pew Research Center estimates that a little more than three-quarters of this group are either immigrants or the children of immigrants. "Honor killing" also seems to refer specifically to Muslims. The politically loaded term is sometimes used to describe homicide against women who allegedly "shame" their families, often through sexual impropriety, and is sometimes justified in religious terms.
Policy experts, mental-health practitioners, and legal advocates who work with domestic-violence victims believe the order may prevent immigrant women from reporting their abuse. They worry that it promotes inaccurate stereotypes about Islam. And they question whether the provision will actually help women, or further compound the complicated issues of abuse and violence among Muslim Americans.
The executive order calls for something that the government currently doesn't have: a way to systematically track gender-based abuse. "There isn't like a comprehensive, single source of information about how many citizens or non-citizens commit acts of domestic violence," said Grace Huang, the policy director at the Asian Pacific Institute on Gender-Based Violence. Definitions of domestic abuse vary state by state, she said, and most statistics are gathered by imperfect phone surveys. A lot of abuse is also invisible: Women deal with all sorts of challenges in reporting their situations to authorities.
The group that may face the greatest barriers to reporting is the same group targeted by the executive order: immigrants. "Let's say the husband is the abuser and … the breadwinner," said Nadiah Mohajir, the co-founder and executive director of Heart Women and Girls, a Chicago-based organization that predominantly serves Muslim victims of sexual abuse. "The wife will likely be even more hesitant to report because she's afraid of losing that financial security." While this is a concern for all domestic-violence victims, it's particularly acute for immigrants, Mohajir said. "If the wife and children have limited English skills or limited mobility in the country to survive on their own … the chances of them reporting will get slimmer and slimmer."
There's also the risk of deportation—for either the victim or the abuser. "One of the obstacles is … a mistrust of government agencies or service providers," said Salma Abugideiri, the co-director of the Peaceful Families Project, which trains imams and Muslim community members on abuse issues. "People fear that by reporting domestic violence, they'll get their children taken away from them, or their immigration process will be interrupted."
"After September 11, we had abusers from certain communities who affirmatively used anti-Muslim hostility as a tool."
Like members of any other religious group, Muslims in the U.S. might experience distinctive "flavors" of abuse, Abugideiri said, whether or not they're immigrants. "Abusers will often use scripture as another control tactic. Muslims, like any other group of people, may not always be familiar with their scripture," she said. "There may be Muslim women, Christian women, or Jewish women who believe the abuser is correct and they have the right, particularly if it's the husband, to beat or discipline [them]."
Cultural mores might also make Muslim women reluctant to talk about violence. "There's an extreme level of shame and stigma with respect to sexual assault in the Muslim community," said Mohajir. "The need for the community to uphold positive and praiseworthy qualities like modest and privacy—they conflate that with feelings of shame." And "the emphasis on sexual purity is another reason that survivors feel that they can't report," she added. "Especially if the survivor is unmarried, the concern becomes, 'Well, who's going to marry you now?'"
Tying the reporting of abuse to immigration restrictions isn't an effective way of addressing domestic violence among Muslims immigrants or any other community, these advocates argued. If anything, the new policy may make the challenges harder. "After September 11, 2001, we had abusers from certain communities who affirmatively used anti-Muslim hostility as a tool of abuse," said Huang. Her organization heard cases of abusers saying to victims, "'If you contact that police, you're exposing our entire community, our household, and you're likely to be treated as a criminal as well.'"
"It's reinforcing this idea that foreign immigrant men are violent."
Already this year, officials reportedly arrested a woman in El Paso when she went to a courthouse seeking a protective order against her allegedly abusive boyfriend, who likely tipped off authorities about her status as an unauthorized immigrant. Advocates fear this kind of case could have a silencing effect in immigrant communities. "We've worked so hard to reassure survivors that … reporting domestic violence won't actually get them deported," Abugideiri said. "In an instant, all of that is out the window."
Then there's the question of "so-called 'honor killings.'" Activists like Ayaan Hirsi Ali have tried to raise awareness about these kinds of murders in the United States, arguing that they pose distinctive challenges. As Ali wrote in The Atlantic in 2015, "Honor violence is communally sanctioned and often involves multiple perpetrators within the household or members of the community." That means law-enforcement officials don't necessarily respond adequately to victims' needs, she argues.
But domestic-violence advocates worry that this phrase exacerbates stereotypes about violence in the Muslim community. "It's reinforcing this idea that foreign immigrant men are violent," said Mohajir. "In the West, 'honor killings' have become a way to otherize immigrant communities and [portray] their gender-based violence to be something so exotic." The term itself is loaded: It suggests that homicide can be religiously justified. But "'honor killing' has nothing to do with Islam," argued Aisha Rahman, the executive director of Karamah, a research and advocacy organization that works on issues of gender equity in Islam. "In Islamic law, there's nothing that's even called 'honor killing.'"
None of this is meant to downplay the murder of women. "[Honor killings are] appalling," Mohajir said. "But they're very similar to other kinds of gender-based violence in other faith communities." For domestic-abuse advocates, calling out one politically charged category of violence doesn't actually help women. "Why would an 'honor killing' be any more egregious than stalking and homicide?" asked Huang. "Those of us that work with victims are equally concerned about all victims."
Above all, that seemed to be the greatest concern among the domestic-abuse advocates I spoke with: that this provision is more about targeting immigrants than preventing domestic violence in the United States. "One in four women are victims of domestic violence in the United States," said Rahman. Immigrants and Muslims both make up small portions of the U.S. population, but in reality, domestic violence is "an epidemic of gargantuan proportions," she said, affecting all ethnic and religious groups.
"We have to move away from asking the question, 'What is it about the Muslim community?'"
Karamah is one of many organizations that receives funding from the Department of Justice under Violence Against Women Act, which provides money for 25 grant programs designed to prevent and address abuse. The Trump administration will likely propose deep cuts to this and similar programs, following its promise to significantly reduce federal agencies' budgets. A budget plan put together by the conservative Heritage Foundation, for example, eliminates the VAWA grants altogether, and the administration reportedly may follow much of what Heritage recommends. "If you want to signal that gender-based violence is a priority for you—as it should be, because of the incredibly high [number] of women who are being impacted—make sure that office remains funded, and remains funded well," Rahman said.
In his speech to Congress, Trump argued that "those given the high honor of admission to the United States should support this country and love its people and its values." Domestic-violence advocates would likely agree that protecting women and preventing abuse is in line with American values—as long as all women are protected, and violence is prevented in every community.
"There are a lot of men who beat their wives," Abugideiri said. "We have to move away from asking the question, 'What is it about the Muslim community?' It's nothing about the Muslim community. It's about people, human beings, who have this capacity to hurt each other."