'I Don't Think You Can Compromise on Civil Rights'
The Old North State's liberals have wanted for a year to repeal the "bathroom bill," but the law Governor Roy Cooper signed Thursday has many of his allies disgusted and angry.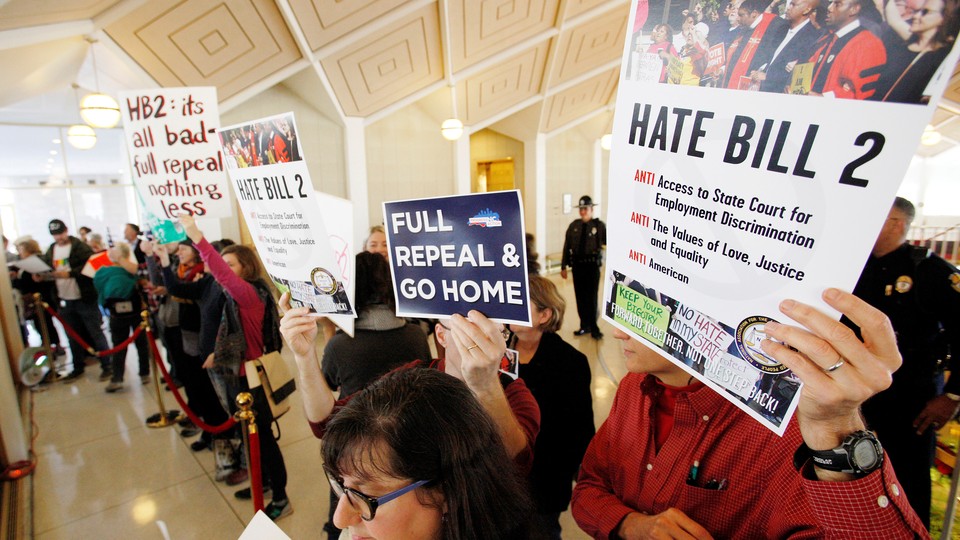 DURHAM, N.C.— Depending on your point of view, Thursday was either a red-letter day for North Carolina or a day that should leave the state's leaders red-faced with shame.
Thursday afternoon, Governor Roy Cooper signed into law a bipartisan bill repealing H.B. 2, the "bathroom bill" that Republican lawmakers enacted one year ago. That law required that transgender people in public facilities use the bathroom corresponding to the sex on their birth certificate, forcing them to use facilities set aside for the opposite gender.
Cooper's signature was the culmination of a year of campaigning, and the governor, a Democrat, owes his office in part to the law's unpopularity. But in what he declared was a moment of victory, Cooper found himself defending the deal against furious attacks from progressive grassroots groups.
"I wish this were complete, total repeal and whenever I get a chance to do that, I'm going to do it," Cooper said during a press conference at the governor's mansion in Raleigh, where he announced his signature and tried to sell the bill. He blamed the Republican supermajority in both chambers of the legislature for blocking a better law. "Doesn't do everything we want it to do. More to do. I'm going to keep fighting every single day for LGBT protections."
The new law repeals H.B. 2 entirely, but it also places a moratorium on North Carolina cities passing any nondiscrimination ordinances (or other employment law rules) until 2020. Transgender North Carolinians will now be at license to use the bathroom of their choosing, but cities cannot enact their own rules barring any discrimination against transgender people, or indeed other members of the LGBT community.
If a compromise is something that leaves both sides unhappy, this was indeed a compromise. Socially conservative Republicans, including H.B. 2 sponsor Senator Dan Bishop, railed against the bill in the legislature. Progressive groups, meanwhile, complain that the law is merely a kinder, gentler version of H.B. 2, because it does not allow for cities to pass their own nondiscrimination ordinances.
H.B. 2 was passed in notoriously hasty fashion, with the legislature convening a special session, passing the bill, and sending it to the governor in less than 12 hours, leaving opponents no time to marshal forces against it. In an ironic echo, its repeal was nearly as speedy: GOP leaders in the legislature announced the deal late Wednesday night, and activists hastened to lobby against the bill on Thursday even as votes went forward and it passed. The bill split Democrats and Republicans in both chambers.
The ultimate verdict on the deal will depend on the way its received by the two core constituencies opposing H.B. 2. One was a groundswell of grassroots activists and national advocacy groups. The other was corporate pressure: Several major employers canceled big jobs expansion in North Carolina, and the NBA, NCAA, and ACC all canceled sporting events in the state. An Associated Press estimate last week found that the law would cost the Old North State at least $3.76 billion over 12 years. In fact, the haste to pass Thursday's deal was in part because of a looming NCAA deadline to repeal the law before the college-sports body scheduled a slate of events through 2022.
"This law I'm signing today is not just about North Carolina's reputation or jobs or sports," Cooper said. "It's about working to end discrimination." But he acknowledged that the NCAA deadline was a factor in the agreement, saying he worried that if Democrats didn't strike a deal to at least mitigate the worst of H.B. 2 before that deadline, they'd lose all leverage to repeal the law before 2018.
Whether the law will actually win back those organizations remains to be seen. Cooper said he had been in touch with them throughout the process. The ACC, which is based in Greensboro, issued a statement saying the law would lead them to reopen discussions about hosting events in the state. The NCAA and NBA have not yet weighed in. The Raleigh-based software company Red Hat, an outspoken critic of H.B. 2, applauded the deal, and the North Carolina Chamber supported it as well.
But for the other camp, the economic losses were never the main point: It was about injustice and discrimination. Many of them reacted furiously to the agreement.
The Human Rights Campaign and Equality NC, a major state LGBT group, were among the critics Thursday. "H.B. 2 was hastily passed without any input from the LGBTQ community just one year ago," Chris Sgro, who is Equality NC's executive director and briefly served as a Democrat in the legislature last year, said in a statement. "Today, we returned to the legislature with a deal made between Governor Cooper, [and Republican leaders] Phil Berger and Tim Moore that once again left out the ones most impacted by the discriminatory law—LGBTQ North Carolinians."
The Transgender Law Center said Cooper and the legislature had "bargained away the civil rights of transgender people." The ACLU and Lambda Legal, which have been involved in litigation against H.B. 2, were equally angry, calling it a "fake repeal."
"The governor and General Assembly may be turning their backs on LGBT North Carolinians today, but we are not," said Sarah Gillooly, policy director for the ACLU of North Carolina.
An editorial in The Charlotte Observer said that the law was "a betrayal of the promises the governor made to the LGBT community and a doubling down on discrimination by Republican legislators who have backed it all along." The paper added, "This was the first real test of leadership for Gov. Cooper, a Democrat, and he failed spectacularly by inexplicably discarding his earlier promise not to accept any deal that left people vulnerable to discrimination."
Other progressive groups and leaders expressed frustration with the law without singling Cooper out. The Reverend William Barber, the head of the North Carolina NAACP and the leader of the powerful Moral Movement, issued a statement saying, "HB2 must be repealed in full. This bill is anti-worker, anti-access to the courts, and anti-LGBTQ. It is shameful for Tim Moore and Phil Berger to demand a discriminatory compromise on a bill that should have never been passed in the first place."
Progress NC, another liberal group, issued a statement saying the deal "may satisfy the NCAA, but many in our state still feel left behind," but it omitted any mention of Cooper and took Republicans to task instead.
Charlotte Mayor Jennifer Roberts supported the Queen City ordinance, passed in February, that angered the General Assembly and led to the passage of H.B. 2 last year. She said in a statement that "this is not a repeal nor is this a reset." (The city itself issued a more positive statement.)
Cooper was clearly aware of the criticisms as he stepped up to the lectern at the governor's mansion. He portrayed the bill as an essential but inadequate step and promised to keep fighting for greater protections.
"We begin to end discrimination in North Carolina. We begin to bring back jobs and sporting events. We begin to repair our reputation," he said. "It's an important step, but it cannot be the only step."
Cooper argued that the fact that transgender people were no longer barred from using the bathroom of their choice was central. He also said he had successfully blocked a Republican attempt to include a "conscience" provision, allowing people to assert religious belief to sidestep state nondiscrimination requirements. He said cities could pass ordinances that prevented discrimination in their own policies, and for contractors working for cities. Cooper acknowledged that he didn't like the moratorium on private-employment policies.
"I wish it were sooner than 2020. I really do," he said. "But while these additional protections may be temporary delayed, they will not be forever denied."
I spoke with Darren Jackson, the Democratic leader in the house, as Cooper was wrapping up. Jackson said the problem was not lack of political will from Cooper or other Democrats, but simply the limits of possibility: Too many Republicans were from rural areas unaffected by the economic backlash, and were "happy just letting the state burn," to pass a more complete repeal.
"The choice today was to leave H.B. 2 as state law at least until after the next General Assembly election in 2018," he said. "Being in the room with these folks and negotiating the last year, I don't believe [repeal without a moratorium] was possible."
A compromise floated in December would have repealed H.B. 2 with just a six-month "cooling-off" period before cities could enact new ordinances. Jackson said that although that deal sounded better, he did not believe it ever had enough support from Republicans to pass, and that today's deal was the best one available.
It was clear that many Democrats were lukewarm on the bill but saw it as politically necessary. Representative Mickey Michaux, a colorful veteran of the civil-rights movement, explained his reasoning bluntly during House debate: "I'm going to support my governor so he'll have an opportunity to have a second term."
Whether, and to what extent, repeal will be an electoral boon to Cooper is an open question. H.B. 2 has become deeply unpopular, even among Republicans in the state, and for months the problem has not been whether to repeal the law, but how to do it. North Carolina is the home of a robust grassroots political movement, and that movement was galvanized by H.B. 2.
Dislike of the law was a major factor in the defeat of Governor Pat McCrory, a Republican who had become the public face of the law, in November. But Cooper's margin of victory was tiny—barely more than 10,000 votes, out of 4.6 million cast—and he headed to Raleigh with Republican supermajorities in the legislature, which promptly moved to strip the governor of some of his powers in a nakedly partisan maneuver.
By signing a bill so disliked by activists on Thursday, Cooper may gain the support of moderates glad to be rid of H.B. 2, but alienate the affections of the people who helped put him office.
"I certainly don't begrudge the liberal groups, progressive groups that are very upset by this," Jackson said. Cooper's allies acknowledged on Thursday that the governor would have to work to reach out to those groups and patch up ties.
The governor may have gotten a sense of that task Thursday, when a protest assembled outside the governor's mansion. The rally was organized by the Air Horn Orchestra, an ad-hoc group that formed to protest—and annoy—McCrory using their eponymous instruments. The group thought it had an ally in Cooper, and Grayson Haver Currin, a writer who co-founded AHO, and had even discussed visiting the governor's mansion. Now, Currin joked, they were inviting themselves instead.
"I don't think you can compromise on civil rights. You can't compromise on people's dignity," he said.
Currin said watching the repeal effort quickly come into reality had been disorienting and disappointing.
"I don't think anyone was under the impression that Roy Cooper was going to push an extremely progressive agenda as governor," he said, but nonetheless, "It doesn't really seem like Roy Cooper is standing for anything."
Currin said he didn't know what effect today's signing might have on Cooper's reelection prospects in 2020, though he expected it would undermine progressive faith in him. Certainly, Currin figured it would cut into his own commitment to the cause.
"I probably won't devote 30 Wednesdays in a row to campaigning for him," Currin said.