What Does Judge Gorsuch Believe?
On the second day of Senate hearings, President Trump's Supreme Court nominee offered few clues as to how he'd rule on specific issues if confirmed.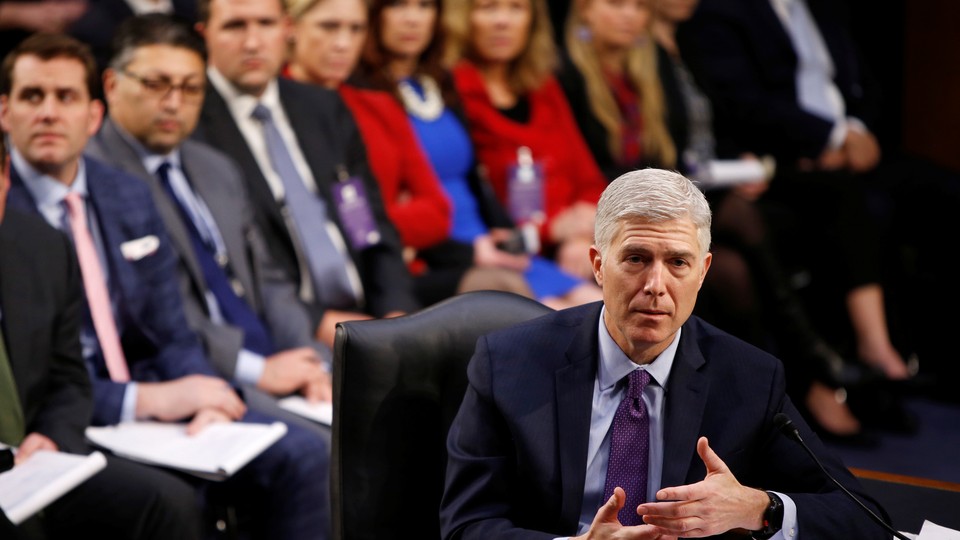 Updated at 9:03 p.m. ET
On the second day of his confirmation hearings to be a Supreme Court justice, Neil Gorsuch seemed eager to be judged on his own merits. But three figures loomed over the proceedings—the two jurists he's being closely evaluated against, and the president who's injected controversy into his nomination.
One is Antonin Scalia, the longtime conservative jurist who Gorsuch hopes to replace on the U.S. Supreme Court. President Trump vowed during the campaign to nominate a jurist "in the mold" of Scalia—a pledge that thrilled conservatives as much as it worried liberals.
But attempts by the Democratic senators on Tuesday to reveal new dimensions of Gorsuch's ideological beliefs were largely unsuccessful. The 49-year-old federal appellate judge from Colorado declined to offer his views on any issues that could come before the Court. Giving any forecasts or hints, he repeatedly told the committee's members, would rob future litigants of an impartial arbiter and violate his oath of judicial ethics.
That didn't stop Democrats from trying. California Senator Dianne Feinstein inquired multiple times about his views on abortion rights and whether he'd uphold Roe v. Wade if confirmed. "It's a precedent of the United States Supreme Court," he replied, offering a purely textbook description of the case without a hint of interpretation. My colleague Emma Green noted last month that Gorsuch's lack of prior writings about abortion rights have made him something of a Rorschach test on the issue for all sides; nothing he said during Tuesday's hearing will change that.
Later on, when Illinois Senator Dick Durbin asked whether he thought sexual orientation falls under the protection of the phrase "equal justice under law," Gorsuch replied laconically that the Supreme Court had ruled "single-sex marriage" was protected by the Constitution. Minnesota Senator Al Franken pressed him further on his personal views about marriage equality, but Gorsuch repeatedly refused to share them. He did respond, however, that Obergefell v. Hodges, which struck down same-sex marriage bans nationwide in 2015, was "absolutely settled law."
A second figure haunting Tuesday's proceedings was Merrick Garland, the chief judge of the D.C. Circuit Court of Appeals. Former President Barack Obama nominated Garland to fill the vacancy left by Scalia's death in February 2016, but Republican senators refused to take up the nomination until after the presidential election.
Democrats still seethed over what they perceived as the theft of a Supreme Court seat. Vermont Senator Patrick Leahy, a Democrat, said the Senate Judiciary Committee's refusal to hold hearings for Garland had "severely damaged" the body's reputation. Republicans retorted by claiming nobody's hands are clean in the increasing politicization of Supreme Court confirmation hearings. South Carolina Senator Lindsey Graham, a Republican, happily cited former Vice President Joe Biden's remarks in 1992 in favor of blocking an election-year nomination.
But Gorsuch, for his part, tried to avoid the issue entirely. He simply told Leahy it would be "imprudent" for him or other judges to comment on political disputes between the other branches.
But no one loomed over Tuesday's hearing like President Trump, whose policies and personal views informed many Democrats' questioning in the grueling 11-hour session. His controversial comments on judicial independence and disdain for the federal judiciary's power to review his actions have drawn widespread condemnation from legal circles. Whether Gorsuch would be a bulwark against any potential constitutional transgressions or a rubber stamp was a central theme of multiple Democratic senators' inquiries.
This led to the most contentious exchange between Gorsuch and a senator, when Leahy asked the judge about his views on Trump's controversial travel ban targeting six Muslim-majority countries. Leahy wanted to know: Would Gorsuch uphold the ban if it came before him on the Supreme Court, as one Republican legislator claimed?
"Senator, he has no idea how I'd rule in that case, and senator, I'm not going to say anything here that would give anybody any idea how I'd rule in any case like that that could come before the Supreme Court or my court of the Tenth Circuit," Gorsuch replied with clear irritation. "It would be grossly improper for a judge to do that."
Leahy pressed him further. "Well, is the president's national-security determinations—are those reviewable by the court?" he asked, referencing the Trump administration's initial argument in the early stages of the travel-ban litigation that they are not reviewable. "Senator, no man is above the law," Gorsuch replied.
Leahy then tweaked his query, asking if a court's national-security determinations should be unreviewable by the courts. Gorsuch did not answer directly, but instead pointed to Justice Robert H. Jackson's concurrence in Youngstown Sheet & Tube Co. v. Sawyer, the landmark case where the Court overruled President Truman's seizure of the nation's steel mills during the Korean War. Jackson's three-level test for when the president is properly exercising his executive power, Gorsuch told Leahy, would be the applicable standard for the courts in those cases.
Durbin also asked Gorsuch about his thoughts on Korematsu v. United States, the widely condemned decision in which the Supreme Court upheld the internment of Japanese-Americans during World War II. "What do you think about the role of the Court challenging the military or the commander in chief in time of war?" he asked. "Are we up to it in terms of constitutional protection and the role of the Court?"
"We better be," Gorsuch responded. One of his mentors "taught me that the test of the rule of law is whether the government can lose in its own courts, and accept the judgment of those courts," he explained. "That doesn't happen everywhere else around the world. We take it for granted in this country. It's a remarkable blessing from our forefathers. And it is a daunting prospect as a judge to have to carry that baton."
Gorsuch later made his first public rebuke of Trump's criticisms of federal judge Gonzalo Curiel, who presided over the Trump University case last year, and the federal judges overseeing the travel-ban cases in the Ninth Circuit. In response to a question from Connecticut Democrat Richard Blumenthal on Curiel, Gorsuch said he couldn't talk about specific cases and didn't want to get involved in politics.
Yet he did offer a comment—and the subject of his remarks was obvious. Gorsuch first noted that judges have to be tough in the face of public criticism. That criticism dates back to Thomas Jefferson's complaints about Marbury v. Madison, he reminded the committee, and it's protected by the First Amendment. But he objected to attacks on "the integrity or honesty or independence of a judge, [or] their motives," adding that the job of a jurist can be a "lonely" one.
"I know these people and I know how decent they are," he said firmly. "And when anyone criticizes the honesty or integrity, the motives of a federal judge, I find that disheartening. I find that demoralizing. Because I know the truth."
"Anyone including the president of the United States?" Blumenthal asked.

"Anyone is anyone," Gorsuch replied.