What Lies Ahead for Obama's Countering Violent Extremism Program?
A new report confirms the skepticism of civil libertarians. But if the initiative is discontinued, will its replacement be any better?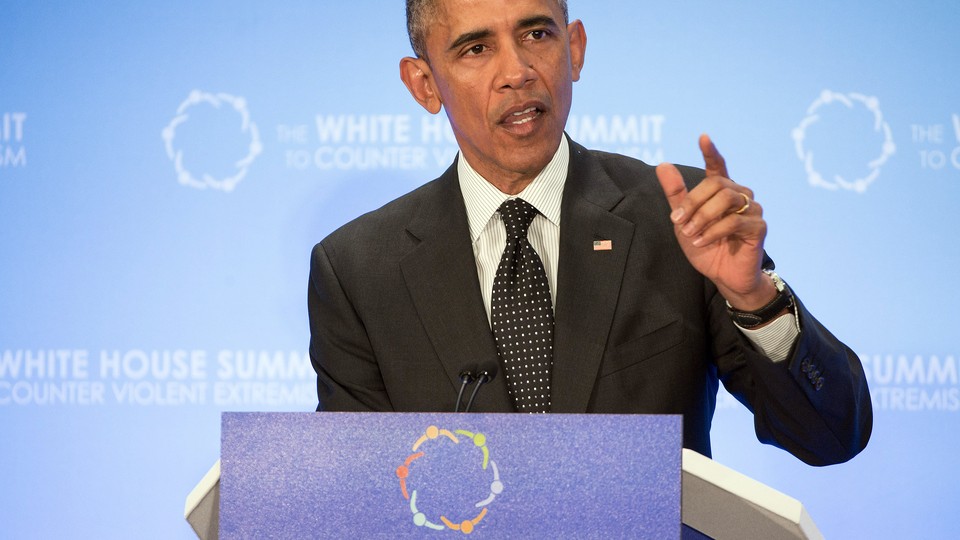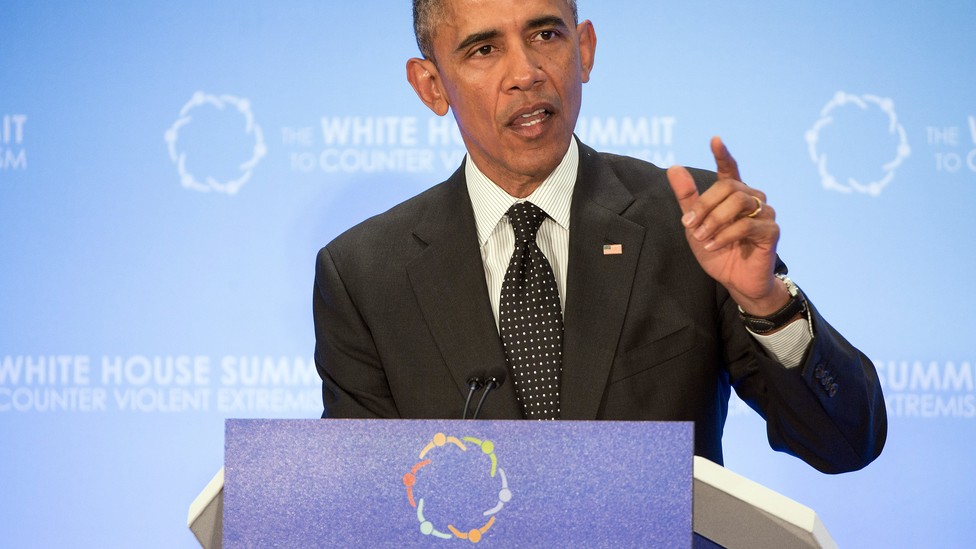 For the last six years, the U.S government has pushed resources toward a set of programs called Countering Violent Extremism, or CVE: grants to community organizations, U.S. attorneys' offices, and police departments designed to derail people "at risk" of engaging in terrorism. Civil-liberties groups have long argued that CVE is based on false premises: Ideology is not a clear predictor of terrorism, they say, and there is no "pathway" to committing violence. Muslim groups have also worried that the program is a means of surveilling and arresting members of their communities, despite the Obama administration's assurances otherwise.
New documents obtained via Freedom of Information Act requests by the Brennan Center for Justice suggest these fears were well-founded. In an internal memo, officials at the FBI—one of the main agencies involved in CVE—acknowledged that engagement with radical ideas is not a clear predictor of terrorist acts. And in another document, the Bureau described CVE as a means of strengthening its "investigative [and] intelligence gathering" abilities, which seems to contradict the Obama administration's claims that CVE is not about law enforcement.
These findings are just the latest evidence in a wave of critiques of the program, which have come from both the left and the right. With the Trump administration eyeing CVE for potential rebranding or elimination, civil-liberties advocates may ironically get their wish to see the end of the program. But if it's replaced with increased efforts to target American Muslim communities with law enforcement, they may not like what comes next.
The Brennan Center report lays out two major arguments that are now standard among CVE critics in on the left. The first counters the idea that ideology is the main motivation for terrorism. "All empirical research shows that ideology is not the driver of terrorism—it has lots of different drivers and is hard to predict," said Faiza Patel, the co-director of the Liberty and National Security Program at the Brennan Center.
The FBI appears agrees with this, at least to a certain extent. In 2011, the Bureau conducted a study of the alleged increase in plots against the U.S. after 2006, according to a document obtained by Brennan through a FOIA request. One factor the FBI studied was the influence of Anwar al-Awlaki, the American-born extremist who circulated widely viewed sermons online before he was killed by a U.S. drone strike in 2011. "It is difficult to quantify the degree to which Islamist materials and ideologues—such as [al-Awlaki] … played a part in the radicalization of the persons included in this assessment," the FBI wrote. "Factors outside the scope of this assessment—such as social environment and personal psychology ... were also influential."
Despite this kind of evidence, "there remains within our government and policymaking circles, even among Democrats and so-called progressives, this notion that there's this poisonous ideology and we've got to do something to do deal with [it]," said Patel. "Yes, there are these terrible ideas out there. But our function as a government is not to suppress ideas, but actually to deal with violence."
"You're staring at a father in Arkansas who's worried about their kid, and you've got nothing."
Ostensibly, trial CVE programs like those in Minneapolis, Boston, Los Angeles, and Montgomery County, Maryland, near Washington, D.C., are designed to be an alternative to punishment, providing intervention before someone does something terrible. But as William McCants, a senior fellow at the Brookings Institute, has argued, "U.S. law enforcement has no incentives to stop young kids from ruining their lives and every incentive to build cases against them or to recruit them to build cases against their friends."
Indeed, the Brennan Center's report suggests the FBI sees CVE as a form of law enforcement. In another internal document obtained via FOIA, the FBI referred to CVE as a way to "strengthen our investigative, intelligence gathering, and collaborative abilities to be proactive in countering violent extremism." This directly contradicts statements made by the White House, the authors point out: "investigations or intelligence collection" are "not the goal of CVE efforts," administration officials said in an October 2016 report.
Seamus Hughes, the deputy director of the Program on Extremism at George Washington University, was skeptical that this is damning evidence against the FBI. "The FBI guys are trying to sell a program that's hard to sell in the Bureau," he said. "If you ask a regular FBI agent in the field, they're going to say, 'We're not social workers.'" The FBI has always acknowledged that radicalization is not a "step-by-step process," and that ideology is just "a piece of the puzzle," he said: "I would be concerned if they said otherwise."
Reports from February suggest that CVE may get a new name under the Trump administration, such as "Countering Islamic Extremism" or "Countering Radical Islamic Extremism." This move may be an answer to conservative critics of the program, who have long accused CVE of obfuscating the religious motivations behind terrorism. "We should tell the truth about the enemy we face," said Ben Sasse, a Republican senator from Nebraska, after the San Bernardino attacks in December 2015. "We are most certainly at war with militant Islam."
Alternatively, Trump may scrap the program altogether, according to CNN—an ironic potential victory for civil-liberties groups. But if the program is discontinued, those same civil libertarians may like what replaces it even less. "If you're taking CVE off the table, and the idea of interventions off the table, you're leaving law enforcement with very few options," said Hughes, who previously worked on community intervention at the National Counterterrorism Center, which is part of the U.S. intelligence community. "You're staring at a father in Arkansas who's worried about their kid, and you've got nothing. … At the end of the day, these parents need some sort of support, and they're not getting it from anybody."