The Conservative Uprising Against the Republican Health-Care Bill
The new GOP proposal drew immediate criticism from lawmakers who argued it doesn't go far enough in erasing the Affordable Care Act.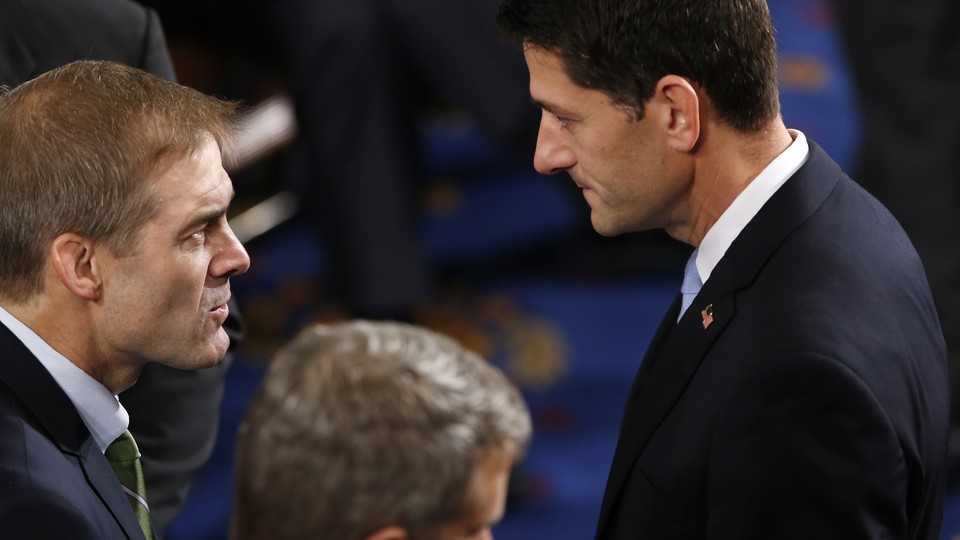 Updated on March 7, 2017 at 12:22 p.m. ET
House Republicans leaders on Monday embraced a legislative plan to replace the Affordable Care Act for the first time in the nearly seven years since Democrats enacted the transformative health-insurance law.
Now, they have to sell it.
That challenge ran into an immediate threat from key conservatives who criticized the new proposal for failing to fulfill the party's iron-clad promise to rip out the signature policy of former President Barack Obama. "It's Obamacare in a different format," Representative Jim Jordan of Ohio, a member of the hardline House Freedom Caucus, said in a phone interview. Jordan cited three provisions that conservatives have complained about for weeks leading up to the formal release of the House GOP plan on Monday evening: its extension of Obamacare Medicaid expansion for another four years; its failure to immediately repeal all of the law's tax increases; and its call to provide refundable tax credits to help people buy insurance, which Jordan labeled "a new entitlement."
Earlier on Monday, another member of the Freedom Caucus, Representative Justin Amash of Michigan, condemned the leadership bill in a two-word tweet: "Obamacare 2.0." The full Freedom Caucus comprises about three dozen members of the 237 in the House Republican majority. If they voted as a bloc, they could sink the bill on their own. A spokeswoman for its chairman, Representative Mark Meadows of North Carolina, said members were still reviewing the legislation on Monday evening, and Jordan said the group planned to meet on Tuesday to discuss it.
Representative Mark Walker of North Carolina, the leader of a far larger coalition of House conservatives, the Republican Study Committee, praised the new bill for moving in "the right direction" after he criticized an earlier draft. But he stopped well short of an endorsement. "We are carefully reviewing this legislation looking in three main areas of shared conservative concern: protection of the unborn, elimination of Obamacare's Medicaid expansion and ensuring the tax credits are fiscally responsible," Walker said.
The reaction from conservative advocacy groups was no more favorable to the Republican leadership. FreedomWorks labeled the plan's requirement that people pay a 30 percent premium to insurers if they stop their coverage for more than two months "the Republican individual mandate." The Koch Brothers-backed Americans for Prosperity urged the leadership to "go back to the drawing board" a day before it released their bill.
And on Tuesday morning, two more staunchly conservative activist organizations, Heritage Action and the Club for Growth, came out against the proposal. "Many Americans seeking health insurance on the individual market will notice no significant difference between the Affordable Care Act (i.e., Obamacare) and the American Health Care Act," the group's president, Michael Needham said. "That is bad politics and, more importantly, bad policy. Rather than accept the flawed premises of Obamacare, congressional Republicans should fully repeal the failed law and begin a genuine effort to deliver on longstanding campaign promises that create a free market health-care system that empowers patients and doctors." The Club for Growth pejoratively dubbed the new bill "RyanCare" and added a new threat, vowing to downgrade any Republican who votes for the bill in the group's closely-watched annual congressional scorecard.
Monday's release of the legislation follows weeks of negotiations among Republican lawmakers and senior Trump administration officials. President Trump gave the bill a boost on Twitter, but the White House notably declined to explicitly endorse it. "Today marks an important step toward restoring health-care choices and affordability back to the American people," Press Secretary Sean Spicer said. "President Trump looks forward to working with both chambers of Congress to repeal and replace Obamacare." The president leaned in a bit more enthusiastically on Tuesday morning: "Our wonderful new healthcare bill is now out for review and negotiation," he tweeted.
Yet what at least one conservative, Senator Rand Paul of Kentucky, seized on was not Trump's praise of the proposal but his suggestion that it was up for negotiation. "It won't work," Paul said Tuesday morning on Fox and Friends, continuing a crusade against the bill before it came out. Calling the legislation "Obamacare Lite," the former presidential contender said its replacement of the individual mandate with a premium payment to insurers a "bailout for the insurance companies" that was unconstitutional. "I think it'll be a real mistake to go for this," Paul said. "It won't pass, and conservatives won't take it."
House leaders may need the president to make an aggressive push for the legislation for it to have a chance at passage. Trump plans to meet on Tuesday with the party's team of vote-counters—a signal that he may engage in the legislative process more directly than he has so far. And the administration issued a letter of endorsement from Tom Price, the secretary of health and human services, and dispatched Mick Mulvaney, the budget director, to talk up the proposal on television. Both Price and Mulvaney are former congressmen who remain close with conservatives in the House, and the White House is banking on their ability to sell the plan to skeptical lawmakers. Yet despite their backing, the House Freedom Caucus, along with Paul and Senator Mike Lee of Utah, announced they would hold a press conference Tuesday afternoon, where they are expected to criticize the bill and call for a vote on a clean repeal of Obamacare.
Two House committees announced plans to mark up and vote on the bill on Wednesday, less than 48 hours after its introduction and, in all likelihood, before the Congressional Budget Office has a chance to fully review it and project its impact on the deficit and the number of Americans who will gain or lose health insurance.
As expected, Democrats immediately assailed the GOP bill as a plan that would strip insurance from people who gained coverage under Obamacare, cut taxes for the wealthy, and reduce funding for Medicaid. "This Republican bill will do massive damage to millions of families across the nation," House Minority Leader Nancy Pelosi said. "Republicans have decided that affordable health care should be the privilege of the wealthy, not the right of every family in America."
House Speaker Paul Ryan has told Republicans he wants to pass the health-care bill within three weeks, but whether it ever makes it to a floor vote is an open question. The House effort nearly suffered a mortal blow hours before the plan was unveiled, when four Republican senators—Rob Portman of Ohio, Cory Gardner of Colorado, Shelley Moore Capito of West Virginia, and Lisa Murkowski of Alaska—warned that the emerging proposal would strip insurance from millions of their constituents who gained coverage through the Medicaid expansion. "The February 10th draft proposal from the House does not meet the test of stability for individuals currently enrolled in the program," the senators wrote in a letter to Majority Leader Mitch McConnell, "and we will not support a plan that does not include stability for Medicaid expansion populations or flexibility for states."
Republicans have just a 52–48 majority in the Senate, so the loss of four votes would doom any legislation. Paul appears to be a hard "no" on the bill, and several other senators have voiced concerns. Capito told Bloomberg News on Monday night that the new House bill was "moving in the right direction" on Medicaid, indicating that her vote was not lost.
GOP leaders can find a narrow path to passage if enough of their members simultaneously accept legislation that falls short of full repeal while embracing the argument that more consumer choices, lower taxes, and less government involvement is worth the tradeoff of covering fewer people. If the initial reactions are any indication, however, that middle ground may not be large enough to hold a congressional majority.