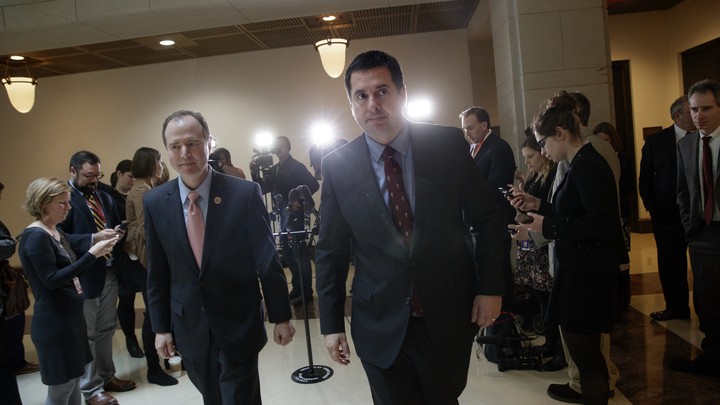 When the president speaks, Congress doesn't always have to listen.
So when the White House on Sunday demanded an investigation into President Trump's claim that former President Barack Obama ordered wiretaps on his phones during the 2016 campaign, lawmakers didn't exactly spring into action in response.
Senior members of both parties said on Sunday and Monday that they had seen no evidence to support Trump's tweeted allegation that Obama "was tapping my phones" last fall. And Republicans leading the investigations into Russian electoral meddling said they were already planning to include the Obama administration's response as part of their inquiry. The upshot? While Trump's allies on Capitol Hill will indulge his theory about his predecessor, his request won't substantially alter what was already a rapidly expanding investigation into the actions of the Russian government and its links to the Trump campaign.
Both House Speaker Paul Ryan and Senate Majority Leader Mitch McConnell were silent on the president's accusation, referring questions to the intelligence committees that are leading the Russia probe in each chamber. And those committee chairmen issued brief statements promising that they'd look into it, but not much more.
"One of the focus points of the House Intelligence Committee's investigation is the U.S. government's response to actions taken by Russian intelligence agents during the presidential campaign," said Representative Devin Nunes of California, the panel's Republican chairman. "As such, the committee will make inquiries into whether the government was conducting surveillance activities on any political party's campaign officials or surrogates, and we will continue to investigate this issue if the evidence warrants it." Nunes's counterpart atop the Senate Intelligence Committee, Richard Burr of North Carolina, was even more noncommittal. The committee, he said, "will follow the evidence where it leads, and we will continue to be guided by the intelligence and facts as we compile our findings."
The statements were not the total brush-off that Democrats were hoping key Republicans would give to Trump, but they were indicative of a governing party that is growing more and more wary of the president's tendency to pop off without facts, often in response to thinly-sourced news reports he sees in conservative media outlets. The White House made no attempt to substantiate Trump's claim about Obama beyond the suggestion of counselor Kellyanne Conway, who on Monday noted that the president had access to intelligence that ordinary Americans did not. Whether that access had actually informed Trump's allegation on Saturday was unclear; other reports said the president was merely re-circulating allegations that the conservative website Breitbart had picked up from Mark Levin, the talk radio host.
If Republicans reacted with the equivalent of an eye roll, Democrats saw something far more serious in the president's latest tweetstorm.
"I think he crossed a line this weekend," Representative Eric Swalwell of California, a member of the House Intelligence Committee, told me in a phone interview on Monday. "He lied to defame our former president." Swalwell said that for Trump, it was part of "a pattern of deception and deflection when it comes to Russia."
But the more concerning consequence, he said, was that the president's comments could undermine confidence in the FISA system that allows the government to seek warrants from a special court to spy on those suspected of interacting with agents of a foreign power. "He's the president of the United States, and he's created a mess," Swalwell said. "He's taking a very strong country to its breaking point right now with his behavior."
The top Democrat on the Intelligence Committee, Representative Adam Schiff of California, was more dismissive of the president's call for an investigation into wiretaps, which came more than 24 hours after Trump fired off his initial tweets.
"It's a nonsense request designed to cover up a nonsense tweet," Schiff said in a phone interview Monday."I don't think anyone takes the president's tweets seriously anymore, and certainly not these." He said it would actually be fairly simple for the committee to dig into Trump's claim: All it had to do, Schiff said, was to call in James Clapper and ask the former director of national intelligence to repeat his denial, issued Sunday on Meet the Press, that the intelligence community had obtained a wiretap on Trump or his campaign.
Democrats by and large have called for the appointment either of a special prosecutor or a blue-ribbon independent commission to handle the Russia investigation. Those demands continued after Attorney General Jeff Sessions last week recused himself from the Justice Department's inquiry following the disclosure that he failed to disclose to the Senate that he met on multiple occasions with the Russian ambassador during the presidential campaign.
Democrats have argued that neither Trump's political appointees in the Justice Department, nor Republican allies like Nunes in Congress, are credible leaders of a probe that could implicate the president in an election scandal of unprecedented scale.
Republican leaders have rejected those requests, deciding that the intelligence committees in the House and Senate are best-equipped to handle a bipartisan investigation involving highly classified material. And while Democrats hope that Trump's latest accusation will help push Republicans toward supporting an independent prosecutor or commission, they are participating in the intelligence committee investigations after leaders of the two panels agreed on the scope of their inquiry.
In the House, for example, Nunes and Schiff announced last week that they would look both at "links between Russia and individuals associated with political campaigns or any other U.S. persons"—a Democratic demand—and at possible leaks of classified information from the intelligence community, which Nunes had sought at the behest of the president.
The House intelligence committee investigation began in earnest last week with a classified briefing from FBI Director James Comey, and on Friday the panel sent a letter formally requesting documents from the intelligence community related to its assessment that Russia interfered with the presidential election. Schiff said that while there is "a real sense of urgency," there is no specific timeline for when the inquiry will be complete.
How cooperative the government will be is another question. Schiff said he was "discouraged" by Comey's refusal to answer many of the committee's questions last week, and Democrats are keenly interested in why the director decided to publicize the FBI's investigation of Hillary Clinton during the campaign but not its reported probe of the contact Trump associates had with Russia.
Democrats don't seem to think Congress will have the last word on the Russia investigations. And neither does the president. Press secretary Sean Spicer was asked on Monday if Trump would accept the outcome of the investigations on Capitol Hill.
Not necessarily, he replied. "I don't think you would ever just blanketly say, 'I'm ready to accept these outcomes,'" Spicer said. The president may have a better understanding of Congress than he lets on: Just as he can ask for all the investigations he wants, he doesn't have to like what they find.
We want to hear what you think about this article. Submit a letter to the editor or write to letters@theatlantic.com.
Russell Berman
is a staff writer at
The Atlantic
, where he covers politics.