Chelsea and Ivanka Are Trading Places
The fashion-peddling first daughter is getting an office in the West Wing, while the wonky former first daughter will accept an award from Variety.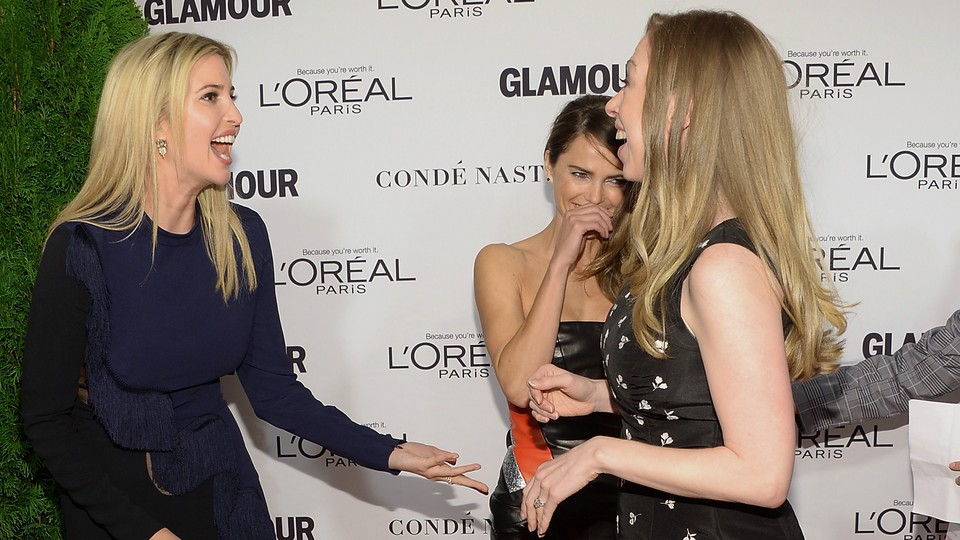 Be honest: Six months ago, if someone had told you that Ivanka Trump, fashion-peddling, glamour-gal scion of the Trump real-estate and branding dynasty, would be moving into her own West Wing Office, getting special security clearance which will allow her to view classified info, trying on the role of policy maven, and even receiving her own "government-issued devices," you'd have thought they were bonkers, or baked, or both.
Now consider that, on Monday, Variety magazine announced that Ivanka's long-time gal pal Chelsea Clinton—the earnest, wonky, mediaphobic scion of the Clinton political dynasty—has been chosen as one of its Lifetime Impact Honorees for her humanitarian work. Clinton will be feted at a gala luncheon in Manhattan next month, along with actors Blake Lively, Jessica Chastain, and Audra McDonald, the morning show host and Oprah BFF Gayle King, and the media executive Shari Redstone. The six women will grace the cover of the next issue of Variety, which hits newsstands in mid-April.
Chelsea Clinton is getting swept up in a shiny ball of glitzy, self-congratulatory Hollywood/New York feel-goodery, while Ivanka Trump tries to morph into Hillary Clinton circa 1993. It's a through-the-looking-glass moment, and there is every indication that things are only going to get weirder.
Take Ivanka's burgeoning role in her dad's administration. Already, she's sitting in on high-level meetings with world leaders, Cabinet secretaries, and business muckety-mucks. She's offering policy advice. She keeps talking with people about her child-care plan as though it's actually going somewhere in this congressional atmosphere, and she has expressed a desire to tackle other issues dealing with women in the workplace.
No question, Ivanka remains a PR boon to her father: Not infrequently, someone from Trumpworld leaks an anonymous tidbit to the media about how Ivanka and Jared are serving as this great moderating influence on the president. And now, she is getting her own room in the West Wing, to, as her lawyer, Jamie Gorelick, explained it to NPR, "continue to be the eyes and ears of her father and provide candid advice as she has her entire adult life." (One cannot help but wonder exactly what impact that advice has had on Trump pere over the years.)
To clarify, Ivanka's is not a formal advisory position. That would require her to follow certain protocols and abide by certain ethics rules. But do not fret; Gorelick insists that Ivanka will voluntarily abide by all the same rules that apply to ordinary government officials. Not that anyone should be surprised. The entire Trump family clearly prefers to keep these things more freewheeling. Ethics guidelines can be so limiting, so intrusive, so common.
But back to that other member of the First Daughter's club, Chelsea. This time last year, people were pestering Clinton fille about what role she would be playing in her mother's administration and how much time she would be spending in the White House. Now, Chelsea pops up in the news only rarely, when she issues some piquant remark on Twitter or when someone wants to float a rumor that she's considering a political run in the very near future. (Maybe to replace Nita Lowey in the House in 2018—or how about Kirsten Gillibrand's seat, if the New York senator makes a run for the White House in 2020!)
And now, Variety is feting Chelsea, specifically for "her work with Alliance for a Healthier Generation, which empowers kids to develop lifelong healthy habits." The award is being given in conjunction with Lifetime, the cable channel best known for its made-for-TV movies and its reality series including Project Runway, Dance Moms, Bringing Up Ballers, and Little Women: LA. The award's title—Lifetime Impact Honoree—sparked media reports that the 37-year-old was receiving a "lifetime-achievement award." That would have been rich. But a Variety executive confirms that the Power of Women honorees are receiving awards from the presenting sponsor, Lifetime. "It's not a lifetime achievement award."
That makes sense. Thus far, Chelsea's greatest accomplishment is surviving her eternally needy parents' raging ambition while making solid use of the near-countless advantages their wealth and power have conferred upon her. To be fair, this puts her way ahead of many celebrity offspring. But it's not like she's got her own office in the West Wing or anything like that.
And so the bizarreness of this political season grinds on, reaching down a generation to shuffle the public's expectations about even Chelsea and Ivanka. At this rate, Chelsea will soon roll out her new eponymous line of fragrances while Ivanka is announced as her dad's new chief of staff.
Sorry, Reince.