Trump's Former Campaign Chairman's Tight Ties to Putin
The White House is now trying to claim that Paul Manafort, who reportedly worked to further Vladimir Putin's interests in the U.S. and overseas, was only a bit player in the president's run for office.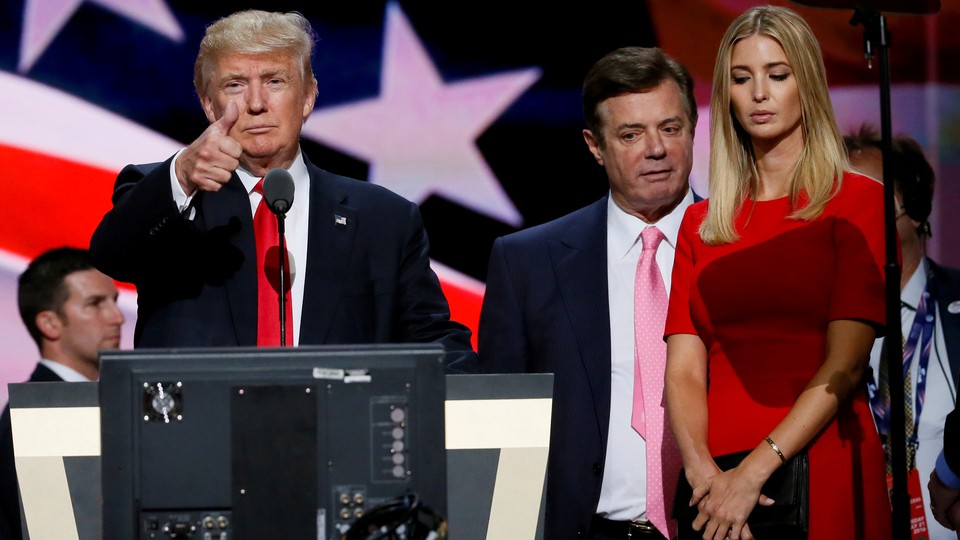 During Monday's White House briefing, Press Secretary Sean Spicer made a strange assertion. This is not unusual; in fact, Spicer makes strange assertions on such a regular basis that this one barely made a ripple outside of the press corps. James Comey had confirmed that morning that his FBI was investigating whether the Trump campaign colluded with Russia to meddle in the presidential election.
Unbidden, Spicer brought up Paul Manafort, who had served as Trump's campaign chairman during summer 2016. "Obviously there's been discussion of Paul Manafort who played a very limited role for a very limited amount of time," Spicer said. Reporters immediately reacted incredulously: Manafort had been the campaign chairman, after all!
The White House's desire to preemptively distance itself from Manafort seemed more understandable Wednesday, after a big report from the Associated Press saying that Manafort worked for a Russian billionaire close to President Vladimir Putin in the mid-2000s, as part of an effort to advance Putin's interests.
"Manafort proposed in a confidential strategy plan as early as June 2005 that he would influence politics, business dealings and news coverage inside the United States, Europe and the former Soviet republics to benefit the Putin government, even as U.S.-Russia relations under Republican President George W. Bush grew worse," the AP reports.
Manafort confirmed he'd worked for the oligarch, who allegedly paid him some $10 million annually, but insisted his work was personal. "I worked with Oleg Deripaska almost a decade ago representing him on business and personal matters in countries where he had investments," Manafort said in a statement. "My work for Mr. Deripaska did not involve representing Russia's political interests."
This is a tough argument to make, because the AP acquired memos that Manafort allegedly wrote to Deripaska. One, for example, said, "We are now of the belief that this model can greatly benefit the Putin Government if employed at the correct levels with the appropriate commitment to success" and "will be offering a great service that can re-focus, both internally and externally, the policies of the Putin government."
The AP report is also in line with what was previously known about Manafort. The longtime Republican fixer worked as a consigliere to now-deposed Ukrainian President Viktor Yanukovych, a Kremlin client. In August 2016, The New York Times reported on a dossier of documents about Manafort emerging from Ukraine, including allegations that Manafort received almost $13 million in off-book cash payments. He was also part of a strange deal involving an investment fund he created backed by Deripaska to purchase a telecom company. But that deal apparently went south, and Manafort in 2014 sued in the Cayman Islands to recover some assets from Deripaska.
That New York Times story was the first of several over the course of a few days, showing more questionable Manafort ties, as well as suggesting he might have broken U.S. laws by not lobbying as a foreign agent. Within the week, Manafort—already sidelined inside the Trump campaign by Steve Bannon and Kellyanne Conway—had been asked to resign.
The new AP report also resurfaces one unresolved oddity about Manafort's role on the Trump campaign: He was working as a volunteer. But Manafort's eye-popping eight-figure contract with Deripaska and his history as a hired gun, working for figures around the world with bad reputations, shows that he is not the sort of man who works for free, nor the sort of man who seeks out idealists as clients. If Trump was not paying him, who was? And to what end?
The story of the Trump presidency so far has been an almost suffocating cloud of billowing of smoke but little in the way of visible flames. The Manafort story, too, has been more smoke than fire, though the AP story moves the story closer to solid findings.
There remain many important questions to answer, which will answer whether there really is a fire.
First, did the Trump campaign understand what it was getting in Manafort? Certainly, Trump and his advisers should have. Eli Lake summed the news up as "Trump just hired his next scandal." Perhaps the Trump team was unaware, but if so that would suggest astonishing incompetence and negligence, even by the low standards of Trump vetting.
A second possibility is that they were aware of at least some of Manafort's unsavory ties but decided to overlook them. When Manafort was hired, the Trump campaign was in deep turmoil: Leading all Republican rivals, but consumed by chaos and in danger of heading to the Republican National Convention without the nomination clinched, where a floor fight could lead to party elders crushing Trump the outsider. Manafort had been a part of Gerald Ford's successful floor fight against Ronald Reagan in 1976, and so he was brought on as a fixer. But Manafort quickly expanded his ambit, muscling out previous campaign manager Corey Lewandowski and taking over himself. His role at the RNC, and the way Trump and other aides spoke about Manafort over the summer did not indicate a limited or small role in the campaign.
A third possibility, and one that runs closest to liberal fever dreams of a full-on Russian manipulation of the election, is that Trump or some of his closest aides were well aware of Manafort's ties to the Kremlin and saw them as a feature, not a bug. If Trump was trying to construct a Putin-friendly campaign, whether for purposes entirely innocent or nefarious, Manafort would have been an obvious hire.
Trump had made a habit of praising Putin for years before he hired Manafort. Nor was Manafort the only figure in the Trump orbit who had ties to Moscow. Former foreign-policy aide Carter Page has a tangle of Russian business ties. Several Trump advisers met with Russian ambassador Sergei Kislyak at the RNC in Cleveland, including now-Attorney General Jeff Sessions, who misled Congress about the contact, and J.D. Gordon, another Trump aide. Michael Flynn, who served as national security adviser for about three weeks before being forced to resign for lying to Vice President Mike Pence about conversations with Kislyak, has become a full-on Russophile, and Flynn was close to Bannon, not Manafort.
One strange episode that occurred in Cleveland was the writing of the GOP's platform on Ukraine. The Republican Party has historically taken a hard line on Russia, and been critical of Russian expansionism around its borders. That included pushing back on Russia's annexation of the Ukrainian region of Crimea after Yanukovych's overthrow, a seizure that almost the entire international community views as unlawful. Some members of the platform committee wanted to insert a pledge to send defensive weapons to Ukrainians facing Russian incursion. But others steamrolled them, making sure the plank was not included.
Trump aides were widely blamed for the move, though the campaign denied it. Certainly, it seemed fishy that the party would reverse its stance on a matter where Manafort had been working on behalf of the pro-Kremlin Ukrainian faction.
Comey confirmed Monday only that the FBI was investigating collusion between the Trump campaign and Russia. He did not indicate who, if anyone, was on the bureau's radar screen. While the AP report does not say so directly, today's story would strongly suggest that Paul Manafort is under investigation, as has been previously reported. But is he the only one? And if not, who else? Longtime on-and-off Trump adviser Roger Stone is reportedly under investigation. Is Carter Page? Or J.D. Gordon? How about Michael Flynn, who recently disclosed he had lobbied for the Turkish government immediately before joining the administration? What about Sessions, who has recused himself from the investigation? Or even Trump himself?
It will take time for answers to these questions to emerge, and even the White House does not seem to know who might be in FBI sights. The White House believed as late as Monday morning that there was no FBI investigation, according to Ryan Lizza, and Spicer said on Monday he was unaware of any contacts between Manafort and Russian agents or suspected Russian agents.
Meanwhile, despite Trump pushing Manafort out in August after the damaging stories, the AP reports Wednesday, and The Daily Beast reported last year, that Manafort remains in regular touch with Trump.
After the AP published its story on Wednesday, Spicer made another strange assertion. Having been eager to downplay Manafort's role on Monday, he was far more tightlipped two days later, telling NBC's Peter Alexander it would be inappropriate to comment on someone who was not a White House employee. The abrupt change in policy notwithstanding, the matter of just whose employee Paul Manafort was is not going away.