Can Millennials Save the Democratic Party?
The 2020 election is projected to mark the first time in more than 40 years that baby boomers aren't the largest generation of eligible voters.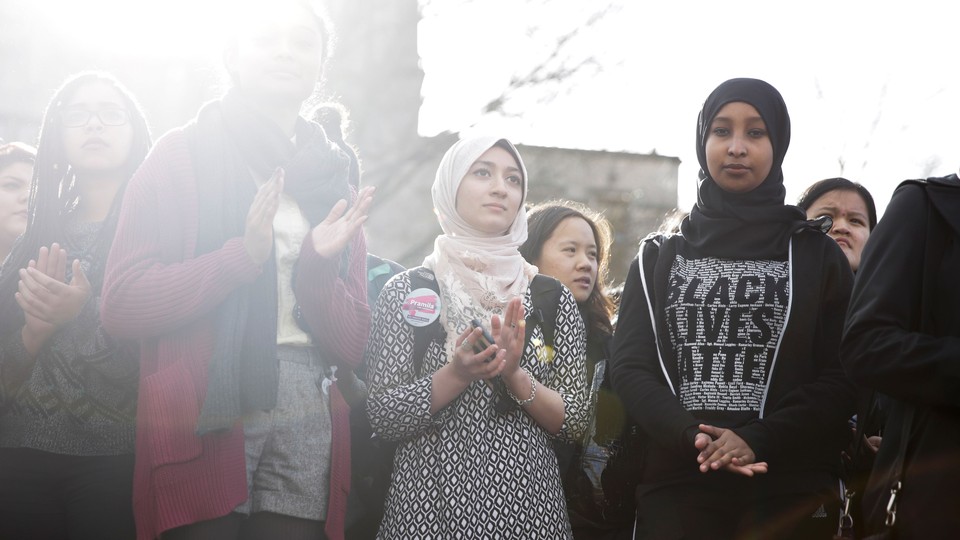 Facing a bleak electoral landscape after 2016, the brightest spot for Democrats may be President Trump's continued weakness with members of the Millennial generation—who are poised to surpass the more Republican-leaning baby boomers in 2020 as the largest generation of eligible voters.
Polls early in his presidency consistently show Trump facing lower job-approval ratings, and greater resistance to his key ideas, among Millennials than among any older generation. Those findings are fueling Democratic hopes that Trump's agenda of bristling nationalism on issues like immigration will stamp the GOP as a party of racial exclusion, not only for the increasingly diverse Millennials, but for the first post-Millennials who will enter the electorate in 2020.
"This could be a generational opportunity for the Democrats to lock in several very key segments of voters for a long time to come, because this is Trump's party and Republicans will have to live with the downside," said Dan Pfeiffer, former White House counselor to Barack Obama. "If Trump's standing stays where it is now, particularly among young people and non-white voters—he is not an anomaly, he is the Republican Party for years to come."
But there's no guarantee Democrats can reap big benefits from Millennial mistrust of Trump. The best evidence is that turnout among Millennials remained mediocre in 2016—and, based on historic patterns, could decline more substantially in the 2018 midterm election than among older voters. And while Trump faces grim numbers among Millennials overall, he has displayed strength among them with the same groups that responded to him most in older generations: evangelical, non-urban, and blue-collar whites.
Kristen Soltis Anderson, a GOP pollster who has written a book about Millennial voters called The Selfie Vote, agrees that Trump could stamp the GOP with an identity that causes lasting problems with the generation. But she also sees opportunities for inroads. "There are a lot of things about the Millennial generation that I still believe are completely at odds with Trumpism," she said. "But that's not to say that if Trump is succeeding as president some of those minds couldn't be changed."
The stakes in the parties' struggle for Millennials' allegiance are steadily rising as their numbers in the electorate increase. In 2000, the first presidential election when Millennials were eligible to participate, baby boomers outnumbered them by almost exactly 10 to 1 as a share of eligible voters. In 2016, according to calculations by the non-partisan States of Change project, Millennials for the first time equaled baby boomers as a share of eligible voters, both representing just over 30 percent. In 2020, the project expects baby boomers to decline to about 28 percent of eligible voters, while Millennials expand past 34 percent and the first post-Millennials—born starting in 2001—establish a beachhead as roughly another 3 percent of the eligible electorate. (If those projections hold, it will mark the first time since 1978 that baby boomers aren't the largest generation of eligible voters.) By 2024, the project forecasts, Millennials and post-Millennials will represent nearly 45 percent of all eligible voters, while baby boomers will sink back to about one-fourth.
Much more diverse (over 40 percent of them are non-white), more secular, and better educated than older generations, Millennials have been a boon to Democrats as their numbers have increased. In 2000, when they first entered the electorate, Al Gore beat George W. Bush among voters younger than 30 by just 2 percentage points. But, as more Millennials followed, the margins for Democratic presidential nominees among younger voters significantly increased, reaching a high point in 2008 when Barack Obama carried about two-thirds of them.
Even so, the Millennial influence has been diluted by their relatively low turnout numbers. Final figures for 2016 won't be available until the Census Bureau produces its report on the election, but the Center for Information and Research on Civic Learning and Engagement at Tufts University, which studies younger voters, estimates that only about half of eligible Millennials voted last year. That's about the same as their lackluster performance in 2012. In each presidential election since 2000—except for 2008, when turnout spiked—younger voters have comprised a substantially smaller share (from 5 to 7 percentage points) of the actual electorate than they represent in the eligible electorate. By contrast, baby boomers and their elders have consistently comprised a higher share of the actual, as opposed to eligible, electorate.
Turnout among younger voters has also skidded precipitously in midterm elections. According to exit polls, the share of the vote cast by voters under 30 plummeted from nearly 1 in 5 to less than 1 in 7 both from 2008 to 2010 and from 2012 to 2014. In both cases, seniors' share of the vote increased by a comparable amount over the same two-year spans. Each time that shift helped drive big Republican gains.
In 2016, Hillary Clinton's campaign placed great expectations on Millennial voters, but in the end they could not bear the weight she put on them.
Throughout the campaign, polls consistently showed that Trump was deeply unpopular with members of the Millennial generation. In one survey for the liberal groups Project New America and NextGen Climate, which looked solely at Millennials across 11 battleground states, three-fourths of them described him as a racist; roughly an equal number said he was biased against women; and almost 70 percent said they would be "ashamed" for the country if he won.
And yet despite all that hostility—echoed in a procession of public polls—Trump dodged the bullet among Millennials on Election Day, even if he hardly thrived with them. In the exit poll, Trump carried just 36 percent of those voters, no better than Mitt Romney's weak 37 percent in 2012. But Clinton's support among Millennials sagged to 55 percent from Obama's 60 percent in 2012, as the critical remainder of them bled away to the minor-party alternatives of Gary Johnson and Jill Stein.
"Even in the end, none of Trump's numbers—was he racist or sexist or a danger to the country—improved," said Democratic pollster Andrew Baumann, who conducted the battleground-state Millennial survey. "Which leads me to believe it was very much a backlash to Clinton. The [FBI Director James] Comey stuff really hurt her with Millennials—the people that decided in the last week or so broke pretty heavily for Trump."
Though somewhat attenuated, Trump also benefited among Millennials from the same magnetic pull he had for working-class whites in other age groups. Overall, the exit polls showed, Trump beat Clinton among whites under 30 by a slim 4-percentage-point margin (47 percent to 43 percent), with the rest supporting Johnson or Stein. That represented a step back from Romney's 7-point advantage among white Millennials in 2012.
But, as with other age groups, the Trump-Clinton matchup produced a much larger educational divide among younger whites than the Obama-Romney contest did. In 2012, exit polls showed, Romney beat Obama by 2 percentage points among whites ages 18 to 29 with at least a four-year college degree and by 10 points among those without one.
In 2016, those two groups raced apart. Clinton routed Trump among college-educated white young people by 15 percentage points, according to exit-poll results provided by CNN polling director Jennifer Agiesta. Trump, in turn, crushed Clinton among white young people without a college degree by an 18-point margin. Clinton's margin of victory with those college-educated whites virtually matched Obama's performance in 2008 as the best for any Democrat since 1980, while Trump's advantage among young whites without degrees tied with Bush in 2000 for the largest among Republican nominees since 1992. Trump also ran well among evangelical and rural Millennials, the Tufts analysis found.
Trump's strength—and Clinton's weakness—among blue-collar white Millennials allowed the Republican to significantly cut his losses among young voters in the states most important to his victory, particularly across the Rustbelt. Clinton amassed huge advantages among voters ages 18 to 29 in coastal states such as California, New York, and New Jersey. Clinton also posted solid double-digit advantages among younger voters in diverse Sunbelt states from Virginia, Georgia, and North Carolina in the Southeast to Arizona, Texas, Nevada, and Colorado in the Southwest.
But, exit polls found, Trump substantially reduced the GOP deficit among those younger voters compared with Romney in 2012 in Michigan, Ohio, Pennsylvania, Wisconsin, and Minnesota, and he actually carried voters under 30 in Iowa. In all of those states except Michigan, Clinton's vote share among those younger than 30 fell by double digits compared with Obama's, while Trump improved by 7 to 9 percentage points over Romney. Trump also significantly improved over Romney among young people in New Hampshire and Maine, two mostly white states. Even in the coastal and Sunbelt states where Trump's vote share among young people was either stagnant or slightly below Romney's, Clinton's numbers usually lagged Obama's, sometimes significantly, as more Millennials drifted away to the third-party options.
The Millennial Advantage
The lack of enthusiasm about Clinton, and the divisions among Millennials themselves, prevented them from becoming a significant hurdle to Trump, despite his widespread unpopularity among them. But with Clinton now removed from the equation, the risk for Republicans is that the doubts about Trump among younger Americans—particularly on issues relating to diversity and inclusion—will allow Democrats to lock in a preponderant advantage with them, even as their presence in the electorate continues to grow.
In office, Trump and key elements of his agenda continue to face overwhelming resistance in polls from the Millennial generation as a group, according to detailed results from several recent public surveys provided to The Atlantic.
Trump's job-approval rating among Millennials, for instance, stood at just 31 percent, with 63 percent disapproving, in the two-week average of the Gallup tracking poll from February 6 to February 19, according to the organization's tabulations. Those results converged with findings from polls earlier in February by the Pew Research Center and CNN/ORC that put Trump's approval rating with Millennials at just 28 percent and 32 percent, respectively. A late-February Quinnipiac University survey showed Trump sinking to just 21 percent approval among Millennials, with an identically paltry number saying he shared their values.
Both Pew and CNN found widespread opposition among Millennials to pillars of Trump's policy agenda, particularly on issues relating to inclusion. In both surveys, about two-thirds of Millennial adults said they opposed Trump's initial executive order temporarily banning immigration from seven Muslim-majority nations; in the CNN poll, nearly two-thirds of them said they viewed the order as a "Muslim ban" despite the administration's insistence it was not. And in the CNN survey, nearly four-fifths of Millennials said they opposed Trump's drive to build a wall along the U.S.-Mexico border. That was far more opposition than Trump faced in any other age group.
Strikingly, these key Trump policy ideas didn't fare too much better even among white Millennials. In the CNN survey, about three-fourths of white Millennials opposed the border wall and about three-fifths rejected the temporary seven-nation immigration ban. In each case, that was also far more opposition than Trump's ideas faced among whites in any other age group. In the Pew survey, both Millennials overall and young whites were also more likely than any other age group to say the United States benefits from increasing racial and ethnic diversity, more likely to say they personally knew a Muslim, and least likely to say American Muslims were sympathetic to extremism.
Anderson said such results underscore the narrow line Republicans are walking with young people as Trump redefines the party around the nationalist agenda he highlighted again in his Tuesday-night address to Congress. "If the Trump and [White House counselor Stephen] Bannon way forward is 'We need to close the border and keep out Muslims,' I don't think that works," she said. "If it is 'You need to take power back into the hands of the people, and there are corrupt institutions that are screwing you over,' there is an opportunity."
Anderson added: "If the message is 'We need to put America first,' I don't think that is a problem with Millennials. Their first experience with foreign engagement was the Iraq War, which remains incredibly unpopular with young people. [If Trump argues that] 'instead of focusing on helping people everywhere else, we do need to take care of ourselves first,' I do think that's something younger voters wouldn't necessarily reject. To the extent it's 'People from outside of particular races, religions, or nations are trying to come here and pollute our nation,' that is totally outside where most young people are."
There's one lifeline for Trump in these generally turbulent results: The Gallup tracking poll, which provides the largest sample for measuring subgroups, shows him suffering only slight erosion among non-college-educated white Millennials, his best group in the election last fall. While the two-week average put Trump's approval rating at just 28 percent among white Millennials with a college degree, and an even more meager 16 percent among non-white Millennials, he has retained a 50 percent approval rating among white Millennials without a college degree.
Baumann, the Democratic pollster, said the party needs "to take seriously" the possibility that Trump will hold substantial support among blue-collar white Millennials (and, for that matter, blue-collar whites in general). In a recent poll for the Democratic super PAC Priorities USA, Baumann looked at voters who switched from Obama in 2012 to Trump in 2016, and found little evidence that the blue-collar white Millennials who made that journey were souring on the new president. "There wasn't much of an indication in this poll yet that these millennial Obama-Trump voters were disappointed with him and wanted to move away from him," he said.
If Trump can hold those young working-class whites, it will bolster him and support further GOP gains in the Rustbelt. But the large minority presence in the Millennial generation—and even greater diversity in the post-Millennial generation—means those blue-collar whites seem destined to shrink as a share of the future electorate. That's particularly true in the diversifying Southeast and Southwest states across the Sunbelt where the Democratic future may increasingly point. Moreover, Trump's showing among those younger whites without college degrees, both on Election Day and in the latest approval polls, was much lower than his standing among older non-college-educated whites.
"I do think they change the balance, because the share of Millennials that are non-college whites is smaller, and [even] they are not as stridently for him as the older groups," Baumann said. "I don't think it is going to change things fundamentally in one election cycle, but [over time] the larger the shares of the electorate Millennials represent, the more difficult it is for Trump and his allies." For Democrats still stunned by Trump's unexpected victory, that wheel can't turn fast enough.