Brownback Vetoes Medicaid Expansion in Kansas
The conservative governor rejected a push by the state's Republican majority to accept federal money under the Affordable Care Act. But the fight there and in other states will likely continue.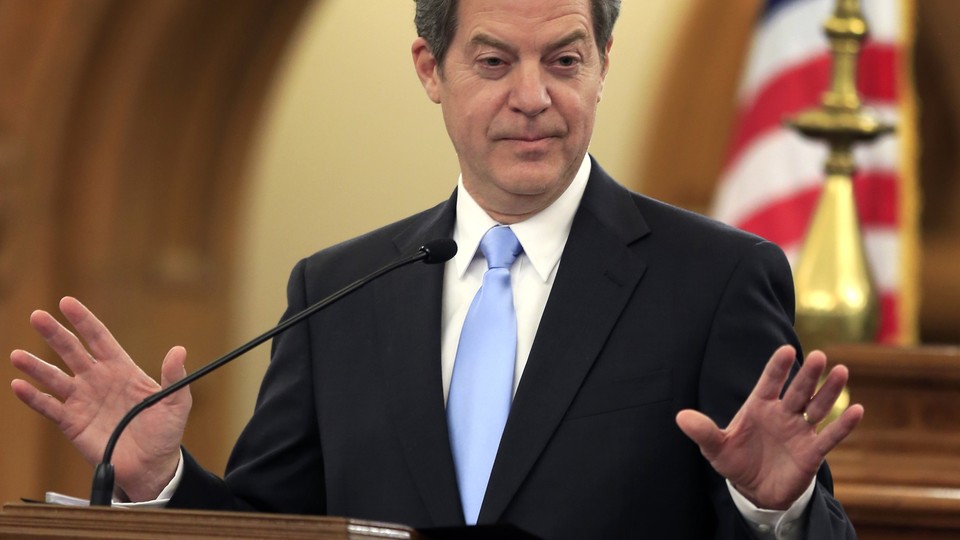 The expansion of Medicaid in one of the nation's most Republican states will have to wait at least a little longer.
Governor Sam Brownback of Kansas on Thursday vetoed legislation expanding Medicaid passed with Republican majorities in the state's House and Senate. Supporters of the bill are likely a few votes shy of the two-thirds majority needed to override Brownback's veto.
The move was expected, since Brownback has opposed expanding Medicaid for years. But the expansion effort could find new life if the governor leaves office before his term ends next year; President Trump is reportedly considering an appointment for Brownback as U.N. ambassador for food agriculture, a posting that would take the one-time presidential candidate from Topeka to Rome.
Kansas is one of several states that has moved toward accepting federal money to expand Medicaid under the Affordable Care Act following the failure last week of Republican-backed legislation in Congress to repeal the law. With support from Democrats, a coalition of moderate Republicans pushed Medicaid expansion through the state House on a 81-44 vote last month. The state Senate followed suit earlier this week, sending the measure to Brownback on a 25-13 vote.
The bill was the latest salvo in the increasingly combative relationship between the conservative governor and the Republicans in control of the legislature. Lawmakers in Topeka nearly overrode Brownback's veto earlier this year of legislation that would have reversed the steep tax cuts he enacted during his first years in office. Brownback's popularity in Kansas has sunk as deficits in the state have ballooned, and at least one poll suggests his latest veto won't help lift his support: The survey funded by the American Cancer Society, which backs expansion, found that 82 percent of respondents in the state favored accepting additional Medicaid money from Washington.
In a veto message, Brownback said the cost of expanding Medicaid was "irresponsible and unsustainable" at a time when the state is dealing with an ongoing budget crisis. He cited a study finding that it would cost Kansas $1.2 billion in the coming years, while supporters of the Medicaid bill have said the state is giving up an even higher amount in federal support without expansion.
Brownback, who is staunchly opposed to abortion, also denounced the legislation for facilitating an increase in Medicaid reimbursements for Planned Parenthood, the women's health nonprofit that performs abortions. Federal law already prohibits taxpayer funding of abortion, but conservatives have called for cutting off money to the organization nonetheless. "From its infancy, the state of Kansas has affirmed the dignity and equality of each human life," he said in a statement. "I will not support this legislation that continues to fund organizations that undermine a culture of life."
Finally, the governor argued that because Republicans in Congress are still discussing legislation that would repeal Obamacare, Kansas would put itself at risk by expanding Medicaid if that effort was successful. "Attempting to overhaul our current system while these changes are still being worked out is potentially harmful to our state," Brownback wrote.
Yet the threat of repeal was exactly why many Republicans wanted to move forward with expansion. "There's the potential for this to go away," David Jordan, executive director of the Alliance for a Healthy Kansas, told me. "We're much better served by getting in under than being left behind, than being one of the have-not states."
Brownback's veto ensures Medicaid expansion in Kansas won't happen immediately, but it doesn't necessarily mean it won't happen at all.