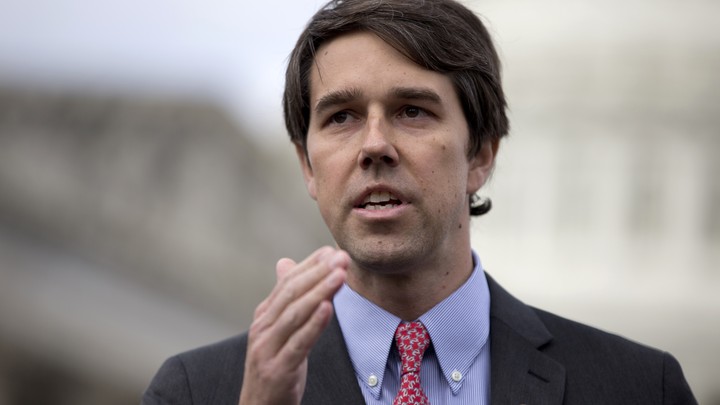 Texas Representatives Beto O'Rourke and Will Hurd are on day two of their cross-country road trip to Washington, D.C. O'Rourke is a Democrat and Hurd is a Republican, and on Tuesday, they decided to drive in a rented Chevy Impala from San Antonio to the nation's capital after a snowstorm hit the Northeastern United States, leading to widespread flight cancellations.
In an apparent bid to generate feel-good headlines, O'Rourke and Hurd are livestreaming the roughly 1,600 mile trip on Facebook in what they have called a "cross country town hall." The pair stopped off for "for a brief siesta" last night, according to an aide for congressman Hurd, and are on track to arrive in D.C. later in the day on Wednesday around 5 PM Eastern.
Apart from the potential for sleep deprivation, the road trip is a relatively low-risk, and low-cost, way for O'Rourke and Hurd to attempt to cast themselves as politicians working to advance civil, and productive, reach-across-the-aisle dialogue. Their conversation has touched on everything from border security to the Republican healthcare plan, and throughout the broadcast, the Texas Representatives have stressed that Democrats and Republicans can get along.
"We used the opportunity of the inclement weather on the East Coast to take the opportunity for a Republican and a Democrat to get in a car, spend a significant amount of time together, and talk about the issues," Hurd said on the livestream Tuesday afternoon. "Not just the issues that divide us, but the issues that unite us too."
In response to a viewer question about how he could spend so much time with his Republican colleague, O'Rourke said: "If we both just go to our corners … and refuse to engage, and just repeat the political talking points from our two parties, then nothing is going to change." He added: "Everyone is better served if we can find some common ground."
O'Rourke may be trying to raise his profile in anticipation of a long-shot bid for a Texas Senate seat. Last month, he told The Texas Tribune, "I really want to do this," in an article focused on the prospect that he will challenge Republican Texas Senator Ted Cruz. A Facebook livestream won't fundamentally change the electoral dynamics in Texas, but if O'Rourke hopes to run for a Senate seat in a red state it makes sense that he would try to to improve his standing with conservatives by positioning himself as the type of politician who approaches members of the opposite party with an open-mind.
Meanwhile, Hurd, who represents a district that runs along the U.S.-Mexico border, may feel the needs to distance himself from some members of his own party, including immigration hard-liners. "I do believe that we can secure our border," he said at one point during the livestream on Tuesday, adding: "I believe we can enforce our laws, and fix a broken immigration system so that folks that have only known this country, there is a way to make them stay here legally."
When the subject of Republican Representative Steve King came up, and his recent comments that "we can't restore our civilization with somebody else's babies," Hurd was quick to say that the remarks are "not reflective of all conservatives."  "There are plenty of conservatives that recognize the importance of immigration, and the contributions immigrants have made to our country, and that we are a country of immigrants," he said.
The road trip livestream might appeal to some voters who feel alienated by the deep political divisions that have intensified in recent years in the United States. But that same partisan division may also diminish the effectiveness of the appeal. There may even be a cost for appealing to bipartisanship. Democrats in states that Trump won, like Senator Joe Manchin of West Virginia, are under pressure from liberal activists to adopt a more oppositional stance toward President Trump, and may face primary challenges as a result.
The two Texas Representatives found some common ground Tuesday afternoon as they discussed foreign policy. Hurd said that NATO "has been the reason that there has been for seventy years, there's been peace and prosperity in Europe," adding that the alliance is "something we need to strengthen." Not long after, O'Rourke chimed in. "I agree with much of what Will said on NATO. I do think we need to ensure that our allies in NATO are paying their fair share," he said. "Let's hope that everyone steps up to shoulder their part of the burden."  (In that case, O'Rourke's comments even echoed comments President Trump has made in the past suggesting that NATO members must pay a fair share.)
Of course, the pair doesn't agree on everything, but even on politically polarizing subjects, they managed to strike a civil tone. "Climate change, it's happening, we're helping to cause it," O'Rourke said, adding that U.S. leadership on the issue has never been more important. Hurd noted that "man is having an impact on the environment. I think, period," though he added, "the question, I think the debate is, what do you do about it?"  
Trump promised on the campaign trail to withdraw the United States from the Paris international climate deal. But, Hurd said, "there's been debates about whether or not this administration will support pulling out of the Paris accords. A tweet is not policy, I always have to remind people. A lively debate is always good, but we need diplomatic tools in order to get China, and Russia, and India, some of the worst offenders, in line, and I think Secretary of State [Rex] Tillerson gets that and understands that."
The conversation broadcast to anyone willing to tune in wasn't restricted to politics and policy, but that dominated the hours-long livestream. "We haven't used tax dollars to rent the car, put the gas in, or buy the Whataburger," O'Rourke reassured viewers watching the livestream at one point, referring to a fast-food chain based in Texas. He added: "We are your public servants."
We want to hear what you think about this article. Submit a letter to the editor or write to letters@theatlantic.com.
Clare Foran
is a former associate editor at
The Atlantic
.