An Israeli American Teen Has Been Arrested in the JCC Bomb Threats Case
Officials have taken a suspect into custody in connection with threatening calls made to Jewish institutions in the U.S. and abroad.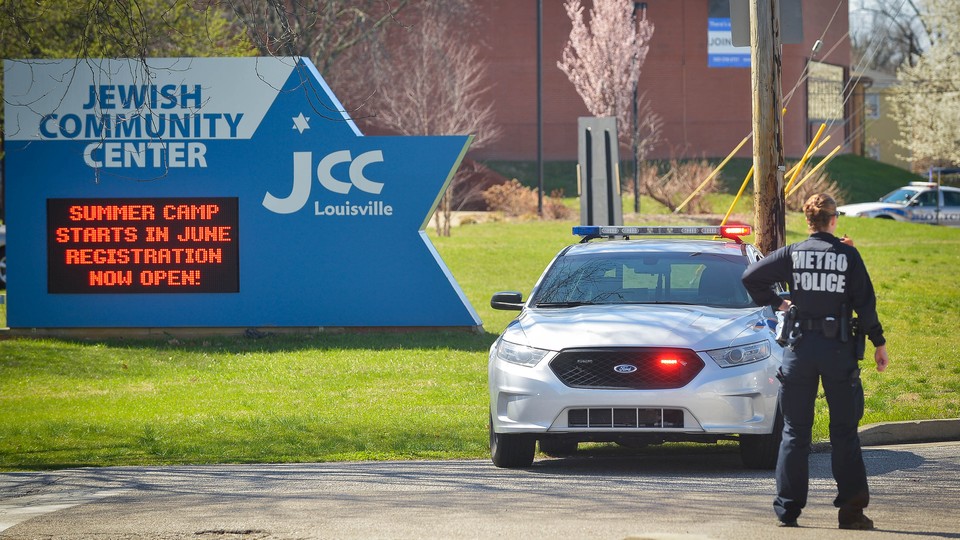 Updated March 23 at 12:08 p.m. EST
Officials have arrested a Israeli American teenager in connection with a string of bomb threats made to U.S. Jewish Community Centers and schools over the past several months. He has also been accused of making threatening calls in New Zealand and Australia, along with a call to a commercial airline that forced it to make an emergency landing, according to The New York Times.
An FBI spokeswoman confirmed the arrest to the Times on Thursday. In a statement, Israeli officials said that law-enforcement officials from multiple countries, including the United States, worked together on the investigation. The Times reports that "investigators confiscated computers, an antenna and other equipment" from the suspect's home. The Jerusalem Post reported that the suspect's father has also been detained and is being questioned about whether he knew about the calls.
Israel's minister of public security, Gilad Erdan, congratulated to Israeli police on "leading a complex international investigation," according to the Forward. "We hope that this investigation will help shed light on some of the recent threats against Jewish institutions, which have caused great concern both among Jewish communities and the Israeli government," he said. U.S. Attorney General Jeff Sessions affirmed in a statement that "the Department of Justice is committed to protecting the civil rights of all Americans, and we will not tolerate the targeting of any community in this country on the basis of their religious beliefs," according to Haaretz.
Juan Thompson, a 31-year-old former journalist, had previously been arrested in connection with a fraction of the calls. Officials believe he made the threats to harass an ex-girlfriend.
Since January, dozens of calls have been made to Jewish institutions across the United States, many nearly identical in message and form. JCCs, which provide child-care services, recreation, and community meeting spaces, have been repeatedly forced to evacuate upon receiving these calls. In some cases, such as the JCC in Nashville, they have been threatened multiple times.
"The impact of this individual's actions is crystal clear," said Jonathan Greenblatt, the CEO of the Anti-Defamation League, in a statement on Thursday. "These were acts of anti-Semitism. These threats targeted Jewish institutions, were calculated to sow fear and anxiety, and put the entire Jewish community on high alert." He added that no one has been arrested in associated with the recent desecration of Jewish cemeteries or multiple instances of anti-Semitic vandalism.
The head of the JCC Association of North America, Doron Krakow, also applauded law enforcement in a statement on Thursday. The organization is "troubled," he noted, "to learn that the individual suspected of making these threats against Jewish Community Centers … is reportedly Jewish."
Some in the U.S. have connected the threats to a perceived rise in hostility toward Jews during the 2016 election. The motivation behind crimes like this can be extremely difficult to prove, however, and Haaretz reports that the suspect arrested on Thursday is being accused of involvement in "hundreds of incidents involving threats to institutions around the world, including Israel, over a period of two or three years." So far, it's unclear how or why the Israeli American suspect who was arrested on Thursday made the calls.