The Wall Street Journal's Global Retrenchment
The newspaper is cutting staff and shuttering bureaus, even as populism, trade, and international relations are in the headlines.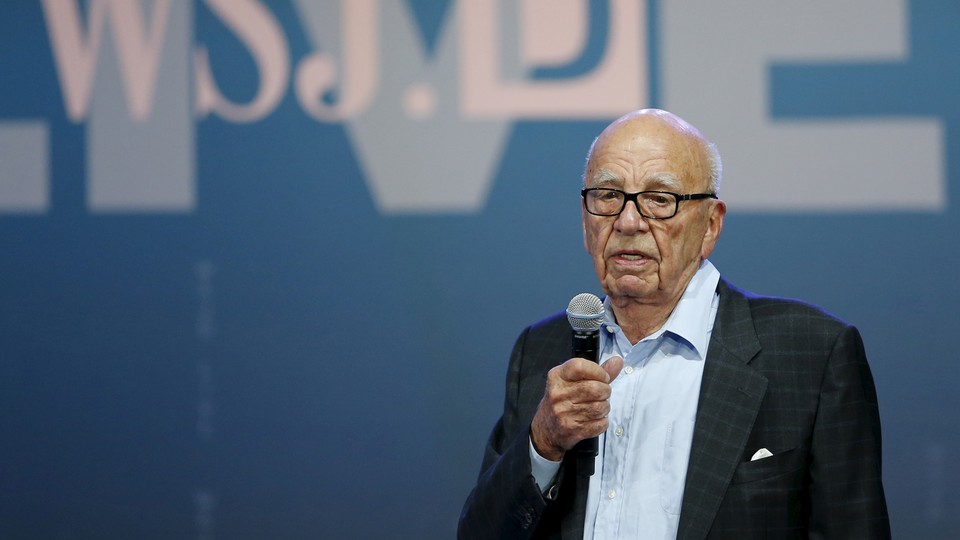 Unhappiness at The Wall Street Journal doesn't stop at the United States border. A slew of layoffs around the world, combined with uncertainty over the paper's direction in the Trump era, have left foreign correspondents on edge.
The Journal's inner turmoil over its coverage of Donald Trump has been well-documented. Restive news staffers have gone on background to reporters to complain about what they see as editor-in-chief Gerry Baker's overly sympathetic leanings toward Trump; on the opinion side, an op-ed editor was recently forced out of the paper after conflict over the page's Trump stance. That, together with the layoffs, have contributed to what one former Journal reporter in an overseas bureau called a "depressing" atmosphere.
It's "pretty grim and pretty depressing," said that reporter, who like others spoke on condition of anonymity. Several cited agreements they had signed when their employment was terminated. "No region is safe and all regions will probably be affected by the layoffs." The reporter also mentioned the concerns over Trump coverage, saying Baker's ordering editors to not refer to Trump's controversial travel ban as barring those from "majority Muslim" countries as something that was "obviously not taken very well by reporters [overseas]."
According to sources with knowledge of the situation, the layoffs have been widespread. The Moscow bureau has lost two reporters, reducing the size of the office—a particularly key outpost in the context of the ongoing revelations since the campaign about Russia and Trump—to just a small handful of staff. The Warsaw bureau lost one of its two reporters, and the Budapest bureau has been shut down, as has the bureau in Madrid. The one-man Riyadh bureau has also been closed. The paper's operation in India has lost two reporters, according to a source with knowledge of the reduction. All staff in Scandinavia have been laid off except for one. The Berlin bureau is said to have been reduced by one. (Some of these layoffs were previously reported by Bloomberg and Politico.) The layoffs largely occurred in a wave on January 31.
There's "nobody left between Stockholm and Greece, and between Berlin and Moscow there is nobody" except for the remaining reporter in Warsaw, said a former reporter in one of the European bureaus who was laid off in the latest round.
That particular reporter was not surprised at the layoffs: "The writing has been on the wall for such a long time. I've been anticipating this for many months, not weeks, months. If not years actually."
But others were blindsided. According to one former reporter in an Eastern European bureau who was laid off in the latest wave, reporters in one of the bureaus in Europe were assured by their bureau chief after a wave of Journal layoffs in November that their jobs would not be affected.
Additionally, there was scant information shared internally in the company about the layoffs.
"Absolutely nothing," the former reporter from the Eastern European bureau said. "All whispering between people who'd been laid off and other people."
On the day of the layoffs, January 31, Baker's daily email newsletter The 10-Point began with an item on Trump's firing of then-Acting Attorney General Sally Yates. It was titled  "You're Fired."
On February 3, Baker sent out a memo to staff about the progress of the WSJ 2020 initiative, an ongoing cost-cutting review and reorganization effort, but didn't directly mention the layoffs.
"But with our business model changing quickly as print advertising recedes, and reader habits and technology undergoing major shifts, we have to do more to rethink our business model and newsroom structure, to become more creative with new products and storytelling techniques, and to better serve our consumer and professional readers," Baker wrote.
Baker referred to newsroom concerns about career paths and referenced recruitment efforts:
"We have heard from many of you that we have work to do here, starting with clarifying our job categories and expectations ((and growth)) and career paths for our journalists," he wrote. "As part of that we want to beef up training to account for the ever-changing array of technologies, tools and specialties that are central to journalism today. We will seek plenty of input on how we can better help all of you develop."
"Finally, we want to make sure our recruiting efforts are robust. We need a more diverse set of journalists and skills in our newsroom. Besides great reporters and editors, this includes being set up to recruit the best visual journalists, developers, designers, data people and many others."
The bleeding is apparently not over; top editors in Europe held a call a couple weeks ago and indicated that more layoffs were in the works.
At a townhall on Monday meant to address newsroom concerns about Trump coverage, Baker informed staff that there had been a reduction of 200 jobs over the past few months, between layoffs and buyouts, according to two sources with direct knowledge of the call.
A spokesperson for the Journal declined to specifically comment on the layoffs abroad.
"In fall of 2016, we announced WSJ 2020, an internal project designed to identify opportunities for growth in our news products, focus our coverage and improve the effectiveness of our operations," Journal spokesperson Colleen Schwartz said in a statement. "As Gerry Baker detailed in a 10/19 memo to the newsroom, 'these measures will require difficult decisions with some inevitable restructuring, and they will, regrettably, mean concomitant cost reductions.' Global coverage is a hallmark of The Wall Street Journal and we remain committed to covering these regions robustly." Schwartz declined to comment on specific numbers of foreign layoffs.