Trump's Neocon?
Elliott Abrams is reportedly under consideration as the nation's No. 2 diplomat—an appointment that would be somewhat surprising for both Abrams and the president.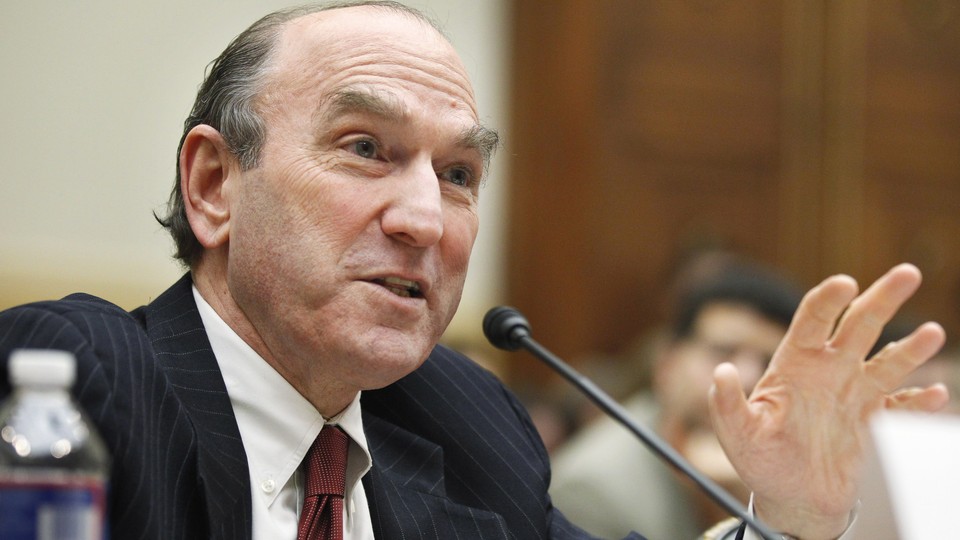 Updated on February 8, 2017, at 12:15 p.m.
Elliott Abrams is reportedly under consideration to be deputy secretary of state—setting up a strange third act for the longtime Republican foreign-policy figure, and a strange No. 2 for the Trump State Department. Politico's Michael Crowley reports that Abrams is meeting with President Trump on Tuesday, and that Secretary of State Rex Tillerson supports him for the job. Josh Rogin previously reported that Abrams was in the running for the job. Abrams declined to comment for this article.
If selected and confirmed by the Senate, Abrams would occupy a peculiar role: the most prominent neoconservative, and most experienced foreign-policy professional, in an administration that has promised to repudiate nearly everything that neoconservatism stood for, and which has disdained foreign-policy professionals as bumbling fools.
Joining the administration would also require both Abrams and Trump to get over some longstanding differences. Trump is notoriously fond of revenge, and Crowley writes that presidential adviser Steve Bannon is vetting Abrams to see if the White House can get past his past criticisms of the now-president. Abrams advised both the campaigns of both Ted Cruz and Marco Rubio. In March, he told Politico he wasn't sure whether he could vote for either Trump or Hillary Clinton, and in May he wrote a piece for The Weekly Standard likening the election to 1972's Democratic nomination of George McGovern: "The party has nominated someone who cannot win and should not be president of the United States. We anticipate a landslide defeat, and then a struggle to take the party back from his team and his supporters and win the following presidential election. Meanwhile, we need to figure out how to conduct ourselves."
Many neoconservatives opposed Trump: As a candidate, he blasted the Iraq war and lied that he had opposed it from the start; called for pulling back from American involvement overseas; and showed little interest in national defense, though he paid lip service to building up the military. But Abrams is not just any neoconservative. He's a member of one of the movement's first families. His late wife, Rachel Decter, was the daughter and stepdaughter, respectively, of the neoconservative progenitors Midge Decter and Norman Podhoretz. While Norman eventually backed Trump, reluctantly, his son (and Abrams's brother-in-law) John Podhoretz has remained a vocal Trump critic.
Taking a job as the No. 2 diplomat for a president whom he wouldn't support as the GOP nominee would be a remarkable third act for Abrams's career. His first big job came in the Reagan administration, where he was assistant secretary of state, including terms overseeing humanitarian affairs and the inter-American policy. That brought him into the Iran-Contra affair, in which the federal government secretly sold weapons to Iran—in violation of an arms embargo—and then funneled the proceeds to fund the Contras, the right-wing militias opposing Nicaragua's left-wing Sandinista government, also contrary to federal law. The independent counsel investigating the scheme considered charging Abrams with several felonies, but Abrams agreed to plead guilty to two misdemeanor cases of withholding evidence. He was later pardoned by President George H.W. Bush in the last days of his administration.
When Bush's son became president eight years later, he appointed Abrams deputy assistant to the president and deputy national security adviser, supervising U.S. policy in the Middle East. Abrams was a supporter of the Iraq war and took a lead on Israeli-Palestinian issues. He's now a senior fellow at the Council on Foreign Relations and writes for a variety of outlets, including items posted on The Atlantic.
It's a sign of how much Trump has shifted the center of the foreign-policy discourse that one of Abrams's signal virtues for the job appears to be that he might be widely acceptable to a range of constituencies. That's remarkable, given his Iran-Contra record and his time in the Bush administration, the Middle East record of which is, to understate things, contested—not least by Trump.
But bringing Abrams on would help reassure the more hawkish and neoconservative wing of the Republican Party, which has slumped uneasily toward Trump since his election but hasn't fully embraced him. And it might win over liberals, too, who see in Abrams someone they don't agree with, but an adult with experience in foreign policy—a commodity that is conspicuously absent in the Trump administration. Tillerson, for example, spent his entire career until this month at ExxonMobil. The suggestion that Tillerson is pushing Abrams is intriguing, given Abrams's past criticism of Trump and reports of tension between Tillerson and the White House over Trump's immigration executive order.
Matt Waxman, a former Bush administration State Department official who worked with Abrams and is now a professor at Columbia Law School, signed a letter from GOP national-security experts assailing Trump during the campaign. In an email, he wrote that Abrams could be a strong asset to the administration.
"Secretary Tillerson needs a strong #2 who knows the State Department and the interagency process, as well as the Washington and global diplomacy arenas," Waxman said. "Elliott is masterful at working the levers in all of them."
Abrams does have some areas of agreement with Trump. He seems to align with the president, at least in broad strokes, in his approach to Israel; Abrams wrote in support of David Friedman, Trump's pick for ambassador to Israel. He also has pointed to the persecution of Christians around the world, and has written that Western nations should grant refugee status to endangered Christian communities—a position that's in line with Trump's own views on the matter. In other areas, they differ. Abrams wrote—too optimistically, in retrospect—in 2011 that Syrian President Bashar al-Assad's "vicious regime" was likely to fall, while Trump has shown little interest in Assad's departure, leaning toward the Russian approach of keeping the Syrian president in power nearly six years after the civil war erupted. Abrams has also been critical of Egyptian President Abdel Fattah al-Sisi, who early on appears to be Trump's closest friend in the Arab world.
Of course, not everyone would be on board with an Abrams pick. Eric Alterman rips Abrams in The Nation, indicting Abrams not only for Iran-Contra but his role in a grab-bag of other Latin American adventures, as well as his work in the Middle East under Bush. In the right-of-center, intervention-skeptical The National Interest, Daniel DePetris zeroes in on some of the same issues, writing, "Is the neoconservative, unilateral interventionism that Abrams has advocated for throughout his career—and that led directly to the second Iraq War—the kind of foreign-policy doctrine that President Trump wants in his State Department?"
The reported former leading candidate for the deputy secretary's job was also a neoconservative—John Bolton, who served as ambassador to the UN under George W. Bush. But Bolton has always been something of a man apart, a figure too wild-eyed and warlike even by the hawkish standards of the neoconservative movement. According to some theories, it was Bolton's trademark mustache that torpedoed his chances at the secretary of state's job, but he also hit a roadblock in the person of Senator Rand Paul of Kentucky, who made clear that neither Bolton nor Rudy Giuliani would earn his confirmation vote because of their advocacy for the Iraq War. Abrams has criticized Paul in the past, and the senator wrote on Rare that "Abrams would be a terrible appointment for countless reasons."
As always, it's impossible to tell whether Trump might move forward on Abrams. He has been known to change his mind mercurially, and the matter of the old slights may still create a barrier. If those can be patched over, however, the men could strike an unexpected deal that would give Trump some credibility with neocons by bringing one of their to the administration, and give Abrams a chance to steer the untutored Trump team toward his own views.