Trump's First Month: An Evaluation
Is the brash new president bending Washington to his will—or being tamed by the status quo?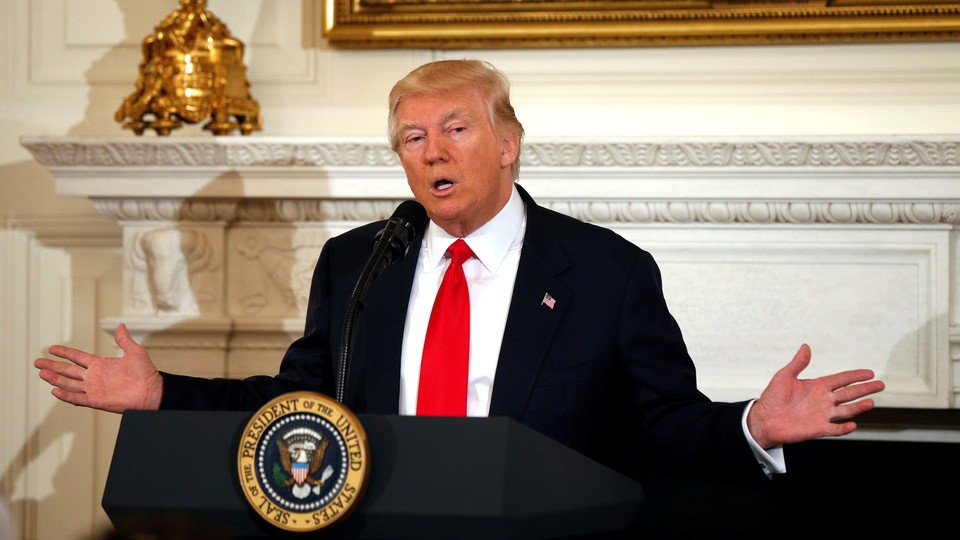 Just over a month ago, Donald Trump thundered into the White House with a bold declaration. "We will no longer accept politicians who are all talk and no action, constantly complaining, but never doing anything about it," he said. Instead, he contended, "Now arrives the hour of action."
Trump promised to steamroll the Washington status quo, disrupting both Republicans and Democrats. He would replace the elite consensus of both parties with a new, populist-nationalist philosophy, and bully Congress into submission.
One month in, Trump has certainly succeeded in kicking up a frenzy of news and controversy. It surrounds him at all times, like the cloud of dust around Pig-Pen in Peanuts. But when it comes to taming Washington, the results are decidedly mixed. Instead, it is the Republican Party—in the form of Congress and conservative institutions—that seems mostly to be in charge, and Trump who is being tamed.
The things Trump has succeeded in doing have largely been things Republicans already wanted before he came along: naming a strongly conservative Cabinet and Supreme Court nominee. At the points where Trump's platform clashed with GOP elites—trade, immigration, and foreign policy—he has softened or been rebuked.
On the big-ticket items he vowed to force through—health-care and tax reform—he has found himself at the mercy of the usual slow-moving, politically balky congressional processes. And on economic policy, it is not at all clear the GOP will go along with Trump's calls for building infrastructure and preserving entitlements, particularly if these priorities come at the cost of balanced budgets.
Meanwhile, much of Trump's attention has been consumed with trash-talking tweets, complaints about his treatment by the press, and executive orders that do little to move policy. Beyond all that bluster, who's really in charge? Here's a breakdown of some major policy areas:
A Conservative-Pleasing Cabinet: The "deconstruction of the administrative state," as Trump's strategist, Steve Bannon, put it at the Conservative Political Action Conference last week, is underway via Trump's executive branch. Agency heads like Scott Pruitt, at the Environmental Protection Agency, and Betsy DeVos, at the Department of Education, seem inclined to dismantle the departments they've been tapped to lead. This leaves liberals aghast, but to conservatives, it is a feature, not a bug. They are glad to see Trump dialing back a federal bureaucracy that, in the Obama era, exceeded its legislative mandates to accomplish through regulation what it couldn't get through Congress, like curtailing carbon emissions.
The Republican Establishment's Dream Supreme Court Pick: To replace the late Antonin Scalia, Trump named Neil Gorsuch, a federal judge with impeccable credentials, an Ivy League pedigree, and membership in the Federalist Society. Gorsuch's nomination gladdened the most Trump-skeptical conservatives, especially the evangelical Christians who held their noses and voted for Trump because the Supreme Court hung in the balance. And it vindicated Senate Majority Leader Mitch McConnell's strategy of refusing to consider Obama's nominee, Merrick Garland.
No Real Shift in Trade Policy: Trump's campaign-trail opposition to major trade deals was a significant departure from conservative dogma. One of his first actions was to pull the United States out of the Trans-Pacific Partnership. But that was a purely symbolic action, as Congress had never ratified the deal and members of both parties had soured on it. Trump has not pulled the U.S. out of the North American Free Trade Agreement or imposed tariffs on imports. When he briefly floated a 20 percent Mexican-import tax, Republicans swiftly condemned it, and his administration quickly disowned the idea. Congressional Republicans have been working on a border-adjustment tax proposal that they say would accomplish something similar, but Trump has yet to get firmly behind it—and it, too, appears to be on the rocks due to opposition from business.
Immigration Actions Less Than Meets the Eye: Trump's hard line against immigration broke with the GOP's business wing. His administration has intimidated the undocumented with deportations and raids that have created a climate of fear. But the actual number of deportations is small. Meanwhile, Trump has yet to roll back Obama's protections for the young immigrant "Dreamers," frustrating some immigration hawks. He has ordered the Mexican border wall be built, but Congress has yet to fund it, and Mexico is still refusing to pay for it.
A Muslim Ban Dialed Back: Despite promising in no uncertain terms to temporarily ban all Muslim immigrants, an arguably constitutional measure, Trump instead ordered a rushed and ham-handed ban on travelers from certain Muslim countries. When the ban was shot down by the courts, Trump rescinded it, and the refined ban that was supposed to replace it has been delayed, in part because his own intelligence community won't supply evidence for it. Meanwhile, Trump's new national-security adviser, H.R. McMaster, dislikes the term "radical Islamic terrorism."
Foreign Policy Outrages Subside: Trump's supposed willingness to challenge stale foreign-policy orthodoxies has mostly been tempered. When his December call to Taiwan defied the U.S.'s long-held one-China policy, his aides insisted the policy was overdue for reconsideration. This month, Trump backed down and reaffirmed the one-China policy. Campaign-trail Trump made a lot of noise about questioning America's commitment to NATO, and some experts agreed. But as president, he has given assurances to the alliance: He told British Prime Minister Theresa May he was "100 percent behind" it, and Vice President Mike Pence pledged the U.S.'s "unwavering" commitment. On Israel, Trump rattled the longstanding consensus by questioning the two-state solution—only to have United Nations Ambassador Nikki Haley call that an "error." Even the Russians who once cheered Trump's friendliness now see him bending against Vladimir Putin, and there has been no move to roll back sanctions.
A Health-Care Policy at the Mercy of Congress: Trump's day-one order on Obamacare decreed the administration's opposition without actually accomplishing any meaningful rollback of the law. He has confused Republicans in Congress by seeming to want to preserve some parts of his predecessor's signature health-care overhaul even as he demanded they repeal and replace it in short order. Trump has shown little appetite for wading into the details of Republicans' debates on the issue, and on Monday, he told a group of CEOs at the White House, "It's an unbelievably complex subject. Nobody knew health care could be so complicated."
Tax Reform Flailing in Congress: Lowering tax rates and simplifying the tax code has been a longtime GOP talking point—but in practice, it always proves impossible to slaughter the sacred cows of the many competing special interests. Of all the policy areas that could benefit from a fearless negotiator willing to bang heads together and infuriate big-money lobbies, tax reform is number one. But as noted above, Trump appears leery of the border-adjustment tax at the center of the House Republican proposal. White House Chief of Staff Reince Priebus recently told the Associated Press the administration was "discussing and debating" what to do on taxes.
Infrastructure Shelved by Congressional GOP: A major pillar of Trump's departure from GOP orthodoxy was his supposed intent to propose a trillion dollars in government spending to, as he put it in his inaugural address, "build new roads and highways and bridges and airports and tunnels and railways all across our wonderful nation." Democrats agreed that this would be a great way to accomplish Trump's goals of rebuilding hollowed-out inner cities and small towns. But Republican leaders have made clear such a plan is not on their agenda anytime soon. Trump appears not to have noticed.
Budget Blueprints Left at Odds: The blueprint Trump released Monday hewed to Trump's promise not to touch Social Security and Medicare while pumping money into the military. It runs contrary to the long-held priorities of House Speaker Paul Ryan, who wants to reform entitlements and balance the budget. It would require lawmakers to gut domestic spending while lifting spending caps, two difficult political pills to swallow. And Democrats are already arguing that Trump's agenda of corporate tax cuts and safety-net-slashing is more pro-Wall Street than pro-worker.
Governing is hard, and every new president faces a learning curve and procedural hurdles. Obama, Trump's predecessor, also swept into office with big promises and, despite majorities in Congress, took more than a year to enact health-care reform and financial regulation.
But much of Trump's appeal was that, as a businessman and artist of The Deal, he could cut through the dithering and gridlock and partisan bickering. Instead, in his first month, Trump has mostly been the loser in his battles against entrenched institutions. Rather than bend Washington to his will, Trump has, in his first month, mainly bent his priorities to the will of Republicans in Washington.