Democrats Want Answers on Trump Officials' Ties to Russia
But the minority party may not be able to secure the investigation and oversight it wants in Congress.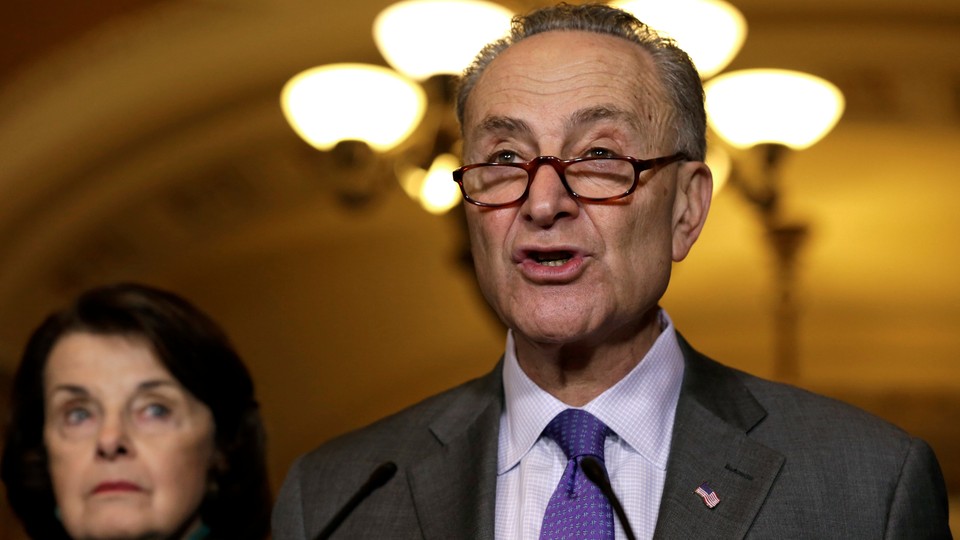 Democrats on Capitol Hill want answers on who knew what, and when, in the wake of former National Security Adviser Michael Flynn's resignation and reports that Trump campaign aides communicated with Russian intelligence officials.
On Wednesday, Senate Democratic Leader Chuck Schumer described "reports of constant contact between the top officials in the Trump campaign and Russian intelligence" as "chilling," and outlined a series of demands for further investigation, including a request that campaign and transition officials testify in public and under oath in front of Congress.
Following Flynn's departure from the administration amid controversy over his contacts with Russia, House Democratic Leader Nancy Pelosi called for the formation of an independent commission to probe Russian involvement in the election, and ties to the administration. "The Trump White House has a lot to answer for," Pelosi said during a press conference on Wednesday. "Every day we see new evidence of the financial, personal and political grip the Russians have on President Trump."
The Senate and House Intelligence Committees are already expected to examine potential links between Russia and the Trump campaign as part of ongoing investigations. But Schumer promised on Wednesday that the Senate Intelligence Committee would not be the "only committee that looks into ties between the Trump campaign, transition or administration, and Russia." A group of congressional Democrats also called on Attorney General Jeff Sessions to appoint an independent Special Counsel to look into potential ties between Trump associates, including Flynn, and the Russian government.
For now, however, Democrats are severely constrained in their ability to investigate Trump, Russia, and Flynn as the party out of power in Congress. To get what they want, they may need to first convince a critical mass of the American public of the legitimacy of their demands. If they manage to win over the public, Democrats will have more leverage as they attempt to pressure  congressional Republicans to push for rigorous investigation.
There are some indications that Republicans may be open to asking Flynn to appear before the Senate Intelligence Committee. Senate Majority Leader Mitch McConnell pointed to the panel's investigation as a potential venue for further scrutiny of Flynn's contacts with Russia on Tuesday. "The Intelligence committee is already looking at Russian involvement in our election," McConnell told reporters on Tuesday, adding that "it's highly likely they'd want to take a look at this episode as well, they have the broad jurisdiction to do it." Roy Blunt, a Republican member of the committee, said Tuesday that he believes it's "likely that General Flynn will be, at some point, asked to come and talk to the committee."
Republican Senator Lindsey Graham went further on Wednesday after a bombshell report in The New York Times, citing former and current U.S. officials who spoke on condition of anonymity, that claimed: "phone records and intercepted calls show that members of Donald J. Trump's 2016 presidential campaign and other Trump associates had repeated contacts with senior Russian intelligence officials in the year before the election." In a statement, Graham said: "If in fact there are campaign contacts between Trump officials and Russian intelligence officers that would be a very serious event and would justify the Senate forming a Select Committee to look at all things related to Russia."
At the same time, there are plenty of reasons to doubt that Republicans will pursue a rigorous investigation of potential ties between Trump and Russia, as well as Flynn's resignation. Neither McConnell nor House GOP Speaker Paul Ryan called for an independent or separate investigation into the circumstances prompting Flynn's resignation on Tuesday. And Ryan sounded deferential to the the president when he told reporters that he was confident "the administration will explain the circumstances that led to" the resignation. On Tuesday, White House Press Secretary Sean Spicer insisted that Flynn's departure was not prompted by any legal issue, but rather suggested that Flynn had lost the president's trust amid concerns that he had misled the administration.
As Democrats attempt to pressure their Republican colleagues for further investigation, some congressional Democrats are making demands of the Department of Justice as well. On Wednesday, a group of 11 Senate Democrats, including Cory Booker and Dick Durbin, publicized a letter they had sent to the attorney general asking for the appointment of "an independent Special Counsel to investigate collusion with the Russian government by General Flynn and other Trump campaign, transition, and administrative officials."
During his press conference, Schumer noted that in addition to congressional investigation, "law enforcement must also get to the bottom of everything that may have transpired." Schumer called on Sessions to recuse himself from any investigation involving the FBI and Department of Justice prosecutors related to potential Russian ties to the president's associates.
The near certainty of Republican resistance is part of the reason why Democrats' most effective route to achieving greater oversight may be appeals to the public. Schumer acknowledged the importance of public support on Wednesday when questioned by a reporter about how Democrats would realize their ambitions for scrutiny of Trump's alleged Russia ties. "I think as the public sees what's going on, they're going to demand the kind of bipartisan, thorough investigation we are asking for," he said.
To do that, Democrats will need to make the case for why additional investigation is needed in the strongest possible terms. On Wednesday morning, the Democratic National Committee seemed to be doing just that with the release of a dire statement. "This is already bigger than Watergate," said DNC senior adviser Zac Petkanas. "The sanctity of our democracy demands an immediate, independent, transparent investigation into the connections between Donald Trump, his staff and the Russian government."