The Anti-Trump 'Resistance' in Red States
Protests against the administration have spread to Republican strongholds, but it remains unclear if they will sway GOP members of Congress.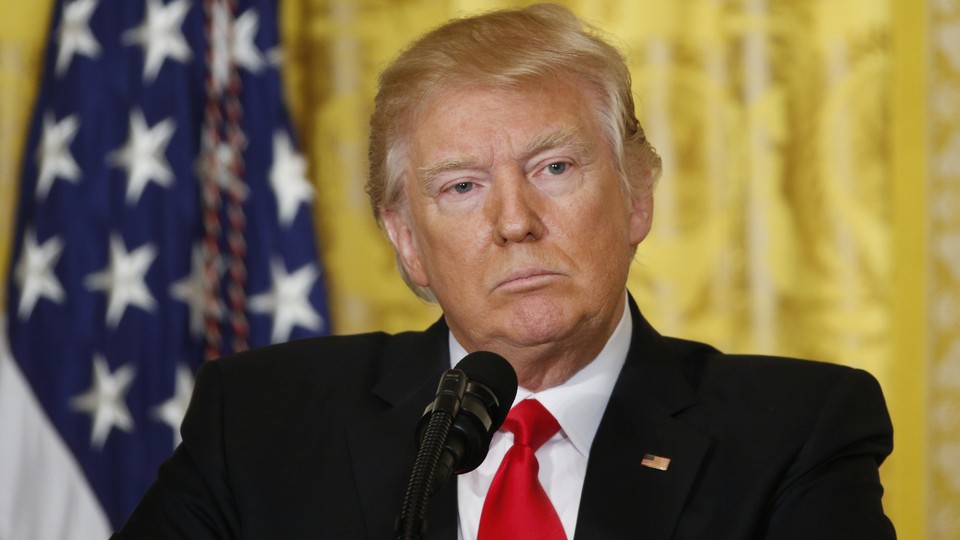 Massive crowds have gathered in cities like Washington, D.C., and New York to protest actions taken by the president since he took office. But those protests aren't confined to liberal strongholds. Even in red states, some frustrated and anxious voters are protesting the administration and putting pressure on Republican lawmakers to stand up to the White House.
In some of the most conservative parts of the country, voters without much experience in political organizing are taking a page out of the Tea Party playbook, while existing Democratic organizations are channeling discontent with the administration into protest. Red-state Democrats point to the agitation as evidence that opposition to Trump and his agenda is widespread, and they warn that elected officials of both parties may pay a price if they write off the activism as inconsequential.
"This isn't a fad, it's not going away, and there's nothing coastal or elite about it," said 19-year-old Dalton Slatton, the president of Middle Tennessee State University's College Democrats, which helped organize a protest outside a recent town hall featuring Republican congresswoman Diane Black. "If Democrats don't get behind this movement, we may see a shake-up in the Democratic Party," he predicted, adding that Republicans might also face voter fury if they don't take the current protests seriously.
Last week, videos went viral of people expressing anger and dismay over the possible repeal of the Affordable Care Act during the town hall in Tennessee, a state Trump won by a double-digit margin. So did footage of an angry crowd yelling "Do your job!" at Republican congressman and House Oversight and Government Reform Committee Chairman Jason Chaffetz at a town hall in Utah.
One challenge facing red-state activists is that their GOP lawmakers may dismiss dissenting viewpoints as the shouts and murmurs of an angry fringe. Chaffetz, who has faced pressure to investigate Trump, told The Deseret News that the confrontation he faced during his town hall was "bullying and an attempt at intimidation." Trump himself seemed to dismiss the recent protests during a press conference on Thursday. "They fill up our rallies with people that you wonder how they get there, but they're not the Republican people that our representatives are representing," he said.
That kind of reaction to protests against the administration's agenda could provoke even more backlash. "People are incredibly angry right now, and at this point that anger is a gift, to be quite frank," said Donald Aguirre, a 33-year-old co-founder of Utah Indivisible, a group that describes itself as "the resistance to the Trump agenda" and helped organize people to show up at Chaffetz's town hall. "The more people try to brush us aside or fail to take our concerns seriously, the more motivated we'll become."
As a result of that activism, elected officials may grow increasingly reluctant to show up in public settings where confrontations caught on tape can ricochet across social media. There are already indications that lawmakers are looking for ways to get their message out without the risk of facing a hostile crowd. "After outpourings of rage at some early town halls," Vice reported on Thursday, "Republicans are ducking in-person events altogether, opting instead for more controlled Facebook Live or 'tele-townhalls,' where questions can be screened by press secretaries and follow-ups are limited."
In Arizona, Republican Representative Martha McSally declined to participate in an upcoming public forum organized by activists concerned about Trump's agenda, calling the event "a political ambush" earlier this month. "Congresswoman McSally has been incredibly open and accessible to her constituents and she will continue to be," her spokesman Patrick Ptak said in a statement, noting that she has held more than 30 town halls since taking office and met with the activists in her Tucson district office last Friday to "hear their thoughts and concerns."
The refusal left 49-year-old Democrat Marion Chubon, one of the activists McSally met with, disappointed but undeterred. She recently formed a group called McSally Take a Stand to encourage her congresswoman to speak out against Trump. "I'm not here to disrupt government, or cause a scene," Chubon said in an interview. "It just feels like we're going in the wrong direction as a country right now, and we have to resist going backward on all the progress we've made."
Even if activists don't get exactly what they want from elected officials, that doesn't mean confrontational tactics won't be effective. High-profile agitation, whether at town halls, protests, or marches, may be enough to generate and help sustain enthusiasm among Democratic voters to remain politically active while their party is currently out of power.
Pressuring elected officials to take on Trump might also prompt lawmakers to reconsider their approach to dealing with the administration. A few days after his run-in with the town-hall crowd yelling "Do your job," Chaffetz initiated an inquiry into security protocols at Trump's Mar-a-Lago estate in Florida when the president reportedly discussed a North Korean missile launch with the Japanese Prime Minister. "We'll be vigorous in our oversight," the congressman told The Salt Lake Tribune on Tuesday for an article on the newly announced investigative action.
Republican lawmakers may be more motivated to act if they believe the demands are coming from a significant number of their constituents. Aguirre, who said he never attended a protest before the election, noted that Utah Indivisible is composed of Democrats, Republicans, and libertarians. "We're a group of people who are all extremely pissed off," he explained. Amanda Gormley, a 34-year-old Arizona Democrat and spokesperson for PN Tucson, which formed in opposition to Trump's election, said her organization is "open to talking to conservatives." But she clarified that's not the group's first priority. Instead, members will focus on encouraging people who voted against Trump to step up their civic engagement.
Activists in red states may grow demoralized if the reception they receive from conservative lawmakers and voters isn't what they would like. Republican voters and elected officials have, after all, stood by Trump through plenty of high-profile controversies that might have sunk any other politician, and so far seem likely to remain loyal to the president and his policies. It remains an open question whether these activists can avoid burnout, expand their ranks, and convince lawmakers to take their concerns seriously.