The Scandal That May Haunt the New Nominee for Labor Secretary
R. Alexander Acosta was the head of the civil rights division at the Department of Justice in the Bush administration when subordinates skirted civil-service laws and engaged in politicized hiring.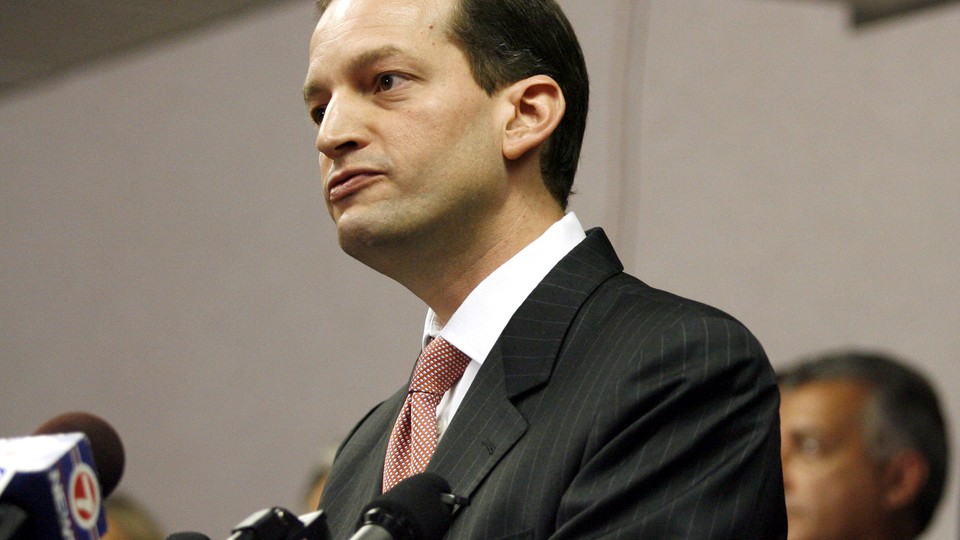 R. Alexander Acosta, President Trump's pick to run the Labor Department following the withdrawal of Andrew Puzder's nomination, was the head of the civil-rights division of the Department of Justice in the Bush administration during a period in which his subordinates became embroiled in a scandal over politicized hiring. That scandal raises questions about Acosta's ability to effectively manage a much larger federal agency in an administration that has already shown a tendency to skirt ethics rules.
"That period, all hell broke in the civil rights division," said William Yeomans, a professor of law at American University and a former deputy section chief in the division under Acosta. "That was all under Acosta, he presided over the politicization of the civil-rights division."
At the time of his nomination to run the civil-rights division, Acosta had substantial bipartisan support––he was approved by voice vote in the Senate, and had the backing of Latino rights groups like the National Council of La Raza.  Acosta is of Cuban descent and would be the first Hispanic American in Trump's cabinet.  But at the Justice Department, his subordinates skirted the law, seeking to purge liberal attorneys from the division and replace them with conservatives. Acosta told investigators he was unaware of what was occurring.
Yeomans, however, said he found that implausible. Yeomans recalled Acosta telling him that Acosta believed that he had been denied a position as a line attorney in the civil-rights division earlier in his career because he was conservative.
"It's not as if Alex didn't know what was going on," Yeomans said. "I'm confident that he approved, it was part of the political goals of the political appointees to purge the civil-rights division of what they thought were a bunch of leftists."
According to a 2008 joint report from the Department of Justice Inspector General and Office of Professional Responsibility, in 2003, while leading the division, Acosta delegated hiring authority to a subordinate, Sheldon Bradshaw, who in turn placed Bradley Schlozman in charge of hiring decisions for the division. The report concluded that Schlozman had broken civil-service laws by considering political affiliation in hiring, and that he had lied to the Senate Judiciary Committee about his activities. He was never prosecuted.
The report states that Schlozman used terms like "real Americans," "right thinking," "solid," and "on the team" to describe conservative attorneys—the ones he wanted to hire—and that Bradshaw was aware of the meaning of those terms. Schlozman, deploying a colorful metaphor, stated in an email that "My tentative plans are to gerrymander all of those crazy libs rights out of the [voting] section."
The report did not implicate Acosta in that process, but it did conclude that he and others in the division had "sufficient information about Schlozman's conduct to have raised red flags warranting closer supervision of him." However, "despite the warnings," Acosta and others "took no action to investigate, bring the matter to the attention of their supervisors, or change Schlozman's role in hiring for the Division."
In particular, Acosta was made aware of an incident in which Schlozman approvingly forwarded a racist joke by another political appointee, voting-section chief John Tanner, in which he stated that he liked his coffee "black and bitter" like "Mary Frances Berry," the then-chair of the U.S. Commission on Civil Rights. Acosta told investigators that he had made Schlozman apologize over email. Investigators were unable to find such an email among Schlozman's recovered correspondence––but they also did not have access to Acosta's emails, because he had left the division years earlier to be a U.S. Attorney in Florida.
A career attorney in the division also claimed that she had warned Acosta that the people Schlozman was hiring were unqualified, but Acosta claimed that "no one complained to him that inappropriate hiring practices were taking place."
Joe Rich of the Lawyer's Committee for Civil Rights who was in the division during Acosta's tenure, said "I assumed he must have known what was going on, but I can't say that from personal knowledge.
"He was in charge at the time that Schlozman was doing his thing, and did nothing to really stop that," said Rich. "There were a few occasions when I tried to appeal decisions that Schlozman made to him, and I got short shrift in those appeals and got no where."
The report concludes that Acosta and later civil-rights division head Wan Kim "did not sufficiently supervise Schlozman," and that "in light of indications they had about Schlozman's conduct and judgment, they failed to ensure that Schlozman's hiring and personnel decisions were based on proper considerations."
Yoemans said that Acosta's management of the civil-rights division raises questions about his nomination as labor secretary. "His history of allowing the processes of the civil-rights division to be politicized doesn't bode well for his running an entire federal agency," said Yeomans.