Trump Is Attacking Any Institution That Challenges Him
The president has displayed a willingness to go after the press, the intelligence community, and now even the judiciary.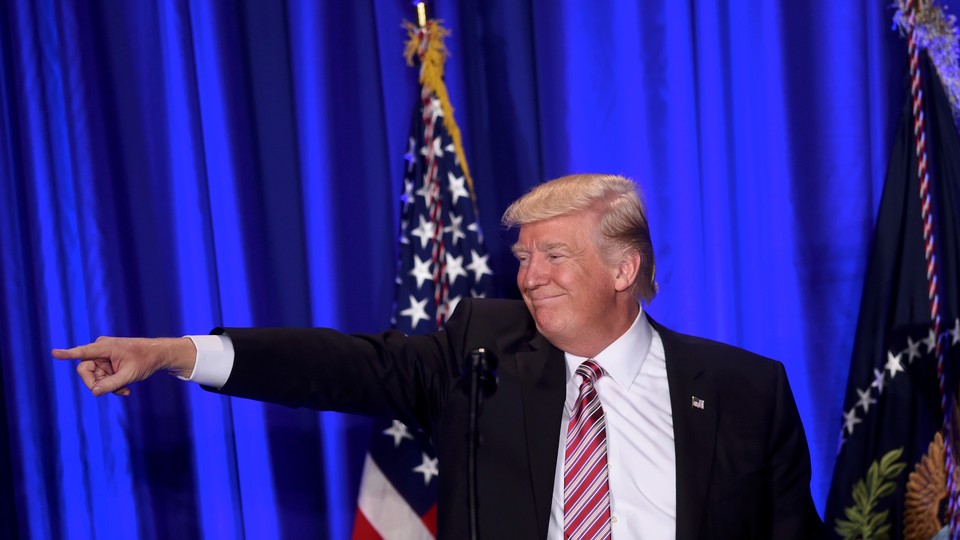 From the many disturbing aspects of Donald Trump's controversial and dizzying first two weeks as President, a theme is emerging that, in the long run, may prove more dangerous than any individual policy: his unprecedented assault on institutions that could delay or derail his radical agenda.
As I wrote previously, this approach began, not by accident, with an assault on the press and intelligence community, two entities in American society that traditional provide the verified facts that are the basis for policy decisions. Trump set the stage for these fights by disparaging both institutions throughout the presidential campaign and transition, punctuated by his trademark pungent insults (the press as "the most dishonest humans," the intelligence community as employing Nazi tactics) aimed less at their work product than at their very legitimacy.
In a democracy, it is normal––sometimes even desirable––for institutions to advance different agendas, the collision of which produces policy. But what isn't normal is for arguably the most powerful institution to seek not to win arguments against the others, but rather to vanquish them.
Since becoming President, Trump has continued to undermine the intelligence community, first through an almost comically disrespectful speech against the backdrop of the memorial wall at the Central Intelligence Agency, and most recently by making his fateful decision about a special forces raid in Yemen, reportedly over dinner with a coterie of advisors––the Vice President, Secretary of Defense, National Security Advisor, Chairman of the Joint Chiefs of Staff––that included no intelligence-community officials. A U.S. Navy Seal was killed in the operation, reportedly along with a number of civilians and Al Qaeda in the Arabian Peninsula terrorists.
The press has remained a near-daily punching bag for the President and his team, which is not in itself unusual. What is not typical is the extent to which the administration seem to be questioning not just the tone and substance of press coverage, but the traditional role of the press in American society, a view colorfully and troublingly illustrated by White House strategist Steve Bannon's statement to The New York Times that the press should just "keep its mouth shut."
The latest harbinger came Friday evening, when the White House emailed a note to its press corps "for planning purposes only," that issued guidance to "hard pass holders," reporters who are permanently assigned to cover the President. The note alerted press that "All hard hard-pass holders, current and prospective, are currently being reviewed. You will be notified in the coming weeks on the status of your hard pass." Absent further explanation, and in the context of their ongoing besiegement, reporters were understandably left wondering whether this was a routine administrative step or if the White House intended to chill negative coverage while press credentials are under review.
Now Trump seems to be adding new institutions to his expanding hit list. The third institution Trump is increasingly treating as an enemy is the federal bureaucracy, the workforce that serves administrations of both political parties. Already Trump has all but removed career professionals from decision-making and asking others to simply resign.
The administration also dismissed a slew of senior State Department officials from jobs generally considered beyond the reach of politics, including functions central to the mission, such as passport production, visa issuance and helping evacuate Americans during oversees crises. After firing Acting Attorney General Sally Yates when she disputed the legality of the immigration executive order, Trump even sent a tweet that seemed (perhaps unintentionally) to question the strategy being employed by his own Justice Department attorneys, asking "Why aren't the lawyers looking into the Federal Court decision in Boston…"
Meanwhile, as other administrations have done more sporadically, they have reportedly assigned to the front office of many executive branch departments political appointees with limited expertise or experience in government, and close relationships not to the relevant agency head but to the White House (career professionals quietly refer to them as "minders" or "commissars").
They also seem to have replaced what has been, for decades, a regimented and inclusive national security decision-making process (which, while cumbersome, is designed to lead to informed outcomes and smooth policy rollouts), with a flurry of fiats, drafted by a few of the President's close confidantes and issued publicly before most relevant experts have seen them.
In preparing the now infamous immigration executive order, Officials from the State Department, the Department of Homeland Security, or from Customs and Border Protection were kept in the dark. Given the pivotal role each institution had to play in implementing an order they had no role in producing, the messy results should not have been surprising.
When more than a thousand State Department civil and foreign service officers signed a cable dissenting from the executive order, through a longstanding, formalized process that is supposed to protect employees against "reprisals," White House press secretary Sean Spicer warned them to "get with the program or leave." By contrast, when Secretary Kerry was presented with a similarly sensitive dissent about the Obama Administration's Syria policy, he met with the organizers to hear them out and offer his views.
Now, Trump is signaling that his next institutional target may well be the courts, historically the most deeply rooted, constitutional check on executive power in our political system and the guarantors of our rule of law. Having lost a series of decisions that blunted, at least temporarily, the impact of his immigration order, he lashed out at a federal judge in Washington state who ordered a nationwide suspension, tweeting on Saturday:
"The opinion of this so-called judge, which essentially takes law-enforcement away from our country, is ridiculous and will be overturned!"
He followed that up Sunday, with a tweet that laid a predicate for blaming not just the judge but the American judicial system for a future terrorist attack:
"Just cannot believe a judge would put our country in such peril. If something happens blame him and our court system. People pouring in. Bad!"
Presidents have often taken issue with court decisions. George W. Bush was frequently, publicly critical of decisions that went against the government in cases related to his war on terror, and particularly related to people held at the Guantanamo Bay detention facility. In his 2010 State of the Union Address, one week after the Supreme Court's decision in the Citizens United campaign finance case, Obama rebuked the justices for "open[ing] the floodgates" to special interest money in American politics.
But Obama prefaced his broadside with an ad-lib that acknowledged "all due deference to separation of powers." Trump's focus on the legitimacy of the "so called" judge––a George W. Bush appointee confirmed 99-0 by the United States Senate––and his ambiguous, almost imperative, statement that the order "will be overturned" are different, because they question the very authority of the judge to rule against him, and even the role of courts in our separation of powers.
Here too, context matters, including Trump's long history of launching attacks on judges who rule against him. But perhaps most troubling are sporadic but credible reports that certain court orders, for example requiring visas to be reinstated or detained travelers to be given access to counsel, were not immediately implemented by executive branch law enforcement.
So far, just about the only prominent American institution that could oppose Trump's agenda, and that he has not attacked, is Congress. That may be because, thus far, the Republican-controlled body has largely deferred and acceded to his demands. The truer test will come if and when, in the context of Trump's record-setting disapproval rating, the Republicans refuse to support unpopular Administration policies, or, as happened under Barack Obama, the opposing party eventually wins control of one or both houses.
Already, Trump's sustained assault on our most important institutions raises legitimate and enormously consequential questions. One is whether he is, at his core, a (small d) democrat and intends to govern as one, or as something else entirely. Another is whether other institutions with a voice in American society, such as the private sector, artists and entertainers, professional athletes or academia, will increasingly join the fray, and at what cost? And finally, will the institutions he already seems to be systematically eroding have the fortitude to continue standing against a withering onslaught that seems likely to continue in the coming years?