President Trump's Immigration Policy Takes Shape
New Homeland Security Department memos prioritize almost all undocumented immigrants for deportation, order the hiring of 10,000 more agents, and more.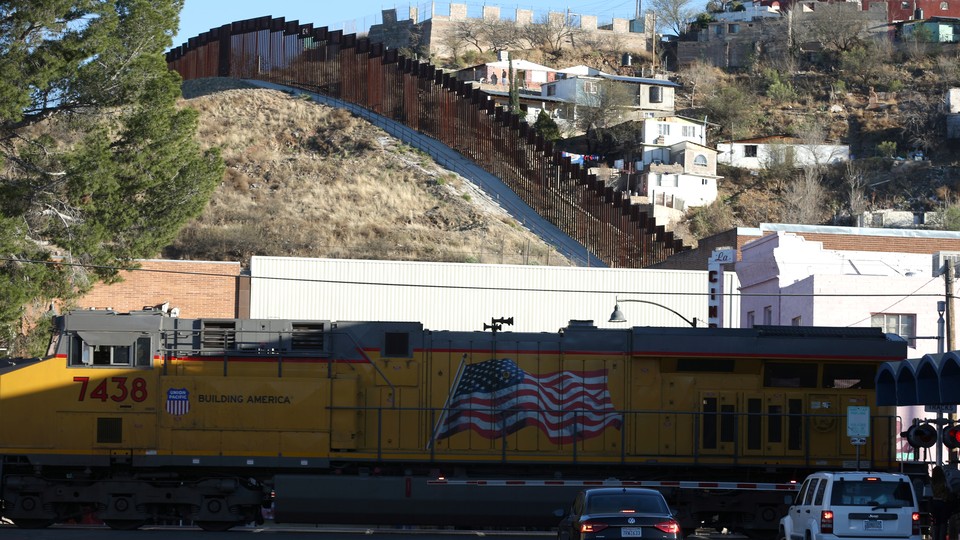 The Department of Homeland Security issued new memos on Tuesday that give U.S. officials sweeping latitude to target "removable aliens" for deportation, effectively making  most of the estimated 11 million undocumented immigrants in the U.S. as priority targets.
The memos, issued by Secretary of Homeland Security John Kelly, enforce executive orders issued by Trump shortly after taking office. Obama administration policies previously directed immigration officials to focus on convicted criminals instead of the broader undocumented population. Kelly's memos instruct agents to also prioritize undocumented immigrants who have been charged with a crime but not convicted of it, or committed an act that may be criminal offenses but haven't been charged for it. Those categories mean that almost any brush with the American law-enforcement system could make an undocumented immigrant a target for removal.
The memo also prioritizes those who "engaged in fraud or willful misrepresentation in connection with any official matter before a governmental agency" or abused a public-benefit program. That could include undocumented immigrants who use fake Social Security numbers to obtain employment, for example. Finally, the memo includes a catch-all category authorizing immigration officials to remove anyone who they believe to pose a "risk to public safety or national security."
Neither of the memos alter U.S. immigration laws. Instead, they rely on the broad discretion granted to immigration officials by federal statutes to redirect limited resources towards specific enforcement priorities. Under the Obama administration, those priorities typically focused on undocumented immigrants who committed serious crimes. Tuesday's memos instead give U.S. immigration officials far broader latitude on who can be targeted and why.
To help implement the new policies, Kelly also formally authorized Immigration and Customs Enforcement to hire 10,000 new officials. A second memo signed by Kelly on Tuesday that focuses on operations along the U.S. border ordered the hiring of 5,000 new Customs and Border Protection Agents. Those positions would be exempt from the general hiring freeze imposed by Trump in his initial wave of executive orders.
For Trump's supporters, Tuesday's orders come as the first step in fulfilling a central campaign pledge. Few issues animated his presidential run as much as his vociferous opposition to illegal immigration, which included calls for a wall along the U.S.-Mexico border and an aggressive effort to deport illegal immigrants currently in the country. Those stances, combined with Trump's racist comments comparing Mexican immigrants to murderers and rapists, also drew intense criticism from pro-immigration organizations and civil-rights groups.
"These memos confirm that the Trump administration is willing to trample on due process, human decency, the well-being of our communities, and even protections for vulnerable children, in pursuit of a hyper-aggressive mass deportation policy," Omar Jadwat, the director of the ACLU's Immigrants' Rights Project, said in a statement. "However, President Trump does not have the last word here — the courts and the public will not allow this un-American dream to become reality."
Kelly's memos also expanded the tools U.S. immigration agencies can use. It authorized federal agencies to expand the 287(g) program, which deputizes state and local law-enforcement departments to enforce some aspects of U.S. immigration laws. According to the memo, 32 agencies in 16 states are currently participating in it. The Marshall Project reported that more than 175,000 people were deported through the program between 2006 and 2013.
Other provisions shift resources toward victims of crimes committed by undocumented immigrants, whom Trump frequently invoked on the campaign trail. The memo also orders ICE to publicly release statistical reports on a monthly basis about undocumented immigrants it apprehends, their country of citizenship, any gang affiliations, and other data.
One of those reports will target so-called "sanctuary" jurisdictions that refuse to cooperate with federal agencies enforcing immigration laws. Under the directive, ICE will release data on non-federal jurisdictions that release non-citizens from custody despite requests from ICE or other immigration agencies to hold them. The data will include each non-citizen's nation of origin, immigration status, previous and subsequent criminal convictions, and a reason why the ICE hold request wasn't honored—a clear effort to publicly highlight jurisdictions that refuse to help the Trump administration's efforts against undocumented immigrants.
But amid the hardline realignment of U.S. immigration policy, the memos also had a notable exception: The Obama administration's Deferred Action for Childhood Arrivals program, which shields from immediate deportation undocumented immigrants who entered the country as children. That program's fate—and the fate of its estimated 750,000 participants in the program—will be addressed in "future guidance," the memo said.