The Contradictory Claims About Trump's Deportation Plan
The president has said his administration is targeting "really bad dudes," but his policy targets people who haven't been charged or convicted of anything.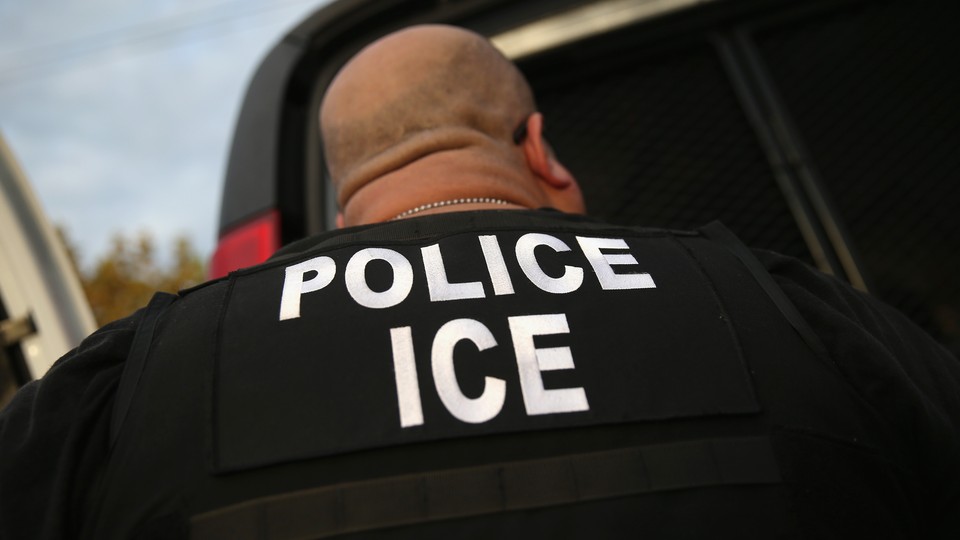 "Really bad dudes."
That's what President Trump called the undocumented immigrants his administration intends to remove, but so far, his orders have indicated otherwise.
Earlier this week, the Department of Homeland Security issued new rules on which undocumented immigrants should be considered a priority for deportation. The memos include instructions to prioritize undocumented immigrants who are charged, but not necessarily convicted of a crime, as well as those who are said to have "committed" an act that could be charged as a crime. That criteria massively expands the number of undocumented immigrants considered a priority for deportation, including those who may have committed no crime at all. The memo also includes requests for the hiring of 10,000 more Immigration and Customs Enforcement agents and 5,000 more Customs and Border Protection agents.
Today, there are roughly 11 million undocumented immigrants living in the United States. Of those, up to 8 million are now at risk of deportation under Trump's new enforcement measures, according to estimates by the Los Angeles Times. But funding to put some of the administration's plans in place is complicated and could delay its execution.
As my colleague Matt Ford noted, "neither of the memos alter U.S. immigration laws." Still, they're sowing fear into immigrant communities. The criteria are a drastic change from the previous administration, which created a priority system known as the The Priority Enforcement Program, which, as former President Obama put it, focused on "felons, not families." That shift in immigration policy came after years of criticism from immigrant advocates about the administration's deportation strategy. Over his tenure, Obama deported more people than both of his recent predecessors, Bill Clinton and George W. Bush.
Congress needs to approve the administration's funding requests, though it's still unclear in what form that will come in. There are a few avenues the administration could take. In January, House Speaker Paul Ryan said Congress would pay for the construction of a wall along the U.S.- Mexico border and could do so through a supplemental appropriations bill. The administration could, theoretically, tack on a request for an increase in border patrol agents and ICE agents since they fall under the umbrella of immigration enforcement. But the administration could also decide to instead ask for an increase in funding for the Department of Homeland Security through the appropriations process, though receiving the funding is still not guaranteed. Appropriations bills need 60 votes in the Senate, so Republicans would have to garner some Democratic support.
Doris Meissner, a senior fellow at the Migration Policy Institute, a nonpartisan think tank, doesn't recall big asks, like a sharp increase in border patrol agents, of "this magnitude" in the past.  "At 9/11, I believe the border patrol was about at 10,000 or 11,000 and that was a big ramp up after 9/11. It basically took until 2010 or 2011 to double the size of the border patrol," she said. Border patrol hiring, Meisnner noted, is complex: "the training is long, the security clearance process takes a long time. We used to use the number 27 initial recruits for one officer."
Mark Krikorian, the executive director of the Center for Immigration Studies, a think tank that supports tighter controls on immigration, conceded that the process required in hiring more agents is indeed a grueling one and therefore it would be difficult to achieve the numbers requested by the administration in a short time span. "I don't think the money issue really is going to be a problem. As far as the personnel goes, the real problem is going to be maintaining standards in hiring and training and not succumbing to political pressure to hire people quicker," he said.
The rather slow-moving process might hamper the administration's enforcement plans for now, but that doesn't mean that they haven't already affected the lives of millions of people in the United States. In California, immigrant parents are preparing for the possibility of being arrested by immigration agents by signing "legal documents authorizing friends and relatives to pick up their children from school" and providing access to "their bank accounts to pay their bills," the Associated Press reports.
The fear stems from the expanded criteria for deportation—that a larger swath of people are considered a priority versus just criminals—and from deportations that are already known to have taken place across the country. Earlier this month, an Arizona woman who had lived in the United States for over 20 years was deported to Mexico after going to her regular check-in with immigration officials. Guadalupe García de Rayos had been convicted of using a fake Social Security number while working illegally in the United States. The Department of Homeland Security also announced on February 13 that ICE officers had arrested "more than 680 individuals who pose a threat to public safety, border security or the integrity of our nation's immigration system."
Undocumented immigrants are also being trained on their rights and what to do in the event that an immigration agent confronts them. CASA, a Maryland-based organization that focuses on Latinos and immigrants, is conducting "Know Your Rights" trainings in Maryland, Washington D.C., and Virginia. The trainings are not new, but they've been put on "high speed again, starting immediately after the election," said Maria Fernanda Durand, the communications manager at CASA. The trainings occur two or three times a week. There, attendees are advised not to open the door unless they're presented an order of deportation and if so, to ask that it be placed under the door. "It has to contain the person's name—the person that lives there—and if it doesn't have that, then you're not legally bound to open the door," Durand said. The trainings run through other situations as well, such as being stopped by an officer on the street. "We're also telling people to record anything they see… and make sure [they] call and let us know," she added.
Peter Markowitz, a professor at Cardozo School of Law and director of the Kathryn O. Greenberg Immigration Justice Clinic, argues that some of the proclamations made in the memos overstep constitutional boundaries. "The massive expansion of extrajudicial deportations raises very, very serious constitutional questions about the limits of due process that those impose and I fully expect that there will be legal challenges coming to those as soon as they implement those provisions," he said, referring to "expedited removal," which under the Obama administration applied to an immigrant arrested within 100 miles of the border and in the country for 14 days or less.
The Trump administration is expanding the timeframe to up to two years and applying it across the United States. The American Civil Liberties Union sent out a statement earlier this week denouncing the memos. "These memos confirm that the Trump administration is willing to trample on due process, human decency, the well-being of our communities, and even protections for vulnerable children, in pursuit of a hyper-aggressive mass deportation policy," said Omar Jadwat, the director of the ACLU's Immigrants' Rights Project.
The White House has dismissed accusations that it is engaging in mass deportations, which Trump had proposed on the campaign trail. On Tuesday, White House Press Secretary Sean Spicer said the DHS memos "lay out the exact procedures to make sure that that subgroup of people who pose a threat to our nation because of a conviction or a violation of public safety or have a criminal record are adjudicated first and foremost." And on Thursday, Kelly said "There will be no—repeat: no—mass deportations."
Those comments are a departure from Trump's harsh rhetoric on immigration and the criteria laid out in the executive order, but it isn't the only time recently in which administration officials' statements have been at odds with those of the president. This week, the president called the administration's push to remove undocumented immigrants a "military operation." Kelly contradicted this claim, saying there was "no use of military force in immigration operations."
The mixed messages coming from the White House could pose a problem for immigration enforcement on the ground. "What Secretary Kelly says is the authoritative voice on this but when the president speaks out in ways that are not aligned with what his Cabinet members are saying that's confusing for agents on the ground. It's not helpful," Meissner said.
How the plans will be implemented—and with what funding—still remains an open question. Until there's a clear answer, millions of undocumented immigrants are left wondering what's next.