How Trump Could Rearrange the U.S. House
The president could accelerate the demographic divides between Democratic and Republican districts.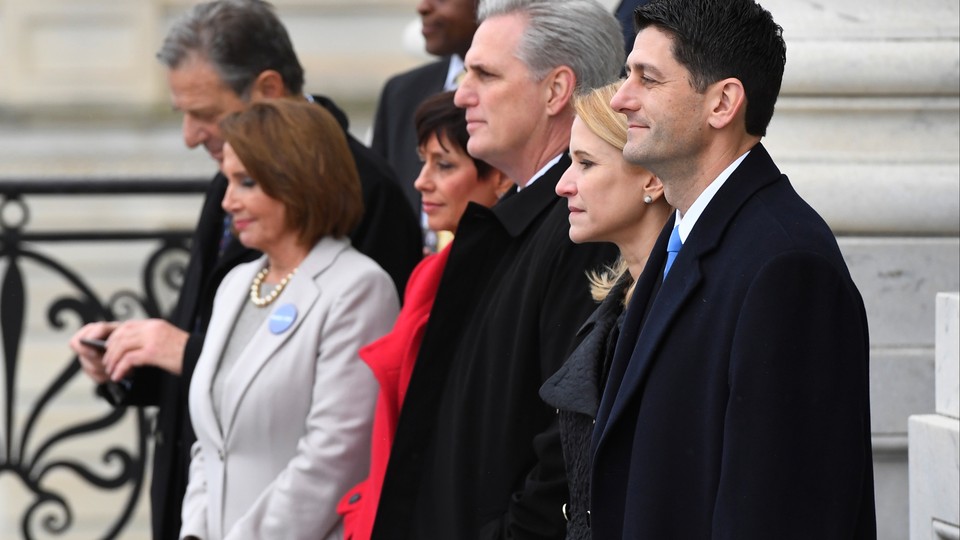 Matt Cartwright, a personable Democratic attorney, hasn't faced a truly tough race since he was elected in 2012 to his U.S. House district in north-central Pennsylvania. The Republicans who controlled the last redistricting in Pennsylvania drew his preponderantly white, heavily blue-collar district, which is centered on Scranton and Wilkes-Barre, as a Democratic stronghold so they could maximize GOP strength in the surrounding areas. President Obama easily carried the district twice, winning about 56 percent of the vote each time.
But last November, Cartwright's district lurched sharply toward Donald Trump, who beat Hillary Clinton there by about 10 percentage points. The shift in Cartwright's district from Mitt Romney's deficit against Obama to Trump's advantage over Clinton was larger than the change in all but one other seat in the entire country. Cartwright still won comfortably against a lightly funded opponent, but his vote dipped from 57 percent in 2014 to slightly below 54 percent. Now, Republicans are eyeing Cartwright as a potential target in the 2018 midterm election more seriously than ever before.
About 800 miles south of Scranton, Republican Representative Rob Woodall had a parallel experience in his diverse and well-educated suburban district northeast of Atlanta. Trump carried Woodall's district, which has been considered safely Republican, but while Romney torched the district by 22 percentage points, Trump won by only a little more than six. Woodall still reached 60 percent against token opposition in his own race. But now, Democrats are asking—in a way they have not before—whether they can seriously challenge Woodall and other suburban Republicans like him, who represent districts where Trump sagged. "There's no doubt that the first opportunities for Democrats in 2018 are in these suburban college-educated districts," said Democratic strategist Jesse Ferguson, a top communications aide to Clinton and former communications director for the Democratic Congressional Campaign Committee.
Cartwright and Woodall each may ultimately prove difficult for the other party to dislodge. But even their emergence in the discussion of potential targets underscores how Trump's already turbulent presidency could accelerate the long-term demographic sorting remaking the House.
As the share of voters who split their tickets has steadily declined since the 1970s, each party's roster of seats in the House increasingly reflects its voting coalition in presidential elections. As a new Atlantic analysis has shown, the Republican House majority now relies predominantly on districts where whites exceed their share of the national population, that are located mostly outside of urban centers, and that contain fewer white college graduates than the national average. Democrats, in turn, rely on an upstairs-downstairs coalition of districts where minorities, college-educated whites, or both exceed their share of the population—the vast majority of them in metropolitan areas.
The sharply polarized nature of Trump's appeal—which has generated magnetic attraction for blue-collar and non-urban whites, broad opposition among minorities, and unusually high resistance among white-collar whites—has the potential to deepen this sorting process, analysts in both parties agree. The vividly contrasting voting patterns of 2016, with Trump posting big gains over Romney in heavily blue-collar House districts and Clinton improving over Obama in a broad swathe of white-collar districts, may have offered a fast-forward preview of how the House may evolve in coming years. "It was like looking decades in the future, and this is what it looks like," said GOP strategist Liam Donovan, referring to the 2016 results. "If you just push down the gas and let it rip [on the class resorting], this is what it is going to look like."
All initial evidence suggests Trump's presidency—with its deeply polarizing approaches to immigration, trade, health care, climate, and foreign policy—will widen, rather than narrow, the fissures that emerged around in his election. That means for 2018 and beyond, each party's electoral target list may grow increasingly focused on the members caught, in effect, behind enemy lines: the last few Democrats representing heavily blue-collar districts and the larger number of Republicans in mostly white-collar suburban seats.
The House members most immediately at risk in this segmenting process are the roughly three dozen of them representing districts that voted for the other party's presidential ticket last year. That's still well below the level of ticket-splitting seen as recently as two decades ago: 109 districts in 1996 and 86 in 2000 supported House members from one party and presidential candidates from the other. But it represents a slight uptick from the 26 split districts in the 2012 presidential race.
For both parties, the districts most likely to split their tickets are those on the wrong side of the widening class and cultural divide. Based on early counts from both the Daily Kos website and the Democratic Congressional Campaign Committee, Trump carried districts won by 12 Democratic House members. In nine of those 12 districts, the share of whites with a college degree lags below the national average. Seven of the 12 are what we have called "lo-lo" districts, where the total white population and the share of whites with a college degree both trail the national average. Those heavily blue-collar lo-lo districts have become the cornerstone of the GOP congressional majority: Republicans now hold 152 of the 176 districts that meet that description.
The Democrats in the lo-lo districts that Trump carried include Cheri Bustos in Illinois; Dave Loebsack in Iowa; Ron Kind in Wisconsin; Cartwright in Pennsylvania; and three Minnesota incumbents: Tim Walz, Collin Peterson, and Rick Nolan. In all these districts Trump's margin against Clinton was at least 15 percentage points better than Romney's against Obama. Though only the Minnesota contingent faced close races in 2016—Kind didn't even draw an opponent—the strength of Trump's appeal to working-class whites has moved all of them onto, at the very least, the GOP's initial target list for 2018 and beyond. "The dam broke this time, and there is more to come," said Tom Davis, formerly a Republican representative from Virginia and chair of the National Republican Congressional Committee. "You look at northern Minnesota and that dam has broken."
Bracing for potentially tougher challenges in 2018 and beyond, many of the House Democrats in Trump districts are adopting a common playbook. The two pillars are emphasizing constituent services and focusing as much as possible on bread-and-butter economic issues. "The main point is that the economy outweighs everything else, so these registered Democrats came out and voted for Donald Trump because they're hurting," Cartwright said in a recent interview. "Here's the lesson I take from that: These are my people. They're hurting. Forget about Donald Trump or Hillary Clinton. My people are hurting. That means I have to redouble my efforts to take care of them. To make sure we do everything we can think of to promote manufacturing jobs in this area, to protect and preserve Social Security and Medicare, and to stimulate the economy so that it works for people around here."
Likewise, Loebsack, the Iowa Democrat, said in an interview that he considers his accessibility a key to his survival. "For me it's always been engaging people where they live, work, and play," he said. "I get around to my counties, every one of my counties, on a very regular basis."
The other key, Loebsack said, was to stay focused on core economic issues, including local concerns like rural access to broadband or protecting the renewable fuel standard that promotes biofuels. "When people want to talk to me about LGBT issues I talk about them, and I'm for equality," he said. "When they want to talk about voting rights, I'm for that. But at the same time I think we need to have first and foremost the focus on the economy and jobs."
The counterparts to Cartwright and Loebsack are the House Republicans in districts that Clinton carried: 22 in the Daily Kos count, and 23 in the DCCC's. (District-by-district figures for North Carolina are not yet available.) When the DCCC issued its first 2018 target list on Monday, all of those seats were included.
These districts largely present the demographic mirror image to the Trump Democratic seats. Using the DCCC figures, 18 of the 23 Clinton-district Republicans are in seats where the share of college-educated whites exceeds the national average. Eight of those 18 are in so-called "hi-hi" districts, where both the share of minorities and white college graduates exceeds the national average. Those seats are the backbone of the modern Democratic House caucus: One hundred and eight seats fit that description and Democrats now hold 87 of them.
Clinton's success in so many Republican-held districts with high white-education levels reflects Trump's struggle among those voters. In 2016, Republican Representatives like Barbara Comstock in northern Virginia, Patrick Meehan and Ryan Costello outside Philadelphia, Leonard Lance in affluent northwest New Jersey, Martha McSally in Tucson, and Mike Coffman outside Denver successfully distanced themselves from doubts about Trump. Democrats are confident that will grow more difficult once those members are operating in harness with Trump as part of a unified Republican government that will, if history is any guide, vote together on most key issues.
Lance, in an interview, crystallized the strategy many of these Republicans are likely to employ under Trump: stress their willingness to work across party lines, look for opportunities to display independence from the president (Lance quickly criticized Trump's executive order restricting immigration), and emphasize the economic issues where the views of their well-educated and affluent constituents most closely align with GOP priorities. "We have to reach out to all voters … and point out where our views are consistent with the views of well-educated constituents, and that includes, for example, a tax policy," he said. "I think it's important to have tax policies that will further the American economy, and many of the constituents whom I serve are involved in economic activity in New York, or in New Jersey in the pharmaceutical or the medical-device and the telecommunications industries. And these are vital parts of the national economy."
It's lost on few operatives in either party that Democrats need 24 seats to win back the House and almost exactly that many Republicans hold districts that voted for Clinton. Moreover, about two-thirds of those Republicans are in districts that backed Romney in 2012—albeit in some cases very narrowly—before tipping to Clinton last fall. That could be a preview of the difficulties ahead for them as Trump so aggressively defines the GOP with polarizing actions on issues including climate, trade, and immigration, as well as with his combative personal style.
"These are districts that already didn't like Trump when he was elected, and given what we are seeing with his approval numbers … there is no reason to believe [it will get better]," said Tom Bonier, chief executive officer of TargetSmart, a Democratic voter-targeting firm. "If that does represent his high-water mark, there has to be a number of Republicans who are deeply concerned about [their] election prospects in 2018, based on their party affiliation and their connection to President Trump."
Indeed, the first polls of Trump's presidency suggest that, if anything, his actions in office are widening the racial and class divides that define public opinion about him: In last week's Quinnipiac University national survey, for instance, just 38 percent of college-educated whites and 19 percent of minorities said he is bringing the right kind of change to the country, compared with 61 percent of whites without degrees. If those attitudes persist or strengthen, more House members than those in the districts that split their tickets last fall could eventually find the ground shifting underneath them.
Compared with Romney's margin against Obama, Trump's margin against Clinton improved in 238 House districts, including both seats that Trump won and others where he still fell short despite his improvement from 2012. In 180 of the districts where Trump gained, including seats he won and lost, the share of whites without college degrees lagged the national average. Those include 41 seats now held by Democrats. A few of those 41 Trump actually carried, but a much larger number he did not—including those held by Democrats Dan Kildee and Sander Levin in Michigan and Marcy Kaptur in Ohio. Though Trump didn't take those lawmakers' districts, in each of them he improved substantially relative to the Obama-Romney margins.
Conversely, Clinton's margin against Trump represented an improvement over Obama's margin against Romney in 182 House seats, including both districts that she won and others that she still lost despite seeing improvement from 2012. (The numbers don't add up to 435 because presidential results by district are not yet available in North Carolina and because two districts in other states saw no change.)
In 129 of the districts where Clinton gained, in both seats she won and lost, the share of whites with college degrees exceeded the national average. Republicans hold 48 of those seats, some of which Clinton carried. But even more she lost—and it was in those very seats where Trump held on that Clinton nonetheless notched many of her biggest gains. Some of those seats were in Utah, a reflection of Trump's unique problems in the state and not a sign that Democrats have a lasting opening there. Beyond that, the list of Clinton-gaining districts revolves around suburban white-collar (and often relatively diverse) districts across the Sunbelt that have been considered safely Republican, like the Georgia seats held by Woodall and Tom Price, Trump's choice for health and human services secretary. It also includes seats in Texas, like those held by Ted Poe, Pete Olson, and Kenny Marchant. Clinton didn't win any of those districts, but, relative to Obama, she notched gains comparable to Trump's advances in the blue-collar districts.
"Where Hillary enjoyed a big bump in these congressional districts, it was clustered in the affluent 'burbs of Dallas, Atlanta, D.C., Chicago, L.A.," said Donovan, the GOP strategist and director of legislative and political affairs for the Associated Builders and Contractors trade association. "The question for the long run is: What is more likely, that those people fully evolve into Democratic voters or do they snap back to the Republicans?"
As education and diversity levels both rise, Republicans are divided over whether the long-term demographic swap in each party's House caucus is a good bet for the party. Patrick Ruffini, a GOP consultant who specializes in demographic trends, said House Republicans can offset any Trump-era losses in white-collar and diverse districts with even deeper gains among blue-collar voters or by finding creative ways to separate themselves from him. "To what extent are you going to see the non-college white population … feeling even more alienated and therefore voting more Republican?" he said. Stephen Bannon, Trump's top White House strategist, also pointed to a blue-collar GOP future when he told The Washington Post in an email Tuesday that the administration is "developing populist nation-state policies that are supported by the vast and overwhelming majority of Americans, but are poorly understood by cosmopolitan elites in the media that live in a handful of our larger cities."
Tom Davis, by contrast, is dubious Republicans will ultimately benefit from this rolling class realignment: "It didn't surprise me that Trump saw this [resorting] and put an exclamation point on it," Davis said, "but it's still a loser for Republicans long-term." Donovan largely agrees: "Even as these Trump [blue-collar] gains happened, the share of the non-college white vote actually dropped and the college vote increased. So if you are handicapping the future … going all in on the Trump path is a dangerous proposition."
What's clear is that, in the near term, congressional Republicans are more bound than many might prefer to Trump's path. If Trump's popularity sinks by 2018, he would endanger House Republicans in all kinds of districts. But if Trump maintains a base of support similar to his profile today, he could solidify or even extend the commanding Republican advantage in predominantly blue-collar seats. If that happens, the Democrats' hopes of regaining a House majority anytime soon will depend on them convincing ordinarily Republican-leaning white-collar suburbanites to express their continuing unease about Trump—by electing more Democratic representatives to resist him.