These 23 Republicans Passed on a Chance to Get Trump's Tax Returns
Congress has a duty to make sure President Trump isn't selling out the United States. These legislators are in more active dereliction of that duty than most.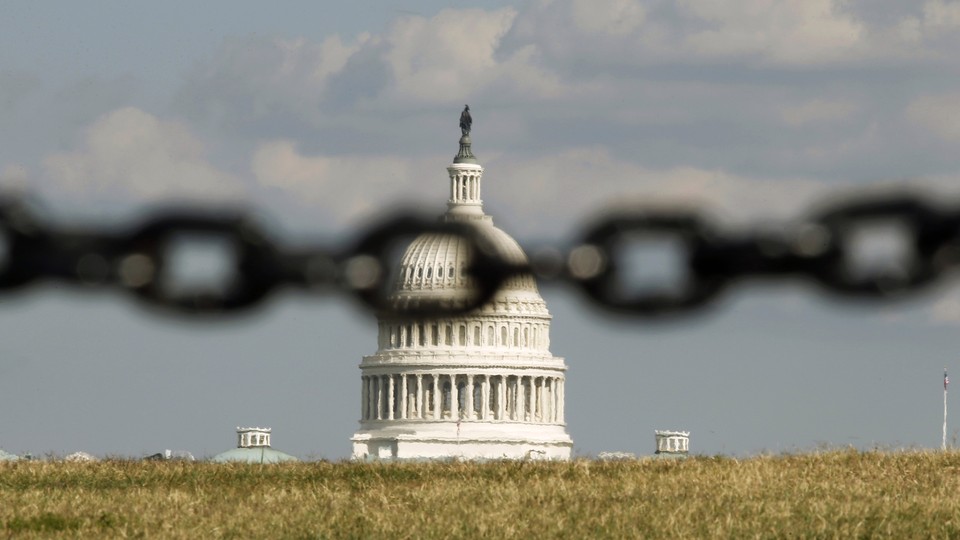 More than 800,000 Americans have signed a petition demanding the release of Donald Trump's tax returns. Polls show that a majority of the country wants to see the documents.
On April 15, tens of thousands plan to take to the streets in protest of the president's refusal to release his tax returns to the public. Some worry Trump is hiding financial ties to Russia. Others want to understand all the conflicts of interest that flow from his failure to divest from his business interests. Twenty thousand people say they're going to a Los Angeles protest. Eleven thousand are signed up to attend in New York City. Folks will protest in Boise, Indianapolis, St. Louis, Raleigh, Pittsburgh, Knoxville, Salt Lake City, and other municipalities throughout the U.S.
And this week, the movement got a new champion and 23 new targets for ire.
The champion is Represenative Bill Pascrell, who sits on the Ways and Means Committee. He found that "a rarely invoked 1924 law could be used to examine President Donald Trump's tax returns for possible conflicts of interest and Constitutional violations," USA Today reported. "The 1924 law gives congressional committees that set tax policy the power to examine tax returns. It was used in 1974 when Congress looked at President Richard Nixon's returns, and in 2014 when the Ways and Means Committee released confidential tax information as part of its investigation into the Internal Revenue Service's handling of applications for nonprofit status."
This prompted Democrats on the committee to introduce an amendment Tuesday that would've triggered a request for the tax returns to the Treasury Department. "Unless this amendment is adopted, we will never see the president's tax returns while he's in office," Representative Sander Levin told his Republican colleagues. "Before you stonewall this, I urge you to think twice. You'll only keep the issue alive."
Last year, after some of Trump's worrying foreign conflicts were exposed, I argued that Congress cannot fulfill its constitutional duty to check and balance the next president, or provide adequate oversight of the federal agencies he presides over, without a full, accurate understanding of his business holdings and debts. I urged Americans to tell their representatives that they favor an exhaustive inquiry into Trump's finances to determine exactly where his interests and ours diverge.
The amendment was rejected on a party-line vote by these 23 Republicans (the ones with asterisks next to their names represent relatively competitive districts; the others are thought to be in "safe seats" for the GOP, and only vulnerable in primaries):
The vote could come back to haunt these legislators if the tax returns eventually come to light and reveal something that American voters feel they should've known, especially given the weak rationale offered by Republicans in defense of the vote.
"If Congress begins to use its powers to rummage around in the tax returns of the president, what prevents Congress from doing the same to average Americans?" House Ways and Means Committee Chairman Kevin Brady told reporters, according to CNBC. "Privacy and civil liberties are still important rights in this country, and the Ways and Means Committee is not going to start to weaken them."
This strikes me as wildly unpersuasive. First, the law was reportedly used decades ago in the special case of a corrupt president and no slippery slope seems to have been stepped on. Second, a bright-line question easily presents itself to keep Ways and Means off that slope: "Do we have a Constitutional responsibility to check, balance, and oversee the person whose tax return we are requesting?" That ought to be sufficient to protect "average Americans." Third, how many "average Americans" would even care if Ways and Means pulled their tax return, which consists of information they're already forced to give the federal government? Fourth, there are about six dozen steps congressional Republicans could take to end privacy abrogations that are orders of magnitude more intrusive than a remote threat of a future Congress voting to look at one's tax returns! Take ending the NSA program that collects details on the private communications of almost everyone.
The president of the United States is the most powerful person in the world. For that reason alone, he or she has the least expectation of privacy of any American citizen. Tax returns are documents that every modern president has released to the public. And financial ties and relationships bear directly on Trump's official duties, particularly due to his failure to fully divest himself from his businesses. Meanwhile, multiple allies of the president have suspicious ties to a foreign government.
Given all that context, it is obscene for members of Congress to eschew a lawful way to examine the president's tax returns and make sure that he isn't selling out America.
They should be judged harshly by voters and history alike.