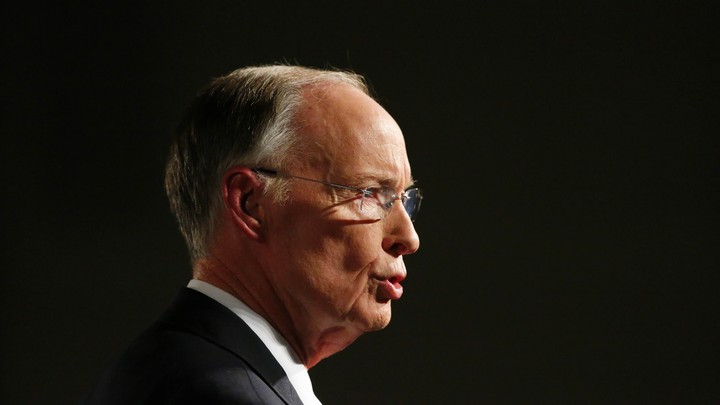 Thanks for the appointment, governor: You're under investigation.
Those weren't Steven Marshall's words exactly, but that was the gist of his announcement on Wednesday a few days after Governor Robert Bentley gave him the promotion of a lifetime: He made the local county prosecutor Alabama's new attorney general, a position that twice in the last 20 years has taken its occupant to the United States Senate.
Marshall promptly returned the favor on Wednesday by revealing what had long been suspected but never confirmed—that Bentley is under criminal investigation by the attorney general's office.
Marshall's disclosure came in a most roundabout way; he acknowledged the investigation only so he could recuse himself from leading it. So it goes in Alabama, where the leaders of all three branches of government have become ensnared in scandal in the last few years. Bentley is facing impeachment resolutions from his own party in the state legislature over allegations that his misused taxpayer and campaign funds while carrying on an affair with his top political aide.
The governor's problems have only escalated in the days since he picked Luther Strange, then the state attorney general, to replace Jeff Sessions in the Senate after Sessions took his place atop the Justice Department. To Bentley's critics, it looked like he had picked Strange over other equally qualified candidates just to get the man investigating him out of the way. Strange had studiously avoided saying that he was investigating the governor, right up to the moment his plane took off for Washington. But he had alluded to the probe shortly before the November election when he sent a letter to the Alabama House Judiciary Committee asking lawmakers to hold off on impeachment until his office completed "related work" on the governor.
"I'm troubled by the appointment," Randall Shedd, a Republican in the state House, told the Alabama Media Group. "There may not be a deal cut but it sure seems like it." Shedd said he and another lawmaker planned to renew their impeachment effort even if meant bypassing the Judiciary Committee.
Marshall had said when he was appointed last week that the topic of an investigation never came up in his discussions with the governor. He pledged that if he found that the office was investigating Bentley, he would recuse himself from it. And on Wednesday, that's exactly what he did. Confirming the existence of the investigation, Marshall appointed a former district attorney for Montgomery County, Ellen Brooks, to lead it.
Strange is now in the Senate, voting on President Trump's Cabinet nominees and preparing to run in a special election that Bentley has called for next year. But as a result of Marshall's disclosure, voters in Alabama now know that Strange accepted his appointment from a governor he was in the process of investigating.
We want to hear what you think about this article. Submit a letter to the editor or write to letters@theatlantic.com.
Russell Berman
is a staff writer at
The Atlantic
, where he covers politics.