How a GOP Health-Care Plan Could Leave Rural Areas Devoid of Coverage
Leaked draft legislation of a Republican Obamacare replacement shows a policy that might leave many Americans even farther behind.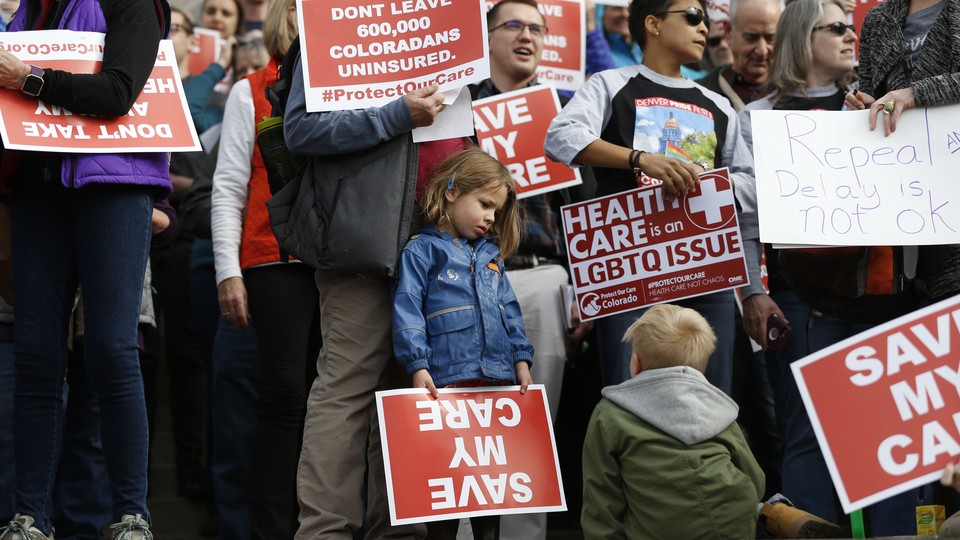 The devil's always in the details, but if the details of a new 100-page leaked draft of a House Republican plan to repeal Obamacare are too dense to parse, here's a brief snapshot: Millions of people in rural areas where it's already hardest to find doctors might no longer be able to afford health insurance in a few years.
The basics of that plan, which was unveiled by House Speaker Paul Ryan two weeks ago, and the rough shape of which has the support of new health secretary Tom Price and the Trump administration, are known. The plan removes the individual and employer mandates to purchase and provide insurance, respectively, and it would also repeal most of the taxes that fund Obamacare. It would roll back funding for the Affordable Care Act's Medicaid expansion and dramatically restructure the Medicaid program's funding. Further, the plan would replace the Affordable Care Act's cost-sharing subsidies and premium tax credits with an age-rated tax credit, all while keeping Obamacare's popular pre-existing conditions ban.
With the leaked draft legislation released by Politico last week, there are more details as to exactly how House Republicans and the Trump administration plan to repeal Obamacare and usher in a replacement. The draft specifies that Obamacare's Medicaid expansion for low-income able-bodied adults won't be completely eliminated, but the eligibility and funding will be rolled back after 2020. The draft also contains a provision changing federal funding for Medicaid in 2020 onward from an open-ended obligation to a system where the per-person spending every year is capped based on spending levels in 2019 and increased annually to correspond with medical inflation.
Although the draft plan repeals the tax-based individual mandate, it re-establishes a kind of mandate through its incentive to maintain continuous health-insurance coverage. For people not covered by employers or public insurance who have to purchase insurance on individual, small group, or exchange markets, this proposal would allow insurers to charge up to 30 percent more in premiums to people who go without coverage at any point for more than two months, and also for young adults who don't enroll in coverage as soon as they age out of their parents' plans, a surcharge that would not be remitted as taxes to sustain the system, but would be paid as profits to insurers. The effects of this potential measure on individuals' pockets are potentially limited by a reduction of federal oversight over what can be considered health-insurance coverage, which would allow people to avoid penalties by purchasing barebones coverage.
After reforming Medicaid, repealing the taxes and mandates of Obamacare and establishing continuous-coverage requirements, the last major reform of this preliminary scheme is to replace the cost-sharing reductions and premium tax credit subsidies of Obamacare's exchanges with a refundable tax credit. Unlike the Obamacare tax credit, which is adjusted by income, age, and the average price of insurance in a person's market, this new credit would only take age into account, starting with $2,000 per year up to age 30 and capping at $4,000 for people over 60. So while older people with more health needs receive more than "young invincibles," lower-income people who tend to have more pressing health needs would have even less ability to take care of those needs given their existing ability to pay.
The result of all these provisions would almost certainly be a system that benefits people who already have wealth and health and penalizes others, but there would also be very strong geographic effects. For one, pegging Medicaid spending to a base year would reduce states' ability to ramp up health-care spending because of disasters or emerging health problems, and these problems already exert the most pressures on states and areas with infrastructure that is ill-equipped to combat them. Rural residents already rely much more heavily on public insurance than do city-dwellers, so any reductions of funding and funding flexibility will have a larger effect on the health issues they face.
Those health issues are serious, and contribute to much of the climbing mortality among middle and lower class white Americans today. The opioid epidemic is ravaging rural America, as are the creeping effects of environmental degradation and climate change. People like coal miners in Trump country in Kentucky and West Virginia are on the frontiers of several developing health crises, and per-capita spending caps on Medicaid would only further limit their states' ability to respond.
The tax-credit structure in the Republican draft plan might be even more damaging than the Medicaid changes to those underserved and rural areas. The existing Obamacare tax credits are not only adjusted by family income, but also by the actual cost of health-care plans in a given market. That geographic adjustment is one of the most important parts of the basic logic of Obamacare, since health-care costs vary quite a bit from place to place.
In the most extreme example, Alaskans in the Obamacare exchanges currently receive tax credits at rates double the average for the rest of the country, a number that reflects the scarcity of coverage in Alaska and the demands of covering a frontier population. The Republican proposal might knock all 16,000 of these Alaskans out of insurance markets.
A tax-credit plan that doesn't account for the actual cost of a person's health insurance might reasonably be expected to create areas where coverage is simply unaffordable, and not just in Alaska. Research indicates that health-insurance premiums are higher for rural counties and states, particularly towards the interior and western frontier of the country—prime Trump country. Those costs increase even as rural residents have less access to basic health care and worse overall health status than their metropolitan peers.
That disparity between costs and access for rural residents creates a conundrum for Republicans. By reducing state Medicaid financial flexibility, reducing oversight over minimum insurance requirements, instilling continuous coverage requirements, and removing regional costs offsets, their Obamacare replacement would in essence put health insurance even further out of reach for sicker, rural patients who need it more and then penalize them for being left out. These patients already suffer the effects of "health-care deserts" as rural hospital systems collapse and access to basic specialty services like maternal care wane. In addition to those health care and service deserts in rural areas, Republicans would be contributing to brand-new "coverage deserts."
The result might be a national health-insurance system that does relatively well for so-called "coastal elites" with decent access to physicians and robust state public-health infrastructure, but rather badly for the denizens of Middle America that Trump and the GOP place at the center of their rhetoric. As more and more Republican congressmen in those places face hostile town halls about Obamacare and a real fear of losing coverage from constituents, this new policy outline doesn't seem likely to alleviate those fears.
---
Related Video: