The Curious Appointment of Senator Luther Strange
The successor to Attorney General Jeff Sessions won an appointment from the Alabama governor his office might have been investigating.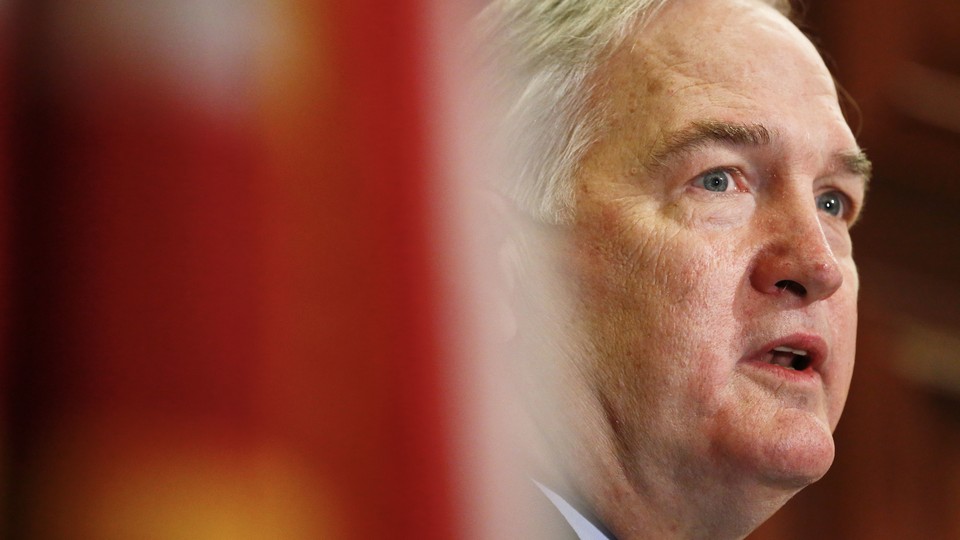 Alabama's new U.S. senator, Luther Strange, already has the name to match these unusual political times. But the circumstances that led to his appointment as the successor to Jeff Sessions may be equally curious.
Governor Robert Bentley on Thursday named Strange to take Sessions's place in the Senate until a special election is held next year. Normally, the selection of a state's attorney general to temporarily assume a Senate seat would not generate much controversy. It's a common stepping stone in politics—just ask Sessions, the nation's new attorney general who served in the same office in Alabama before he first won his Senate seat in 1996.
But Bentley's decision has come under immediate scrutiny because Strange, as attorney general, might be investigating the second-term governor for impropriety related to an affair he had with a top political adviser that became public last year. Strange will neither confirm nor deny whether a probe is taking place. "We have never said in our office that we are investigating the governor," the attorney general-turned-senator told reporters in Montgomery moments after Bentley, who stood nearby, announced his appointment. "And I think it's somewhat actually unfair to him and unfair to the process that that has been reported out there."
The reason the possible investigation had been reported in the first place is that Strange last fall wrote a letter urging the Alabama House Judiciary Committee to halt an impeachment inquiry it had launched into the governor's actions "until I am able to report to you that the necessary related work of my office has been completed." Neither Strange nor his office has expanded on what the "necessary related work" might entail, and Strange on Thursday said the letter "speaks for itself."
Bentley also gets to name Strange's replacement as attorney general. "Now the whole matter looks even more unseemly," Erick Erickson wrote on Wednesday following news that Strange's appointment was imminent. The conservative activist argued that regardless of whether it was truly improper or not, Bentley's decision would give "the left" ammunition to press a broader case of corruption against the GOP in the Trump era. "Luther Strange is probably caught innocently in the middle, but perception is a powerful thing," Erickson wrote. "Getting the legislature to suspend an impeachment against the governor, then having the governor appoint him as United States senator, sure smells of quid pro quo."
The questions over Strange's appointment add to a string of controversies in the state: Alabama has been embroiled in one political scandal after another in the last few years, touching all three branches of its government. The long-serving chief justice of the Alabama supreme court, Roy Moore, was suspended last year for violating the state's judicial ethics code by ordering judges not to issue marriage licenses to same-sex couples in defiance of federal law. The former speaker of the Alabama House, Michael Hubbard, was sentenced to four years in prison following his conviction on corruption charges. And Bentley is fighting just to finish out his term, which ends in 2018.
The governor's standing began to unravel soon after his wife of 50 years filed to divorce him in the summer of 2015. In March 2016, Bentley fired Spencer Collier as head of the Alabama Law Enforcement Agency, saying that an investigation had turned up evidence of misused funds. Two days after his ouster, Collier publicly alleged that the governor was having an affair with a top political adviser, Rebekah Caldwell Mason, and accused Bentley of misusing state money to carry it on. Then came the leak of a phone recording of the governor in which he is heard making sexually suggestive comments to Mason. Bentley apologized for his language, but he denied a physical affair with Mason and refused to quit.
Until recently, the Alabama Republican least touched by controversy was Strange. Known as "Big Luther" for his towering height (he's 6-foot-9), Strange, 63, has been on the political rise for several years, having won praise for his role in negotiating a settlement with BP after the massive oil spill of 2010. He recused himself from the Hubbard investigation because the speaker had donated to his campaign, and he has kept a close relationship with Bentley despite the probe that his office may or may not be undertaking. "People think we don't talk a lot. We talk all the time," Bentley said on Thursday, noting the two men had "a long history" of working together. And even the governor could not resist a play on his memorable name. "Luther," he said, "is not a stranger in Washington."
Politically, Strange is known as a down-the-line conservative, and he had already announced his intention to run in the election for Senate in 2018. He'll now have the advantage of incumbency, but in a red state full of ambitious Republicans, he's unlikely to have a clear path to the nomination. After winning his job from an embattled governor, Strange's biggest immediate challenge may be the mess he escaped back home.