The Bannon-Priebus Buddy Act
Two top White House advisers put on a show of unity at a conservative conference, in a dialogue that served to highlight their differences.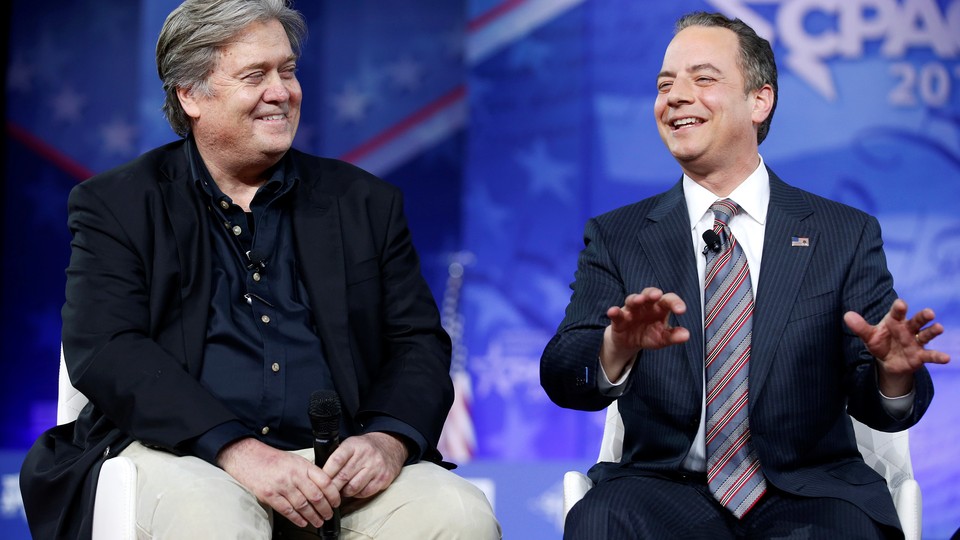 OXON HILL, Md. — White House Chief of Staff Reince Priebus and chief strategist Steve Bannon want it to be known that they are on the same page.
But a joint appearance at the Conservative Political Action Conference on Thursday only served to further highlight the contrast between Priebus's pragmatic establishment views with Bannon's in-your-face nationalism. Their joint interview onstage at CPAC was notable, also, for the fact that Bannon rarely delivers public remarks.
Priebus and Bannon have been pushing back on the narrative that they helm two warring factions in the Trump White House: a pragmatic, establishment wing represented by Priebus, and an aggressively ideological wing spearheaded by Bannon. The two gave a joint interview to New York magazine recently in which they joked about giving each other back rubs, and Bannon, the former chairman of Breitbart News, pushed back heavily on a recent report in his former website that blamed Priebus for many of the administration's problems, including the botched travel-ban rollout, telling me the story was "absurd" and reportedly yelling at the author of the story.
While a suit-clad Priebus offered standard fare about taxes and regulation, Bannon, in khakis and no tie, went in a different direction. His appearance was a reminder of how unusual it is that Bannon, whose career in politics thus far had consisted of aggressive opposition not just to the left but to establishment Republicans in Priebus's mold, has ascended in such a short period of time to the highest levels of power in the White House.
Bannon began by calling attention to his outsider status, thanking American Conservative Union chairman Matt Schlapp, who was moderating the conversation, for "finally inviting me to CPAC." (Bannon and Breitbart had in the past held an event called "The Uninvited" outside CPAC, featuring speakers who were not included in CPAC's program, like anti-Muslim activist Frank Gaffney.)
He listed the administration's top three priorities as national security and sovereignty, "economic nationalism," and the "deconstruction of the administrative state."
Priebus framed his relationship with Bannon as a microcosm of the Trump movement's incorporation into the Republican Party, saying Trump "brought together the party and the conservative movement. And I've got to tell you, if the party and conservative movement are together, similar to Steve and I, it can't be stopped."
Both Bannon and Priebus stayed on message when it came to another top priority of this White House: discrediting the media.
Asked what the biggest misconception had been about the administration so far, Priebus said "in regards to us two, I think the biggest misconception is everything that you're reading." He lamented the media's coverage of Trump during the campaign, referring dismissively to media speculation about "what controversy in the primary is going to take down President Trump." (As Republican National Committee chairman, Priebus reportedly encouraged Trump to drop out of the race after the release of the Access Hollywood tape in which Trump was recorded boasting about groping women.)
Bannon, as is his wont, went further, repeatedly calling the media the "opposition party," a term he started using in an interview with The New York Times last month. He denounced the "corporatist, globalist media adamantly opposed to an economic nationalist agenda like Donald Trump has."
"If you think they are giving you your country back without a fight, you are sadly mistaken," Bannon said.
He complained that the press isn't offering an accurate picture of Trump's efforts. "If you look at the opposition party and how they portray the campaign, how they portrayed the transition, and how they are portraying the administration, it's always wrong," Bannon said.
The media outlet that Bannon ran for years, Breitbart News, is a sponsor of CPAC this year, and its staff are scheduled to appear on several panels during the conference.