The Atlantic Politics & Policy Daily: Not the State of the Union
President Trump will make his first address to a joint session of Congress at 9 p.m. ET.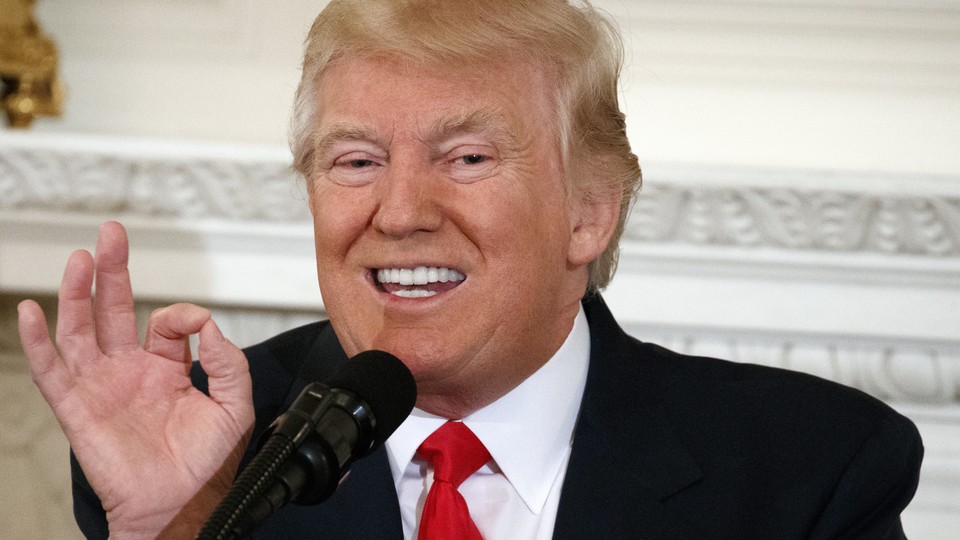 Today in 5 Lines
President Trump will deliver his first address to a joint session of Congress. In his speech, which is scheduled to begin shortly after 9 p.m., Trump is expected to discuss Obamacare repeal, his budget demands, and, potentially, immigration-reform legislation. In an interview on Fox and Friends, Trump said he would give himself a good grade for what his administration has achieved so far, but a "C or a C+" for messaging. The FBI said it is investigating last week's shooting of two Indian men in a Kansas bar as a hate crime. Houston Mayor Sylvester Turner said a manhunt is underway after two police officers were shot responding to a burglary.
---
Today on The Atlantic
Trump's First Month: "Trump promised to steamroll the Washington status quo, disrupting both Republicans and Democrats," writes Molly Ball. But so far, it appears Congress might be taming Trump.

Left Behind: A leaked draft of a Republican Obamacare replacement indicates that "millions of people in rural areas where it's already hardest to find doctors might no longer be able to afford health insurance in a few years." Here's how. (Vann R. Newkirk II)

The Right to Peaceful Assembly?: In the wake of large-scale protests around the country, Republican lawmakers have proposed legislation that targets certain protest tactics or seeks to increase penalties for illegal protests. Will these measures become law? (Matt Ford)
Follow stories throughout the day with our Politics & Policy portal.
---
Snapshot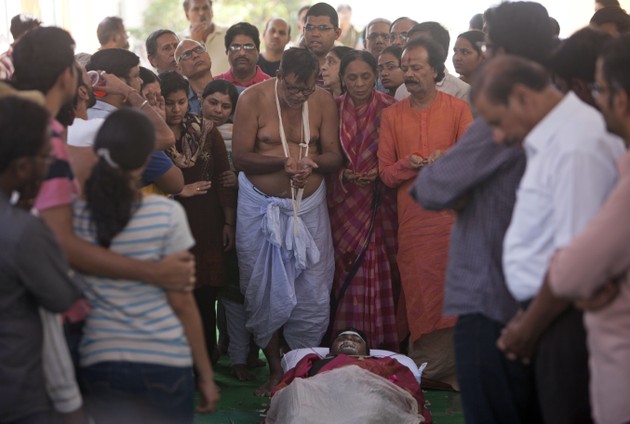 ---
What We're Reading
Who Is Steve Beshear?: Democratic party officials say the former governor is responsible for the Affordable Care Act's great success in Kentucky. That, along with Beshear's "red-state credentials," makes him the best choice to deliver the Democratic response to President Trump's address on Tuesday night. (Alex Roarty, McClatchy)
An Hour With RBG's Personal Trainer: How does the Supreme Court's oldest—"and perhaps the most liberal"—justice, Ruth Bader Ginsburg, stay fit? Follow along as Politico's Ben Schreckinger struggles through the 83-year-old's regular workout.
Two Worlds Colliding: Freedom of religion and freedom from discrimination appear to be at odds in U.S. legislatures and courts. While some conservatives argue for the right to oppose same-sex marriage, LGBT advocates argue this opposition fosters discrimination. Tom Gjelten discusses the heart of this debate and how it's unfolding. (NPR)
The Roundup: The arrest of more than 680 people by Immigration and Customs Enforcement agents was "a coordinated operation planned before Trump's inauguration, but carried out by agents confident they have a broadened mandate under the new president," argues Julia Preston. The action revealed the wide scope of Trump's immigration crackdown. (The Marshall Project)
Trump's Big Night: Republicans "are desperate for the president to step in and provide some measure of guidance" on their stagnant agenda when he addresses a joint session of Congress for the first time on Tuesday. Given Trump's history of contradicting traditional GOP platforms, will he say what the party wants to hear? (Abigail Tracy, Vanity Fair)
---
Visualized
99 Problems: Since 1935, the Gallup polling organization has asked Americans about the "most important problem" facing the country. These graphs show how the responses have changed over time. (Gregor Aisch and Alicia Parlapiano, The New York Times)
---
Question of the Week
President Trump is expected to introduce a federal-budget proposal next month that significantly increases defense spending, while slashing funds on most other programs, including cuts at the Environmental Protection Agency and for foreign aid. If you were in charge of the country's budget, and you had extra funds to allocate wherever you wished, what agency or program would you prioritize—and why?
Send your answers to hello@theatlantic.com, and our favorites will be featured in Friday's Politics & Policy Daily.
-Written by Elaine Godfrey (@elainejgodfrey) and Candice Norwood (@cjnorwoodwrites)