The Atlantic Politics & Policy Daily: All by Milonesome
Breitbart News editor Milo Yiannopoulos resigned after a video surfaced where he appeared to defend pedophilia.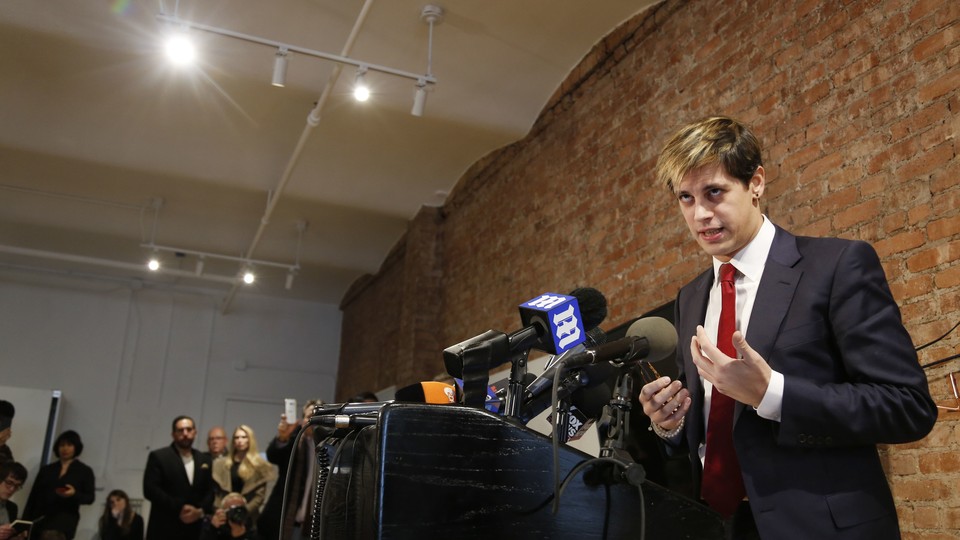 Today in 5 Lines
The Department of Homeland Security issued new rules expanding the number of undocumented immigrants who can be deported from the United States. During a visit to the National Museum of African American History and Culture, President Trump promised to fight bigotry and unite a "divided country." Trump also denounced the recent wave of threats against Jewish Community Centers in the United States, saying "Anti-Semitism is horrible, and it's gonna stop and it has to stop." White House Press Secretary Sean Spicer said the administration will issue "further guidance" on former President Obama's directive on transgender student protections. Breitbart News editor Milo Yiannopoulos resigned from the website after a video surfaced where he appeared to defend pedophilia.
---
Today on The Atlantic
A Threat to Freedom: Donald Trump's first month in office "has been even more ominous and destructive than the Trump of the campaign trail," writes James Fallows. His attacks on the press don't just affect the media; they threaten a crucial component of American democracy.

Confronting Hate: Emma Green spoke with directors of several Jewish Community Centers about their reactions to the recent wave of bomb threats. "Most people just feel sadness—they're sad that this is happening," one director said. "Everyone keeps saying they're disheartened and frustrated."

A Plan in Review: The Department of Homeland Security plans to complete construction of a wall on the U.S.-Mexico border by the end of 2020, according to a report obtained by Reuters. But how realistic is this deadline? (Adrienne LaFrance)
Follow stories throughout the day with our Politics & Policy portal.
---
Snapshot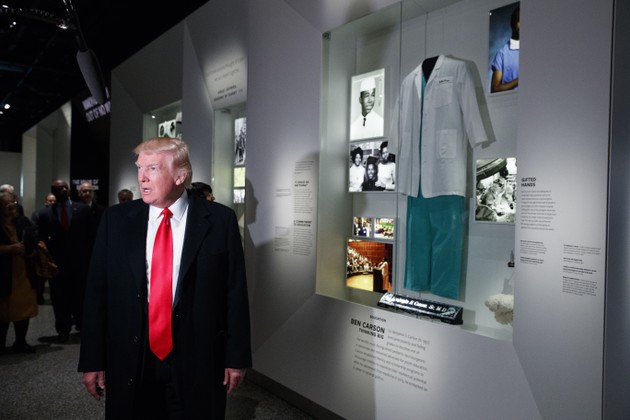 ---
What We're Reading
Meet H.R. McMaster: The president's new national-security adviser is "considered one of the Army's top intellectuals." Even some of Trump's harshest critics say they couldn't think of a better man for the job. (Austin Wright and Jeremy Herb, Politico)
'Partisan Balance'?: A Republican lawmaker in Iowa has proposed legislation that would require the state's board of regents to consider applicants' political affiliation when hiring university professors. Here's what he wants. (Reid Wilson, The Hill)
Whiplash at Guantanamo: Under former President Obama, military officials were working on scaling down the detention facility. Now, they're getting ready to respond to President Trump's plans to "load it up with some bad dudes." (Molly O'Toole, Foreign Policy)
'General Chaos': Nicholas Schmidle spoke with Michael Flynn, his military colleagues, and Trump officials to detail the retired lieutenant general's career and what his resignation reveals about the Trump White House. (The New Yorker)
Stuck in Limbo: Thousands of migrants traveled long, dangerous journeys from their homes to Tijuana, Mexico, "believing this city was their doorway" to a better life in the United States. But tightened border control leaves many of them in shelters scattered throughout Tijuana, unable or unwilling to turn back. (Rory Carroll, The Guardian)
---
Visualized
Executive Order 9066: In 1942, President Franklin D. Roosevelt signed an order that paved the way for more than 120,000 Japanese Americans to be held in internment camps throughout the United States. These graphics show how one president's executive order affected a racial minority 75 years ago. (John Muyskens and Aaron Steckelberg, The Washington Post)
---
Question of the Week
After a visit to the National Museum of African American History, President Trump pledged to "bring this country together." What's an effort you've seen in your community—or one you've participated in yourself—that you think could help heal a polarized nation?
Send your answers to hello@theatlantic.com, and our favorites will be featured in Friday's Politics & Policy Daily.
-Written by Elaine Godfrey (@elainejgodfrey) and Candice Norwood (@cjnorwoodwrites)